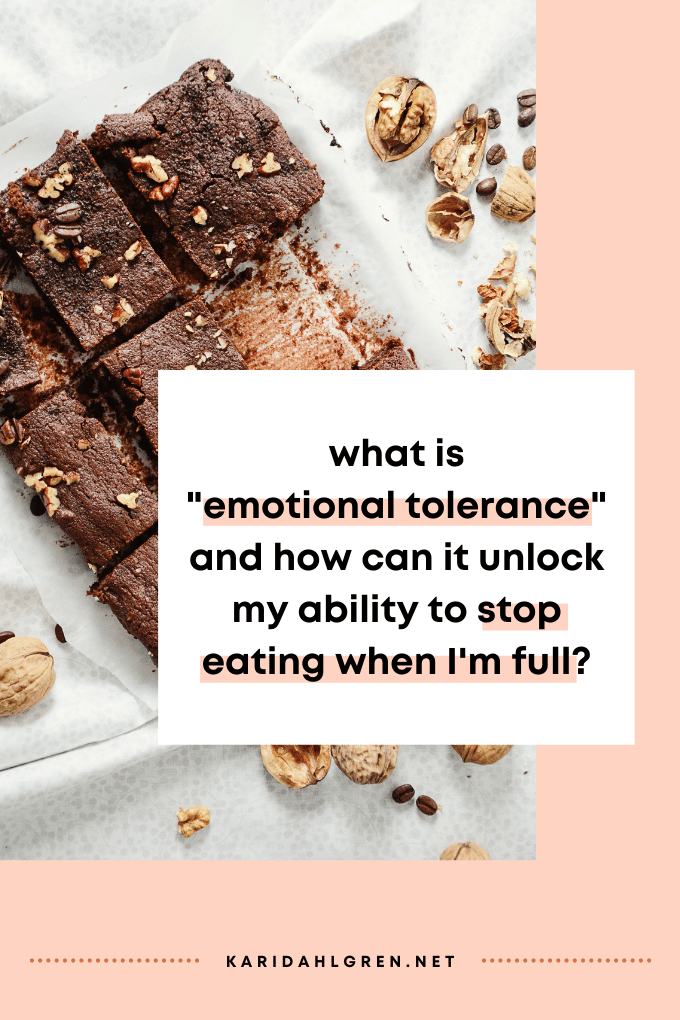 Emotional tolerance is a critical skill to stop unwanted eating patterns like night eating or all-or-nothing eating.
It involves developing your willingness to feel uncomfortable — to tolerate unwanted emotion without resorting to food to numb out.
This is the foundation of Psycho-Spiritual Wellness — the path to stop compulsive eating using psychology and spirituality, not dieting.
When we learn to feel our anxiety, depression, loneliness, and rejection without jumping outside of ourselves, that's when progress is made.
It's a strange concept, so let's illustrate this with a "quick" example.
How Emotional Tolerance Helps Stop Binge Eating
The day I originally wrote this article (it has been updated since), I had a full Chipotle burrito bowl for lunch.
For those of you who are unfamiliar with Chipotle, it's A LOT of food.
About 2 hours after lunch, I wanted some chips. This was immediately a red flag because I wasn't hungry. Why did I still want food?
Acting out of compulsion, I stood up and walked over to the chips, and then stood there battling with myself…
And once I recognized the battle, I asked myself,
"Wait, I'm not hungry, but I still want to eat. That mean's there's a feeling floating around here somewhere that I'm not feeling… So what's really going on here Kari? What am I feeling right now?"
And with those questions, the battle was over. Kari: 1. Overeating: 0.
Next, I'll explain how that worked.
Emotional Tolerance Starts with Self-Inquiry
After I asked myself those question, I stood there to see what emotions would bubble up, and A LOT came up: anxiety, boredom, procrastination, more anxiety, restlessness… fear.
Wow! It's no wonder I wanted more food even though I wasn't hungry! That's a lot of uncomfortable emotions floating around with nowhere to go.
And this is exactly how self-inquiry will help you stop binge eating. Well, it's the first step. Self-inquiry is the starting point.
Once I became aware of the emotions I was trying to avoid, I was able to make space for them. This is the second step: dropping into the emotions we're trying to run from. This is how we develop our emotional tolerance.
A great tool for this is the Stop, Drop, & Feel method to stop binge eating. It asks us to pause before we overeat and drop into some self-inquiry.
The magic happens as we give these unwanted emotions the attention they need. The more we stop and feel, the less we feel the desire to overeat.
Developing the Most Important Skill to Stop Compulsive Eating
This is a practice.
Learning how to stop binge eating isn't just about gaining knowledge. It's about taking that knowledge and practicing it.
Practice helps you take knowledge and make it part of you. It creates habits and rewires your entire relationship with food and yourself.
Getting yourself to stop overeating is about constantly practicing self-inquiry whenever you have the desire to eat when you're not hungry.
Because the desire to overeat is a sign that something is wrong, and it's our job to look within and nurture the part of ourselves that needs our attention.
Keep going at it with consistency, curiosity, and loads of self-compassion.
This is a practice, and it's the best one I've ever started. Will you join me?
Originally published on April 8, 2018 // Updated on November 15, 2020