Ready to stop compulsive eating? Without dieting or obsessively counting calories ever again?
Curious about that phrase "Psycho-Spiritual Wellness"?
Well, you landed in the right spot! Here's what I would do if I was you:
Step 1 — and seriously, you do NOT want to skip this step: Sign up for my free stuff and emails, they are EPIC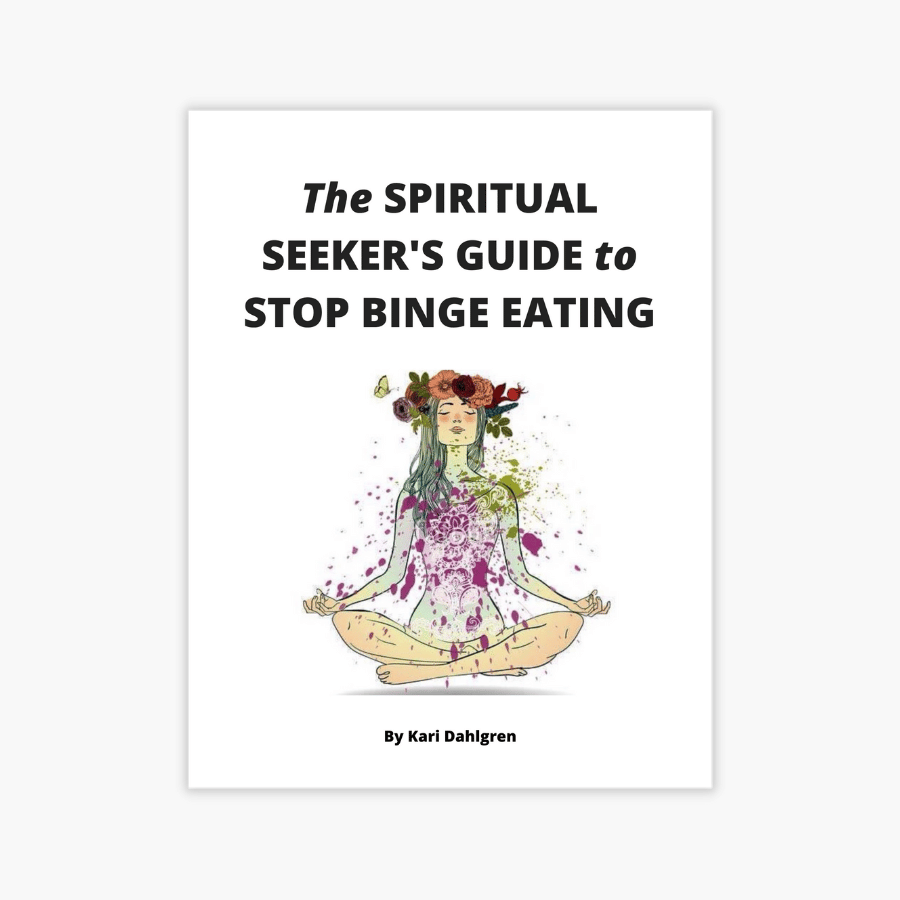 Compulsive eating is NOT fun. And that's why I made my life about helping other people dig themselves out of the pit. It's an awful, awful pit.
I often like to share my stories to help illustrate the steps you can take to stop compulsive eating, and email tends to feel like a safer space than my blog. It's more personal, human to human.
And for that reason, I tend to send my most soulful (aka, BEST) content via email.
Also, sometimes I have special offers that I only send to my newsletter subscribers because 1) I treat you as VIP and 2) sometimes I just don't have time to add exclusive offerings to my website.
So, if you dig my stuff, you haveeee to get on my newsletter!
When you sign up, you'll get a copy of my free ebook The Spiritual Seeker's Guide to Stop Binge Eating — and and a free 5-day crash course in Psycho-Spiritual Wellness to catch you up to speed.
It's a lot of good stuff! Sign up for all of these free goodies by clicking the button below:
Step 2: "Feel it to heal it" and also…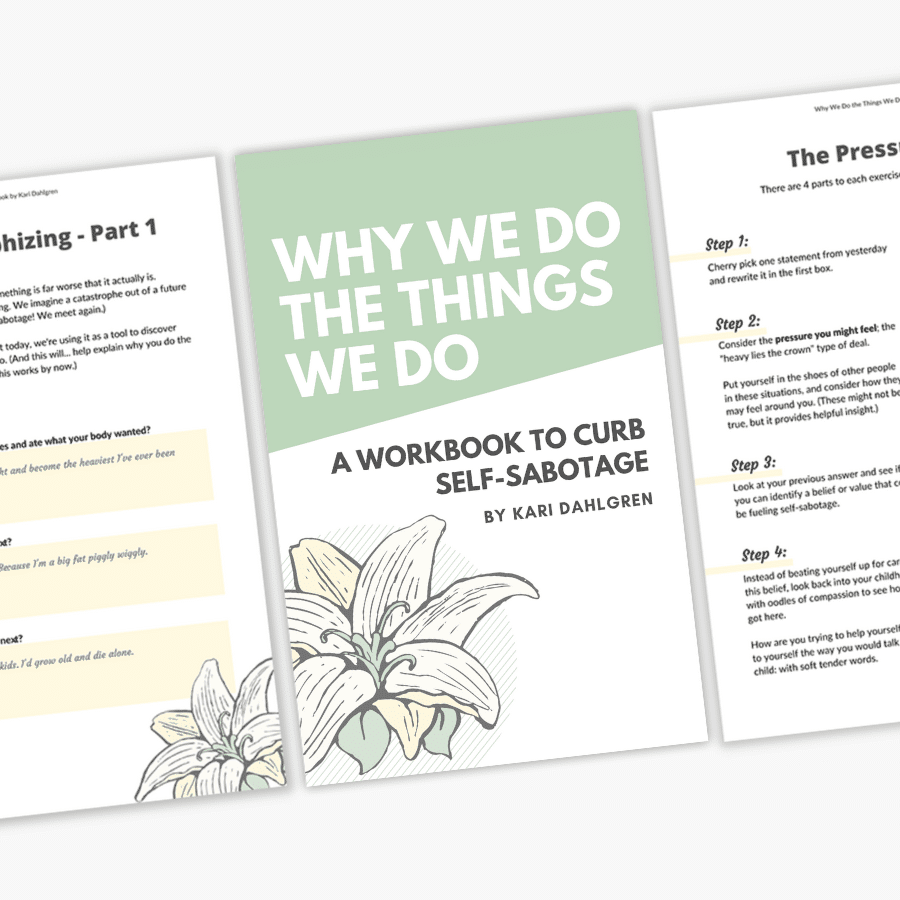 Self-sabotage around food is the worst. Sometimes it looks like "eating well all week" only to binge on Friday night… and keep the binge going until Monday morning.
Other times it looks like knowing in your brain what your body needs, but then compulsively reaching for chips or cookies when you don't actually want to!!!
Why do we do these things?!
Believe it or not, self-sabotage is driven by the fact that we are somehow getting something positive from it. I know it sounds crazy!!! But when you do my workbook, you'll see what I mean.
And that workbook is called Why We Do the Things We Do. It's a harpoon for the limiting beliefs that drive self-sabotage, and it's my most popular offering.
Some people say "feel it to heal it" — and while I whole-heartedly agree, sometimes we need to take a step back and "see it to heal it" first.
After all, if we don't know why we do the things we do around food, how can we break free?
Step 3: Get in on "The Whole Shebang"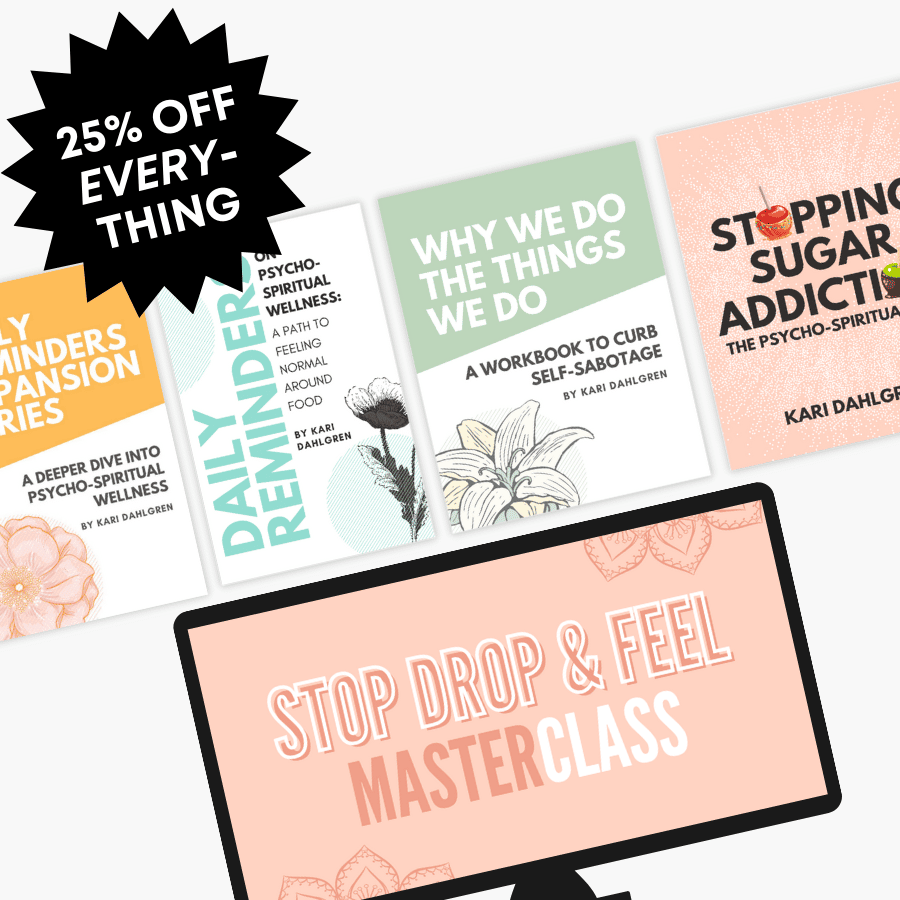 If you are straight-up loving my content and eager to learn all.the.things, dive into the deep end with The Whole Shebang.
It gives you access to ALL of my books, workbooks, and masterclass, bundled at 25% OFF. It's the best deal I offer.
If you feel the things I talk about on the blog and by email, you'll LOVE each of these digital products. Each one brings something different to the path to feeling normal around food, which is the goal.
(Oh, and if you've already purchased something and later decide you want the whole shebang, just email me and I'll send you a custom coupon code so that you can apply the price you've already paid.
Because I hate buyer's remorse and love doing anything I can to prevent you from feeling it!!!)
Step 4: Hit reply to one of my emails! Seriously!
Once you're subscribed, you'll notice that I end a lot of my emails with "hit reply!!!" That's because I don't use any social media, and email is my favorite method of staying connected.
I do my best to read every email and respond to every single one! I love love love hearing from you, so if you ever have anything to ask or a story to share, I would love to hear it.
Step 5: Try some one-on-one coaching
One-on-one coaching is MY JAM!!!
This is my favorite part of what I do, and I would love the chance to meet you and work together on the psycho-spiritual path to stopping compulsive eating.
You can visit my coaching page to learn more and see if coaching is currently open.
Thanks for reaching the end my friend.