Description
When your internal belief system and your external actions don't match, self-sabotage happens.
See if you can relate to this…
Do you ever find yourself eating while standing in front of the fridge, even though your brain is telling you not to? As if your body was being controlled by something else?
Have you considered giving up dieting but find it too scary — because you're afraid of gaining weight? Afraid that if you "let yourself loose" around food, you'll eat everything in sight?
Yup. Been there, done and felt aaaall that.
This workbook was designed to help bring clarity to the reasons why we keep taking one step forward and one step back. Why we keep losing and gaining the same 15 pounds over and over and over again.
Why We Do the Things We Do will help you discover the psychological blocks to compulsive eating, overeating, and weight loss — namely: the positive benefit.
Whenever self-sabotage is involved, we are somehow getting a greater positive benefit from overeating than from reaching our natural weight.
I know this sounds crazy, but at a deeply subconscious level, it's true.
Even though we might be convinced (con-freaking-vinced) that we have had enough of the yo-yo dieting roller coaster, we continue to self-sabotage because of our subconscious beliefs.
And no matter how smart we are, we can't figure it out because they're subconscious. We have no idea we're even thinking these things in the first place. It's no wonder we keep banging our heads against the wall!
This 69-page workbook is your tool to discover what your unique beliefs are.
In this workbook, you'll learn…
What you are believing at a subconscious level about losing weight
Why you self-sabotage even though you are convinced, at the surface level, that you're ready
How to access compassion during moments when we usually beat ourselves up
What your "positive benefit" is (the ultimate cause of self-sabotage)
How to use psychology to your advantage (like "helpful catastrophizing" for instance)
Why We Do the Things We Do comes with 2 PDFs: a 69-page full-color version with excerpts, prompts, and examples; and a 20-page printer-friendly black-and-white version just for writing.
Praise for Why We Do the Things We Do
See what others have said about this workbook:
"Hi Kari, I just have to share with you that I haven't binged in 7 days! That is huge for me. I haven't gone that long without bingeing for years and years. I felt trapped in the cycle but working through your workbook and reading Daily Reminders has helped me so much. I feel better physically and emotionally. My IBS has calmed down drastically and I don't let my feelings fester. Thank you so much!" – Karine
"I found you online and I have to tell you that you have truly changed my life.  I'm 46 years old and I have felt shame for all of the food I have put in my mouth my entire adult life. My whole life I've been told that I was too heavy to do or be this, that, or the other thing.  I tortured myself with diets and none of them worked for me.I found you and I downloaded your book and workbook and I feel like a veil has been lifted from me. A weight has been taken from me, literally.  I have lost a little weight by not being so obsessive about what I am eating, but more than that I've lost the shame and guilt and anger that comes with trying to be 'perfect'." – Susie
"A few days ago, I stumbled upon your… website, I think. I can't even remember exactly what I stumbled upon, and how it happened. It resonated with me. I downloaded your workbook, and as I read through it once, I immediately knew which segment would help. I went straight to that segment, did the psychological and emotional work, and it absolutely worked! Your workbook helped me identify the exact moment – a specific conversation with a relative – when I first felt I needed protection. The memory bubbled up to the surface as if relieved to be discovered. That realization came within minutes of starting your workbook! It was life-altering. For the past few days, my relationship with food has seen an astounding change. Stop-Drop-and-Feel is brilliant, and it absolutely works. But my best experience so far is just now, faced with a box of chocolates I'd bought last week. I only ate three pieces. I allowed myself to eat more, if I wanted, but I didn't want any more. If you knew me, you would find that unbelievable, because I would normally empty an entire box if left unchecked. Thank you for your life-changing work!" – Michelle
If you're ready to dig deep into the inner work, Why We Do the Things We Do is the best place to start.
Look Inside!
Want to take a quick peek inside? Here are some sample pages from Why We Do the Things We Do: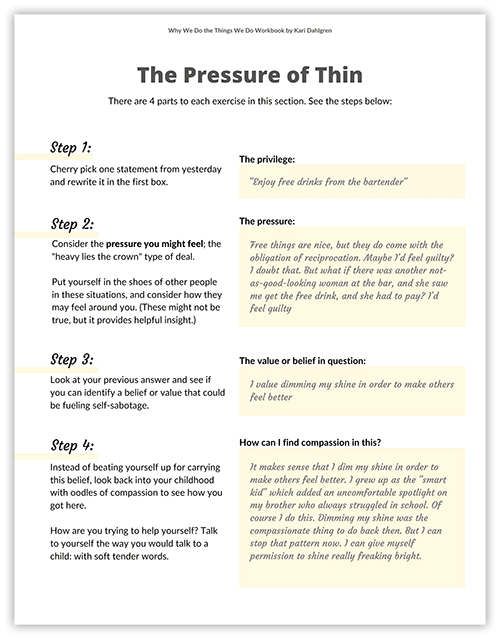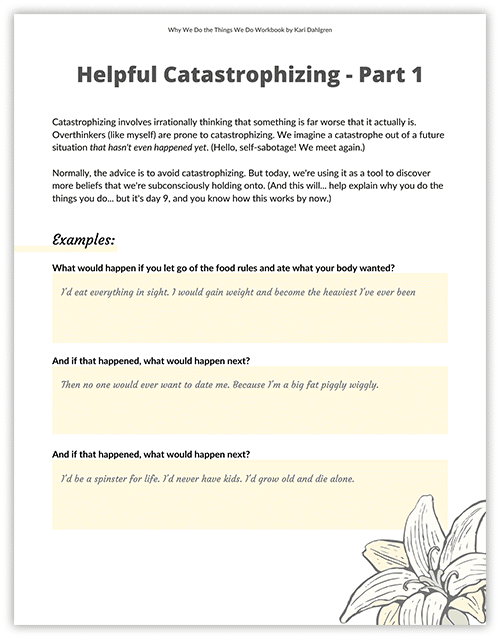 Helpful details: These are samples from the full-color, 69-page version of the workbook. Black-and-white versions are included in the printer-friendly version, and you get both with your purchase.
After you place your order, you'll see a pink button to instantly download these items to your mobile phone, desktop, or both! Copies will also be emailed to you so that you can download your workbook onto multiple devices.
Are you ready for this?! Click the button below to add this item to your cart and stop self-sabotage: