Want to know what happens when you stop dieting?
Here's the honest truth, coming from personal experience:
Things get really dark for a bit, and then they get really fucking awesome.
First, life completely falls apart (we're being honest here, right?)… but if you stay committed, you emerge like a goddamn phoenix: free from food issues, compulsive eating, and body-hate.
And no, you don't gain weight! In fact…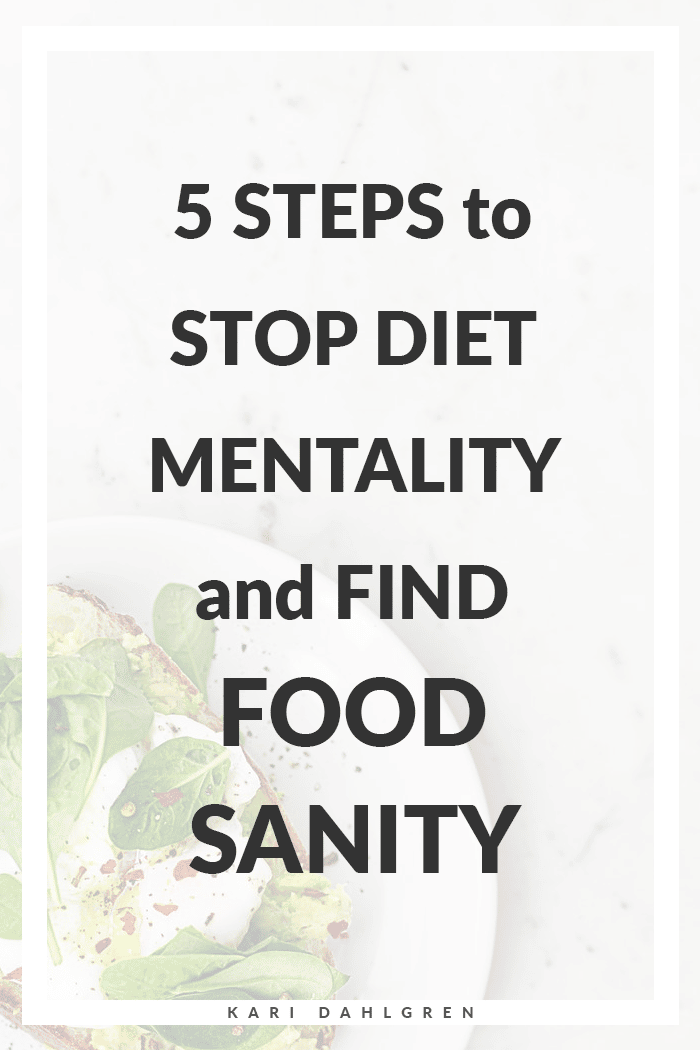 Giving Up Dieting to Lose Weight
Giving up dieting actually helps with long-term weight loss because dieting itself keeps you stuck.
I'm serious.
Giving up dieting is the best way to lose weight.
If that sounds backwards, I don't blame you — you've been brainwashed by a society hyper-focused on quick-fixes and the latest dieting trends. It's all you see in headlines.
But giving up dieting is what has helped me lose weight and, more importantly, learn how to feel confident in my skin exactly as I am.
How to Stop Dieting
There's a right way and wrong way to give up dieting.
If you do it the wrong way, you'll just end up with even stronger Diet Mentality.
So before you embark on this journey, make sure you read my guide on 5 Steps to Stop Dieting, or watch this video that walks you through it:
The video emphasizes my Intuitive Eating Guidelines, which, quickly summarized, are:
Eat exactly what appeals to you when you're hungry
Stop when you're full
Feel Your Feelings when you want to eat when you're not hungry
With that in your toolbox to get you started, the rest of this article will focus on what happens AFTER you stop dieting.
What Happens When You Give Up Dieting
Giving up dieting can be a very scary process for people who are tightly obsessed with food and have a long history with dieting and/or binge eating.
Trust me, I was scared out of my mind when I decided to give it a try. I was full of both desperation and hope.
What really helped me survive this transition (into awesomeness) was understanding the patterns that most people go through.
Generally, people follow 5 stages when they give up dieting.
Next, I'll discuss each stage and how to survive the process.
Please note: THIS IS A PROCESS, and it will be messy. But if you stick with it and give 100% commitment, it will release you from compulsive behavior around food.
Let's dig into the stages.
Stage 1: You Freak the Fuck Out
Choosing to give up dieting will be a moment full of both fear and hope.
While you have some faith this this idea could work, you're mostly scared that it will make you gain weight. This might freak you out… a lot.
As you consider the idea more, Diet Mentality runs the same mental loops:
What if it doesn't work?
My willpower isn't strong, so I need to keep counting calories otherwise I'll eat everything in sight.
What if it doesn't work?!
Okay, I'll give up dieting, but if it doesn't work then I'll just do another juice cleanse.
What if it doesn't work?!?!?!?!?!?!
Do you recognize Diet Mentality when it rears its ugly head?
The process of giving up dieting helps quiet that annoying, self-doubting voice. But for now, you need to ask it to step aside while you perform an experiment…
How to survive this stage:
Surviving stage 1 is all about learning to trust yourself again.
And you can start building your self-trust with the motto, "allow, allow, allow."
In my guide to giving up dieting, I talk about how giving yourself total, complete, unrestricted permission to eat whatever you want actually works like reverse psychology: because you can have it, you no longer want it.
I know that, at this particular moment, you might have very little trust in yourself around food. At this stage, most people are afraid that if they let themselves loose around food, they'll eat everything in sight.
Just make yourself a deal that for the next 6 months, you're allowed to eat whatever you want.
Allow, allow, allow.
Stay 100% committed, and focus on building your self-trust.
Stage 2: Short-Term Binges May Occur (Stay Committed!)
After you decide to give up dieting and eat exactly what appeals to you comes the scariest part: binges.
This might cause your Diet Mentality to scream something like, "Ahhh!! Forget this! We don't want binges! That's exactly what we're trying to avoid!"
To calm yourself down, know that this phase is temporary, and it's a rite of passage that EVERYONE goes through.
Surprisingly, allowing yourself to experience these short-term binges will help you stop binge eating long-term.
YOU WILL GET THROUGH IT.
How to survive this stage:
To minimize the hiccups and binges that you may experience, stay extremely committed to the Intuitive Eating Guidelines.
If you get freaked out and retreat back to dieting and restriction, you will only strengthen Diet Mentality and remain stuck in the yo-yo dieting trap. We don't want that.
Trust this process. Know that binges in the beginning are NORMAL and TEMPORARY and you will get through it if you stay committed to not dieting.
(And if you get too freaked out, just email me by responding to any of my newsletters and I'll help coach you through it.)
Stage 3: Life Suddenly Gets Worse in Area's (Seemingly) Non-Food-Related
Alright, I'm almost done with the "dark stuff," I promise. (The light at the end of the tunnel is coming!)
But one last uncomfortable thing happens when you give up dieting:
All the yucky shit that you used to numb with food comes bubbling to the surface. It's often stuff that you didn't even realize that you were numbing, so it might seem unrelated.
For example, when a dear friend gave up dieting earlier this year, she went through a mini crisis about her age.
At first, she just thought it was something that every aging woman goes through. But here's what was really happening: She stopped numbing with food, and now the aging/body image issues that had always been there bubbled to the surface.
Because she trusted my advice, she continued to stop dieting even though her body image issues made her want to retreat back to the safety of dieting.
And here comes the bright side:
After a few weeks, the aging crisis ended, and so did the binges! After allowing herself to feel these yucky feelings, she successfully moved through stage 3.
How to survive this stage:
You can get through this stage, just like my friend, by practicing Feeling Your Feelings.
This is very difficult work — possible the hardest work of your life (at least it was for me).
No one wants to feel uncomfortable, but it's an essential skill. Not just for weight loss, but for life!
When you give up dieting, you will deal with very uncomfortable feelings that you were avoiding, likely for a long time.
Summon your courage and start practicing Feeling Your Feelings.
A great practice for this is the Stop, Drop, and Feel — my method for stopping yourself in the middle of a binge by tuning into your feelings.
Here's a video that walks you through it:
Stage 4: You Find Food Sanity!!! With Some Turbulence
And now the good times begin!
Once you get to stage 4, you've developed some self-trust and you're comfortable having your once-forbidden foods.
They no longer tempt you.
Suddenly, you can buy a bag of brownies and only eat two bites. Moderation becomes easy.
You're still developing the skill of Feeling Your Feelings, and when things get too uncomfortable, you may binge every now and then, but it's nothing crazy.
You are truly making strides in your food sanity and body acceptance.
How to make the most of this stage:
Surviving stage 4 is all about staying focused on skill-building.
During this time, it's essential to practice the Intuitive Eating Guidelines and the Stop, Drop, and Feel method. These two practices are the foundation of psycho-spiritual weight loss.
And as these skills grow stronger, your Diet Mentality gets weaker.
And eventually…
Stage 5: You Become a Goddamn Phoenix
After remaining 100% committed to giving up  dieting, you come out on the other side. It was a turbulent ride, but you did it!
You're skillful at listening to your body and feeling the uncomfortable feelings that are part of life.
A normal relationship with food emerges.
You can go to social gatherings and have any kind of food in front of you without going on binges.
Not only has your eating behavior changed, but the foods that you crave have changed too. Instead of eating those once-forbidden foods, you also eat things like salads and nutritious foods.
You have also started to find acceptance for your body. When you look in the mirror, you don't nit-pick as much. Instead, you're learning to love yourself more and more.
How to make this stage even better:
Once you reach stage 5, you're free.
You likely won't feel the need to focus on weight loss. Instead, it will happen naturally.
If you feel the need to reinforce this freedom, I recommend a few more practices:
Start a mirror affirmation practice to enhance your self-love
Add more joy to your life so that you can avoid joy eating
Get more advice like this every week by signing up for my newsletter below
Yup, I totally just plugged my own shit at the end because, hello, this is my passion! And my emails will support you through this messy process.
I hope to see you on the other side!