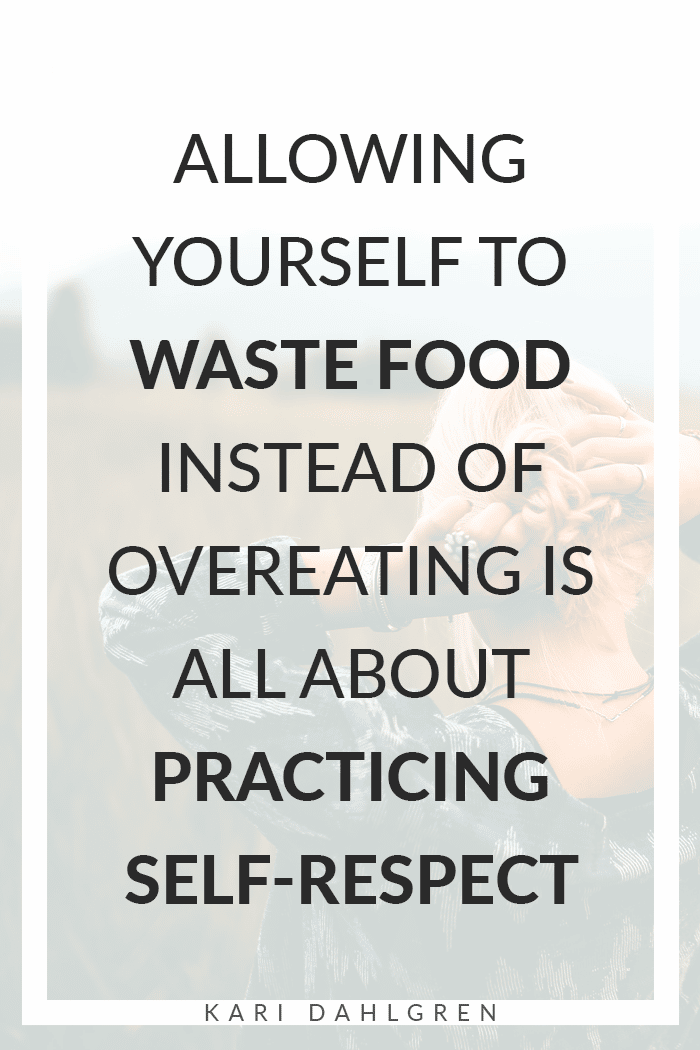 "It either goes in your mouth or in the trash. Either way it is wasted." -Geneen Roth
In order to stop overeating, you've GOT to be willing to waste some food.
Yet many of us resist this like hell. We feel that it's our civic duty to finish the food on our plate, but it comes with a price.
See if you can relate to any of these reasons why it's hard to waste food even though you're full:
You spent your hard-earned money on your food and you don't want to waste it.
You figure that you'll be hungry a few hours from now anyway, so might as well eat what you paid for!
Your parents trained you from a young age to always finish your plate, and you can't help it.
You hate rejecting food that someone has offered you. You don't want to be rude.
You feel guilty about wasting food when starvation is a serious problem in third world countries.
Can you relate to any of these illogical beliefs about wasting food? If so, they're keeping you stuck in overeating for no good reason.
In this article, I'll tear apart each of these excuses and help you make peace with wasting food. You'll notice that self-respect is the common thread here, and it's a beautiful thing.
1. Eating More Food Doesn't Save Starving Children
Let's start with the most taboo part of wasting food: starvation elsewhere in the world.
Some of us overeat because we feel guilty about wasting food when there are starving people in the world. But whether you finish your plate or not, the food still gets wasted. It either goes on your body or in the trash. Which do you prefer?
Finishing your plate has no impact on starving people. If you want to actually make a difference, then donate to charities that actually help fight world hunger. Don't keep finishing your plate because you've convinced yourself that it will help end world hunger.
2. Self-Respect Comes at a Cost
If there was a surgical procedure that could give you the body of your dreams, how much would you pay for it? Many of us are so freakin' exhausted by the weight thing that we would pay thousands of dollars to just be done with it already. (Some people actually do this with gastric-bypass surgery or liposuction.)
So, when you've paid $20 for a meal, and you get full halfway through, how does "wasting" $10 compare to willfully spending thousands of dollars? It doesn't.
In order to respect your body, you need to eat when you're hungry and stop when you're full. And if you have to waste some money in order to show yourself some respect, then so be it! 
3. Eating for the Hunger to Come Is a Bad Excuse
You might argue, "But I know I'll be hungry in a few hours. So if I just eat the rest of this food now, I'll save money later!" This is yet another seemingly logical defense against wasting food, but it never works out the way we intend.
Overeating now means we need to undereat later in order to achieve balance. And if you struggle with overeating, then you know how hard it can be to resist an empty tummy.
So stop eating for the hunger to come. Eat when you're hungry. Stop when you're full. Get back into the natural rhythm of your body's hunger.
4. You Make the Rules Now
When your parents taught you to lick your plate clean, they were misguided. They weren't trying to bestow a life of overeating on you. And the good news is that you're a full-grown adult now, which means that you get to make the rules! And the rule, if you want to achieve your natural weight, should be to eat when you're hungry and stop when you're full – even if it means wasting food.
Leaving food uneaten is one of the hardest habits to break, though, so I suggest starting small like I did: Before you start eating, set the intention to leave the last bite uneaten. Just the last bite.
It's crazy how hard this can be, but after some time, you'll get used to it. Then, keep increasing the amount until you become skilled at honoring your body's natural fullness signals.
5. You Are Not Responsible for Someone Else's Feelings
Do you overeat sometimes because it would be rude if you refused the food you were offered?
I totally get this. I used to feel like that, too, until I realized that respecting my body is much more important than appeasing someone else's feelings.
Plus, if you asked that person if they would rather have you respect your body or eat the food they offered, they would prefer that you respect your body! And if they don't, then you need to take a look at who you're spending time with.
However, to this you might argue, "But it's my grandma! I can't disrespect her, and I'm forced to be around her!"
Ok. Then it's time to tell grammy that you're trying this new thing called self-respect. Explain that you simply aren't hungry and overeating has consequences that you're not willing to accept.
It's time to stop disrespecting yourself in order to dance around other peoples' feelings. Everyone is responsible for their own feelings. If you offend others by not eating their food because you're already full, then THEY are responsible for their hurt feelings. That's their shit, not yours.
Bonus tip: Tell your friends/family ahead of time that you won't be eating, so they shouldn't prepare any extra food for you. This helps prevent expectations and letdown.
Show Yourself Some Respect and Waste Some Food
It takes lots of practice to make peace with wasting food, so start small and keep practicing. Eventually you'll get to a place where you can't imagine disrespecting your body by overeating just to save money or someone else's feelings.
Allowing yourself to waste food in order to respect your body is not something that you should feel bad or guilty about. In fact, honoring your body is something to feel proud of.