The conventional wisdom on mindless eating sucks. Everyone gets it wrong. How can I be so arrogant? You'll see soon enough.
But I'm absolutely sick of it. Tactics like using smaller plates, eating from smaller packages, or scheduling your snacks will not help you stop eating when you're bored long-term.
(I mean, most of us usually just get a second helping with that smaller plate, ya know?)
So what's the correct way of looking at all this?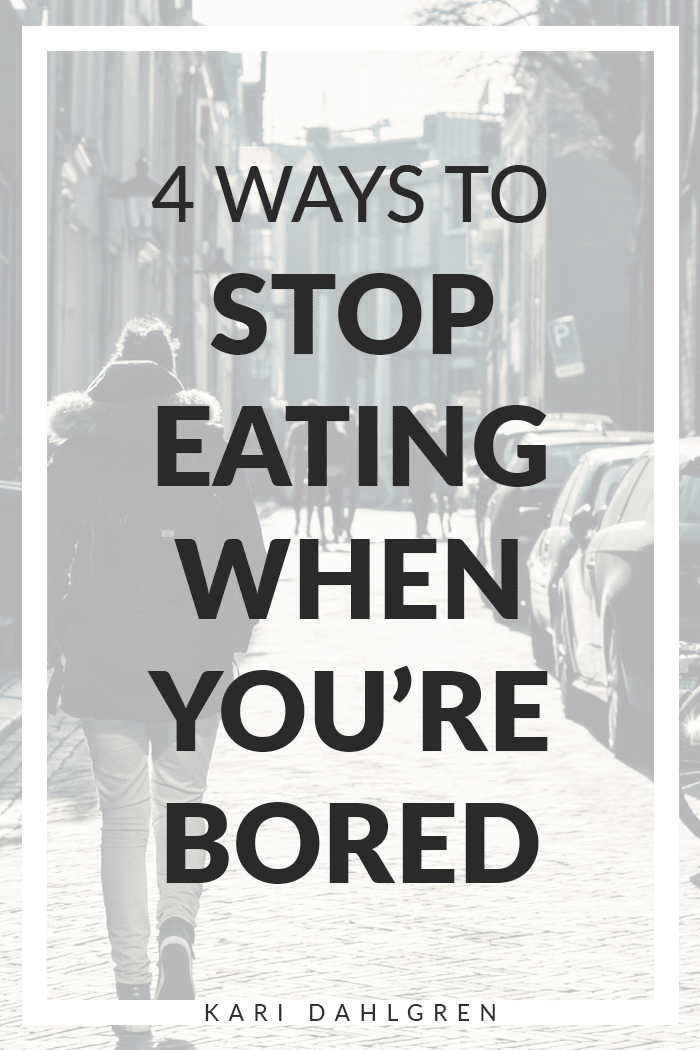 We need to address the root problem – not the symptom (and smaller plates only address the symptom).
And the root problem is this: you are detached from your pain.
Your pain is not the problem – it's the solution
No body likes pain, but our pain needs to be felt. Otherwise, it will find a different outlet – and in this case it's mindless eating.
Without stopping to recognize and feel our pain, we will continue to mindlessly eat, which only increases our pain in the long run as our weight begins to increase.
So, the solution to end mindless eating goes like this:
Recognize the pain that you're avoiding
Allow yourself to feel your pain (it won't kill you)
Watch your desire to eat melt away
Simple, but difficult. So, you next question might be: How can I feel my pain? Where do I start?
First, let's take a deeper look into the two ways that we avoid pain by mindlessly eating. They're very similar – but the first one is less intense than the second, so I'll explain each.
Are you a detached comfort eater?
First, when we're trying to avoid something uncomfortable (like a difficult conversation, challenging project, or even ourselves), our mind will crave comfort elsewhere to compensate. Food is easy comfort.
For example, if you're procrastinating on a big project, then you may find yourself gravitating towards the kitchen instead of your workstation.
Often, we usually aren't aware of how uncomfortable we are in our own skin. That's why it's called mindless eating – we're completely unaware and detached from our bodies.
How to know if this is you:
Have you ever eaten in a blur, where you get to the bottom of a bag of chips without even realize how you got there? That's detached comfort eating.
Or are you a pain-avoidant eater?
Second, when we're afraid to face something painful, we subconsciously use food as a numbing agent.
For example, if you're upset about a bad day at work, you may find yourself reaching for some chips first thing when you get home. This numbs the pain of processing a difficult day.
Or, if you have unresolved issues that are causing pain, then you may use food to numb the pain – although you may not realize it because you don't even know that there is pain.
This is why healing your relationship with yourself is so essential for ending mindless eating.
For example, I once found myself reaching for a box of cookies when I wasn't hungry. After I stopped to ask myself where I was avoiding pain, I discovered something.
I realized that I was avoiding confrontation with someone without even realizing it, and I was attempting to numb the anxiety and anticipation with food.
How to know if this is you:
Have you noticed a pattern with your mindless eating? Does it only happen when you're stressed out or just got off work? That's pain-avoidant eating.
Stopping the Chaos
The problem is that we're unaware of the reason why we mindlessly eat – and we don't do it because we lack self-discipline.
We mindlessly eat because we're attempting to find pleasure amid chaos.
And, unfortunately, eating when we're not hungry will never give us long-term pleasure. It only adds to our discomfort and pain, and a vicious cycle ensues. But it's a cycle that you can end.
Here are 4 methods that have helped me end my mindless eating habit FOR GOOD. They worked for me (and trust me, I had a long way to go), so they could work for you.
1. Stop Running
Okay, don't actually stop doing cardio, but you need to stop running from your pain. Here's the best way to do this:
The rule: When you eat, only eat. No distractions.
The exceptions: Conversation with another person.
The NOT exceptions: Eating while watching television, driving, browsing the internet, texting, using your phone, etc. Pretty much, anything that's not eating or talking to the person you're eating with.
Essentially, when you eat, you should aim to become a Buddhist monk and meditate with your food.
This allows you to face yourself. It gives you time to realize if you're running from something. Because when you're eating and only focusing on eating, those thoughts will definitely surface.
You know how meditation makes you all kinds of uncomfortable because all those unwanted thoughts come to the surface? That's what we're aiming for. That's what we want: discomfort.
Becoming aware of the discomfort is the beginning of curing mindless eating. By generating enough stillness, you can become aware of the thing you're avoiding.
2. Find a Better Outlet
If you have something in your life that you're passionate about, then you'll never be bored. Each time you find yourself with free time, you'll be pouring your heart into that thing.
What if you don't have a passion? Find one – and don't put pressure on yourself to find the perfect one.
It doesn't have to be the thing you'll make a career out of. Heck, it doesn't even need to be anything of significance. It just needs to be significant to you.
Try your hand at a new hobby, pick up a sport, start writing, etc. Do what you need to do to fill your life with passion and meaning instead of food.
3. Discover Yourself Through Boredom
If you find something to be passionate about and you still feel bored, then we have a different problem on our hands.
In the article Boredom Is Not a Problem to Be Solved, the author suggests some unconventional advice that I wholeheartedly agree with:
"Lean in to boredom, into that intense experience of time untouched by beauty, pleasure, comfort and all other temporal salubrious sensations.
Observe it, how your mind responds to boredom, what you feel and think when you get bored. This form of metathinking can help you overcome your boredom, and learn about yourself and the world in the process."
In other words, face the void and watch yourself grow uncomfortable, and then use that discomfort to learn about yourself.
It's hard. It's really dang hard. And perhaps this is the one instance where discipline really does come into play.
4. Stop, Drop, and Ask
The next time you find yourself reaching for food when you're not hungry and bored, ask yourself, "What am I avoiding? Why am I using food to numb myself right now? What should I be facing instead?"
You may be surprised by the answers that surface when you ask yourself this question. Ideally, your intuitive mind will be quick to blurt out something insightful well before your conscious mind has time to realize what's going on.
Try it. It will help you pay attention to the thing inside of you that needs your attention more than food.
You Are A Warrior
This advice is far from mainstream, and it takes courage to apply it to your life. If you're up for the challenge, then you will be pleased with your results.
Because it means you'll be deep in the trenches of your pain. And while it will suck while you're in it, you will emerge as a stronger version of yourself.
Facing your pain instead of mindlessly numbing it with food is how true change and inner healing occurs.
So the next time you find yourself reaching for a bag of chips, ask yourself, "What pain am I avoiding?" Then, lie down and let the pain wash over you, and watch your desire to eat melt away.
Like the last cloud on a hot summer day.
Stop Mindless Eating – In One Really Long Sentence
You eat can stop mindlessly eating by facing the pain that you're avoiding, which becomes easier through these 4 tactics: removing all distractions, working on something you're passionate about, making peace with boredom, or using self-inquiry; which will nurture your relationship with yourself and bring you back inside your body.