"It is only when you give yourself permission to eat that you can give yourself permission not to eat." -Geneen Roth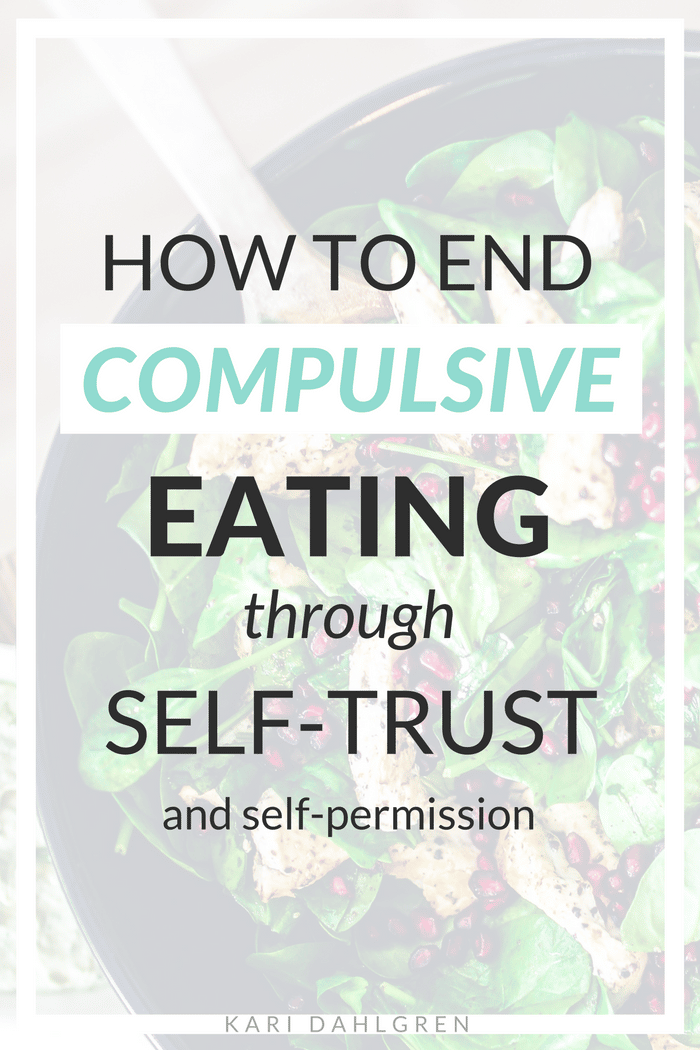 If I told you that you can eat whatever you want and still lose weight, would you believe me?
Yeah, I can feel that HELL NO on the tip of your tongue – but honestly, it's true.
You can take everything you know about dieting and throw it in the trash.
Because if you only eat when you're hungry and always stop when you're full, then your weight will regulate itself.
(Reread that sentence because it's a powerful one.)
And self-trust and self-permission are crucial for that to happen.
Self-Trust
Your body already knows everything you need to lose weight. Your body knows when it needs fuel, and it also knows when it's had enough.
And if you listen to it, you'll be in good shape.
It's when we start relying on external cues to feed ourselves that we're in trouble.
Because when we deny our hunger and wait until the 'right time' to eat the 'right food' in the 'right amount' – that's when we overeat.
The rules don't know us personally.
The only person who will ever know what's right for you is YOU.
Unfortunately, compulsive dieters (like my former self) are reeeally good at denying our hunger and relying on rules instead.
And the worst part is that the more we deny ourselves, the more we lose our own trust. As a result, we lose our own permission too – and we need our permission in order to lose weight.
(It may sound weird, so hang with me.)
Self-Permission
When we deny ourselves certain foods (i.e. 'bad' foods, or – more accurately – 'forbidden' foods), it only gives those foods more power over us.
The French fries, the pasta, the chocolate bars… All those treats that we crave but don't allow ourselves to have…
They're all ridiculously ordinary!
But they don't feel ordinary when we spend so much time and energy actively resisting them.
And we're only resisting them because we made up the rule (ourselves!) to resist them in the first place.
It's like that bratty little kindergartener I often refer to.
When you're playing with crayons, the little brat wants to use your crayons. And when you decide to play with something else, the chump doesn't want the crayons anymore.
We do the same thing to ourselves when we deny ourselves certain foods.
What The Process Will Look Like
So what's the trick to all this then?
To allow ourselves to eat the foods we know we shouldn't have? … Well, yes.
And it's terrifying, I know. (Trust me, I know.)
But once you give yourself permission to eat forbidden foods, you probably won't even want them anymore.
Or, in most cases, it will happen like this:
You will have the forbidden food and it will feel like a guilty pleasure
You will realize that it wasn't as good as you thought it would be
Because you now have permission to have those foods whenever you want, you will stop craving those foods
If you were a little punk with crayons, it would happen like this:
You will play with the crayons that aren't yours
You will realize that the crayons were never much fun
You stop playing with the crayons because you had your kicks and it turns out that crayons are actually kinda boring anyways
It really does happen that way.
The Caveat
The key to eating forbidden foods without bingeing is to only eat when you're hungry and always stop when you're full.
You can eat whatever the hell you want – but only do it when you're hungry and always stop when you're full.
This is how we end compulsive eating once and for all.
What Happens without Trust and Permission
When you give yourself permission to eat what you want, you also give yourself permission to stop.
When you DON'T allow yourself to eat what you want to eat, then you WON'T allow yourself to stop.
See if you can relate to what this often looks like:
You're hungry, but you're on a diet. So you start off by 'being good' and eating a salad – even though what you really wanted was a bean and cheese burrito.
Since your craving for a burrito wasn't satisfied by the salad – and nor was your appetite – you have a sandwich, too.
This satisfies your hunger, but not your craving. So you also have half a family-sized bag of chips because, well… You wanted the crayons but wouldn't allow yourself to have them, so you settle for everything else instead.
Suddenly you've eaten way more than you would have if you just allowed yourself to eat the bean and cheese burrito in the first place!
It's soooo frustrating and I've been there soooo many times!
And it can end.
Step 1: Trust
So many of us are absolutely terrified – almost paralyzed – by the idea of eating whatever we want.
We convince ourselves that it would lead to a never-ending binge; so we tighten up ship instead.
We mentally rewrite the list of foods we shouldn't have, and we continue to deny our hunger – and we continue to lose our own trust.
It's only when we regain our self-trust that we can finally be normal around food.
Step 2: Permission
By giving yourself permission to have what you want, you remove all power that those cravings once had.
Because you will eat what you're craving, and you'll have much more energy left over (because you aren't resisting anything) to actually stop when you're full.
It will leave you with permission to have a Chipotle burrito – and it will leave you with permission to leave 75% of that burrito uneaten. (Gasp!)
And it will feel natural leaving it uneaten.
Because you never wanted the whole thing in the first place.
And now that you have your own permission to have the whole thing if you truly wanted it, you also have permission to stop.
---
A note to book lovers: This insight came from Geneen Roths' workbook Why Weight. What I learned from this book is worth its weight in GOLD to me, and I highly recommend it.