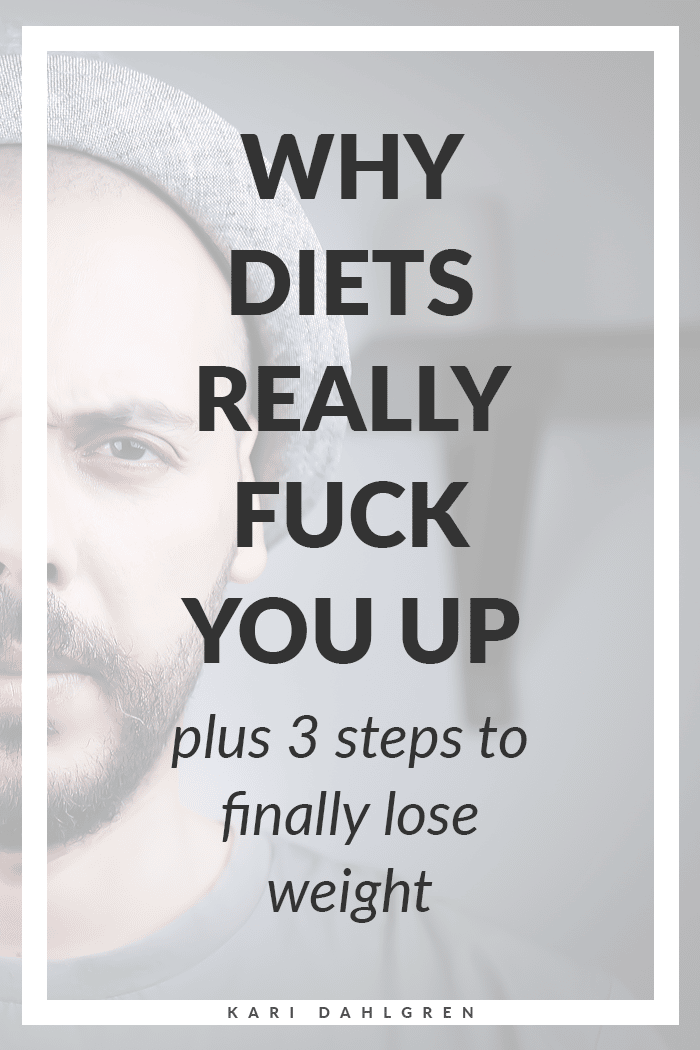 Pardon my profanity, but it's necessary today.
Because I need the element of shock when I say that dieting can really fuck you up.
Whenever you try to listen to your mind instead of your body, like most diets require, bad shit happens.
For one, you might start to develop self-hate each time you sabotage your diet plan – and you cannot hate yourself thin.
But you probably try anyway because you really want to be thin (since you mistakenly think that being thin always leads to happiness).
Then you start to play all sorts of games with yourself in order to manipulate yourself into eating less food… and then you slowly go insane.
This insanity is called Diet Mentality, and I'm convinced that Diet Mentality will keep you overweight forever.
It's seriously fucked.
To help you unfuck yourself, this article will explain:
Why Diet Mentality keeps you stuck
How to distinguish between Dieting and Just Eating Healthy so that you can see if you have Diet Mentality
3 steps to finally lose weight the psycho-spiritual way 
Ya'll ready for this?
Are You Screwing Yourself Over?
Here's a concept that you may have forgotten:
In order to produce different results, you need to take different actions.
Although it sounds obvious, yo-yo dieters make this mistake all the time. They diet, then fail, then hop back onto another diet even though it clearly doesn't work.
This is the part that fucks you up: assuming that a different diet will produce different results, when the problem is actually the dieting itself.
If you feel resistance to that, then maybe… just maybe… you've been brainwashed by the $60 billion dollar diet industry; and they very thing they're selling you is the very thing keeping you stuck.
But first, let's distinguish between Dieting and Just Eating Healthy so that you can see if you have Diet Mentality or not.
Are You Dieting or Just Eating Healthy?
Have you poisoned your brain with Diet Mentality without knowing it?
There's a very fine line between Dieting and Just Eating Healthy. Here's the difference:
You're on a Diet and likely have Diet Mentality if you…
Try to manipulate your food intake to manipulate your body size
Have a list of allowed and not allowed foods (either formally written down or informally memorized)
Ignore hunger and eat by the clock or by some other set of rules
Beat yourself up when you break your rules
You're Not Dieting and Just Eating Healthy if you…
Eat what your body wants when you're hungry and stop when you're full (i.e. you follow the Eating Guidelines)
Focus on eating mostly whole foods, but allow yourself some treats every now and then – and you don't feel guilty about it
Treat yourself with compassion whenever you slip up
Toootally different right?
Dieting relies on self-control and punishment whereas not-dieting relies on self-trust and compassion. Complete opposites!
And doing something totally opposite of what you've been doing just might be crazy enough to produce different results, like finding body acceptance and finally losing the weight.
So let's outline a plan for weight loss that can actually work – if you put in the work.
3 Most Important Steps for Weight Loss
Here's a simple yet radical formula for true weight loss:
Stop dieting
Practice following the Eating Guidelines by eating when you're hungry and stopping when you're full (intuitive eating)
Practice feeling uncomfortable instead of overeating to numb the feeling of discomfort
Do these suggestions surprise you? If you've been dieting for years, it can feel weird to think about weight loss without including diet and exercise.
But remember that quote from earlier: "In order to produce different results, you need to take different actions."
That's why the radical, opposite action of NOT dieting can actually work.
Opposite Action
My life changed when I finally pulled my head out of the sand and recognized that dieting merely treats the symptom instead of the real problem… your psychology.
That's why we get seduced by diets so easily. A diet promises weight loss by fixating on one thing outside of yourself: food. Or maybe two things: food and exercise.
And what I'm suggesting is really unattractive compared to that.
I'm suggesting that, instead of focusing on controlling your outside actions, you work on aaall those messy feelings inside yourself that you've been trying to avoid. 
Yuck. It's no wonder you keep dieting even though (deep down) you know it doesn't work! The other option is really fucking hard.
But different action is required for different results.
Braving the Hard Choice
Retiring from dieting can actually help you lose weight because it shifts your focus to the thing that's actually keeping you stuck: your psychology.
True weight loss occurs on the psychological and spiritual level, in my opinion. Sure, eating well matters too, but one definitely has to come before the other.
And I bet that once you've found Body Acceptance through Not Dieting, you'll naturally start to Just Eat Healthy without trying so damn hard.
But that's another story for another day.
Take the Leap of Faith
So give it a shot, yeah? Give my psycho-spiritual approach to weight loss a chance.
Follow my steps to stop overeating and practice using the Eating Guidelines and start developing the skill of feeling uncomfortable.
And do all of it while you give dieting a fucking break.
This leap of faith is terrifying, but hopefully one day you'll be so exhausted by dieting that you go crazy enough to join me.
And dude, it's the best decision you'll ever make. You can count on it.