Overeating isn't a problem – it's a symptom.
And like all symptoms, it's best to address the real problem in order to find a lasting solution.
The idea that I'm about to present to you may sound absolutely crazy (bonkers, if you will) when compared to all the conventional wisdom out there. But in this case, crazy is what works.
So here's my crazy premise: Overeating is caused by self-abandonment.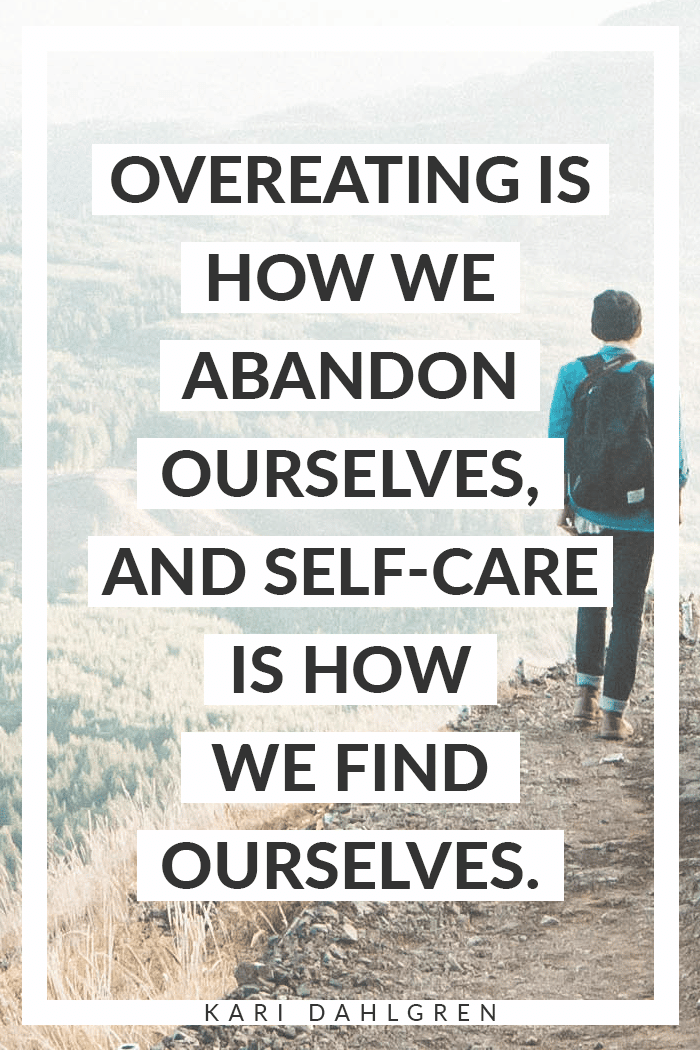 If you haven't considered the idea that overeating and the inability to stay with yourself are related, then this article is for you.
I hope that it will serve as an important revelation on your weight loss journey. (It certainly was for me.)
Overeating and Self-Sabotaging
Now, why would we ever abandon ourselves in the first place?
The answer is simple: because life is painful, and food helps soften that pain – even when it's counterintuitive. This is also known as self-sabotage.
For example, if you're ashamed of your body and a smokin' hot bod walks into the room, then your shame will most likely intensify.
In order to reduce that awful feeling of shame, you may reach for a pacifier. And when food is around, that pacifier is overeating.
Unfortunately, when we use food to soften our pain, we gain weight, which only makes our pain worse.
So, What's the Solution to All This?
If the true cause of overeating is self-abandonment, then the solution is to come back to ourselves… relentlessly.
The best way to do this is to simply take care of yourself.
By taking care of yourself, you let yourself know that you're here – and you aren't going anywhere. This is also known as self-care.
For example, taking the time to indulge in a bubble bath is your way of saying, "Hello (your name). I'm here. I'm right here with you. And I'm taking care of you because I love you."
When you indulge in self-care like this, you're much less likely to abandon yourself by overeating later. Because self-care helps you establish a relationship with yourself and – most importantly – respect for yourself, too.
And when you respect yourself, you are far less likely to sabotage yourself.
Overeating Ends with Self-Respect
The more you demonstrate respect for yourself and your body, the more likely you are to only eat when you're hungry and always stop when you're full.
That doesn't mean that it will be easy. Oh, no, no, no. Don't be fooled. Because without overeating, there will be discomfort floating around that you can't soften with food.
However, out of respect for your body, you will find a much better way to face your pain instead of numbing it with food – and this better way simply involves stepping back and allowing yourself to feel the discomfort.
This approach is straightforward, but not easy.
In the end, however, it doesn't matter what you do to channel the negative emotions that are causing you to overeat. All that matters is that you find something that nourishes your relationship with yourself, and you stick with it.
The key here is not what you do, but why you do it.
Foods You Love & Self-Love
This is why eating low calorie foods does not always prevent overeating. Because if these are not the foods that you enjoy, then it does not demonstrate self-love or self-respect.
Any method that involves punishing yourself instead of loving yourself will always fail you. That's why I talk about self-love so much on my blog.
Because when you love and respect yourself, you're much less likely to overeat. Instead, you will stick with the better alternatives: feeling your pain and taking care of yourself.
Pain Is a Path Leading Back to Yourself
As human beings, our natural reaction to pain is to avoid it. Make it stop. Run away. Do something – anything – to make the pain subside.
However, when it comes to overeating, we need to learn how to feel our pain. Otherwise, we will continue to overeat in order to soften our pain.
So, what I'm trying to tell you here is a very un-sexy premise: feel your pain and you will stop overeating. (Very unsexy.)
But you know what IS sexy? Living an authentic life where you honor all your feelings – even the bad ones – and take care of yourself. To me, that's sexy as hell.
Mainstream media doesn't think so, but mainstream media also doesn't know how to actually help us lose weight. They only know how to sell us quick fixes that capitalize on our shame and only work short-term.
Screw mainstream media.
3 Foolproof Solutions to Stop Overeating
Stay with yourself, allow yourself to feel your pain, and make self-care your #1 priority. That's the sustainable path to weight loss.
If you do these things, you will end the self-abandonment problem and conquer the overeating symptom. As a result, you will steadily move towards your natural weight and learn a helluva lot about yourself during the process.
It's all about self-love, self-care, and a whole lot of self-respect.
(Cue the Aretha Franklin music ?)