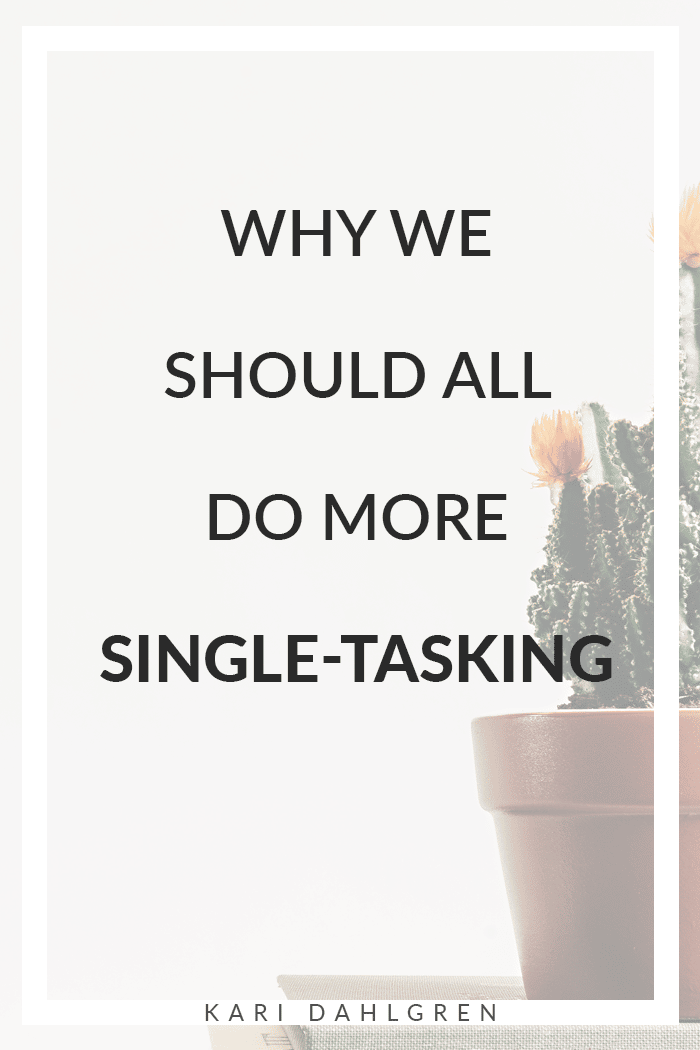 I'm pretty guilty of choosing efficiency over being present sometimes. And I think we're all a little guilty of this.
We can't help it. We're restless.
The Problem with Our Culture of More
The technology in our lives has enabled us to do more than ever before, but at what cost? It seems like this Culture of More has killed our presence.  And although I am aware of the problem, I still struggle with slowing down.
For example, when I need to do mindless work, I always find myself trying to listen to a podcast to "make the most" of the time. But is "making the most" really the best way to spend my time? Why not just do one thing at a time?
Why not stand in line at the grocery store without checking your phone? Why not listen to a podcast while doing nothing else – not even driving?
"That's not as efficient," my mind says.
I never liked that excuse, which is why this article on single-tasking from Zen Habits resonated sooo much. I realized that there's far more to gain by doing one thing at a time than losing the present moment to multitasking.
Less Efficiency Is Worth More Calm
After reading ZH's article, I moved through the rest of my day doing just one thing at a time. Each time I'd try to do two things at once, I slowed down and did them one at a time.  Because of this, I noticed a sense of calm relaxation settle over me.
This satisfying way of living permeated my being. I felt light and centered. I thought to myself, "Ahh, this is what mindfulness feels like. I love it. I never want to go back to my old ways."
Today was so different than the haze I've been stuck in that I've decided to give up multitasking for good — or as best as I can.
I'm done sacrificing my presence in order to do more. I want to be here, more. Even if it's a snail's race.
Can You Handle Longer and Slower?
This will require being content with less.
…being content washing the dishes, doing nothing else.
….being content driving on the highway, doing nothing else.
…being content responding to a message, doing nothing else.
It will also require slowing down and being willing to take the longer route.
Text messages will take longer because I won't handle them at red lights. Podcasts will take longer because I won't listen to them at work.
Everything will take longer, and it's worth it. Taking the extra time is worth the calm, relaxation that I get in exchange.
Calm is so much better than stressing. This sounds obvious, but without conscious effort, our bad habits overrule logic.
Keep Reminding Yourself, You've Got This
While I make this shift, I need to constantly remind myself of my purpose, because I know those old thought patterns of "that's not as efficient" will crop up.
Through the practice of reminding myself to do things one at a time, I will eventually create new thought patterns. Eventually, it will create a new lifestyle of slow single-tasking, and I am so excited.
Today, I make the vow to live a slower, calmer lifestyle. I give up the right to do multiple things at once, and I commit to a life of more presence, stillness, and doing one thing at a time.
What will you commit to?