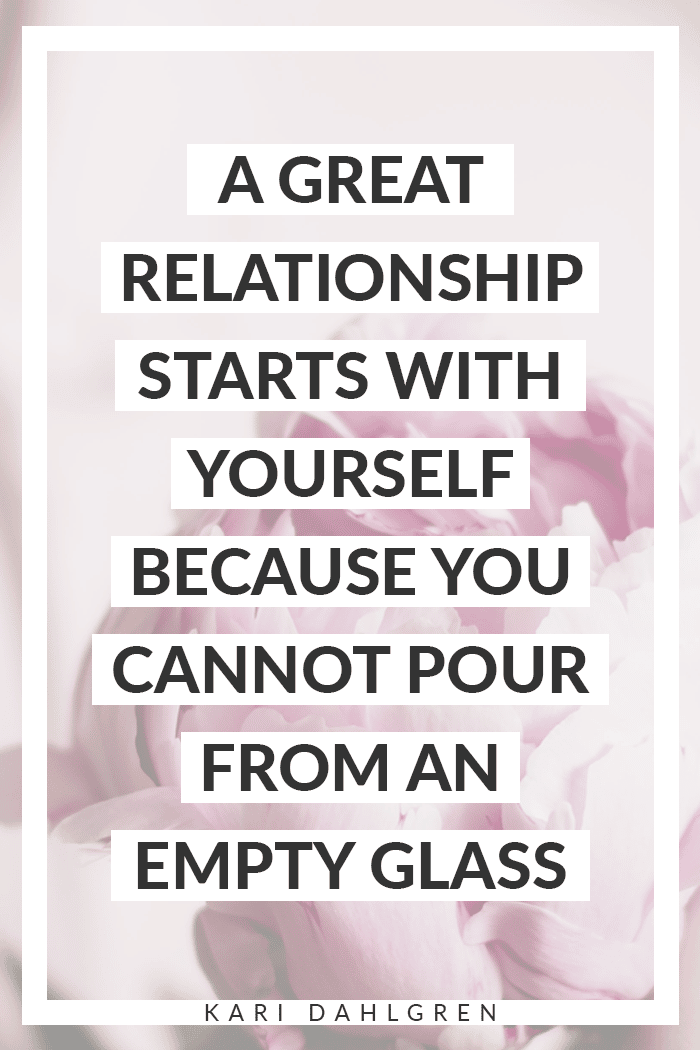 There's one overarching reason for why all my past relationships ended.
There's also one overarching reason for why my current relationship is thriving:
Self-love.
We cannot pour from an empty glass.
Whenever we fall into pits of self-loathing, love cannot exist within us. It also cannot exist around us because we will refuse to let love in – subconsciously or consciously.
When we are trapped in the dark, bright light is scary.
I've seen this phenomenon with myself many, many painful times.
If I'm feeling particularly down about my body, I notice that I'm more agitated in my relationship. It's hard for me to be happy for my lover because I can't even be happy with myself.
I'm not proud of it, but that's my truth.
If I'm stuck in self-loathing – even when the sun is shining and 'life is good' – I still don't feel good and neither does my relationship.
The moment I realized this patten, my heart slowly opened. And soon, self-love became my most important work.
Because the moment I started loving myself, everything changed.
My past pain-riddled relationship ended, and a fresh, cozy one began. And I think that my relationship with myself had everything to do with all of it.
You attract your vibration.
You attract what you believe you are worthy of.
If you believe that you are ugly and unloveable – because you cannot even love yourself – then you will not attract selfless love into your life.
Instead, you will attract the kind of love that reinforces what you already believe: that you are unloveable and ugly.
But if you can look yourself in the mirror and say "I love you" without skipping a beat, then you'll start to attract a different kind of love.
Because you have dubbed yourself as loveable – and because you do this mirror affirmation daily to reinforce your self-love – you start to attract a relationship that reinforces your loveable, divine nature.
Light attracts light.
So if you're struggling in your relationship and you find yourself engaged in constant battle, don't look at the other person as your source of pain.
Look at yourself.
Our relationships are our best mirrors.
If you aren't getting your needs met, then ask yourself how your beliefs are getting in the way.
Have you accepted yourself exactly as you are in this moment? Or are you riddled with resistance? Resentment? And more importantly, do you love yourself?
Or are you waiting until you lose those 5 pounds or get that new job before you can love yourself? Do you have a qualitative list of what loveable looks like?
These are hard questions and it takes courage to face them. I encourage you to be as gentle as possible with yourself as you consider these ideas.
If you feel like you may struggle with self-love, then I encourage you to start an affirmation practice. Personally, I love reciting the following mantras aloud:
I love myself, I approve of myself, I am perfect, whole, and complete.
These three little gems absolutely rock my world.
I don't go a morning without them. They are the essence of my spiritual practice.
These self-loving affirmations helped me transform my relationship with both myself and my partner.
Of course there are still days where I feel stuck in the dark. Of course I still struggle with body-image and shame and feeling like what I'm doing with my life is enough.
But I love myself through it.
And this compassionate kind of self-love has followed me into all areas of my life. My relationships at work have improved, my relationship with my best friend has improved, and my romantic relationship has dramatically improved.
If you want your relationship to improve, too, then be courageous and hard look into the mirror of your life. Do you like what you see?
If not, then your new priority is very clear: self-love.
It changes everything.