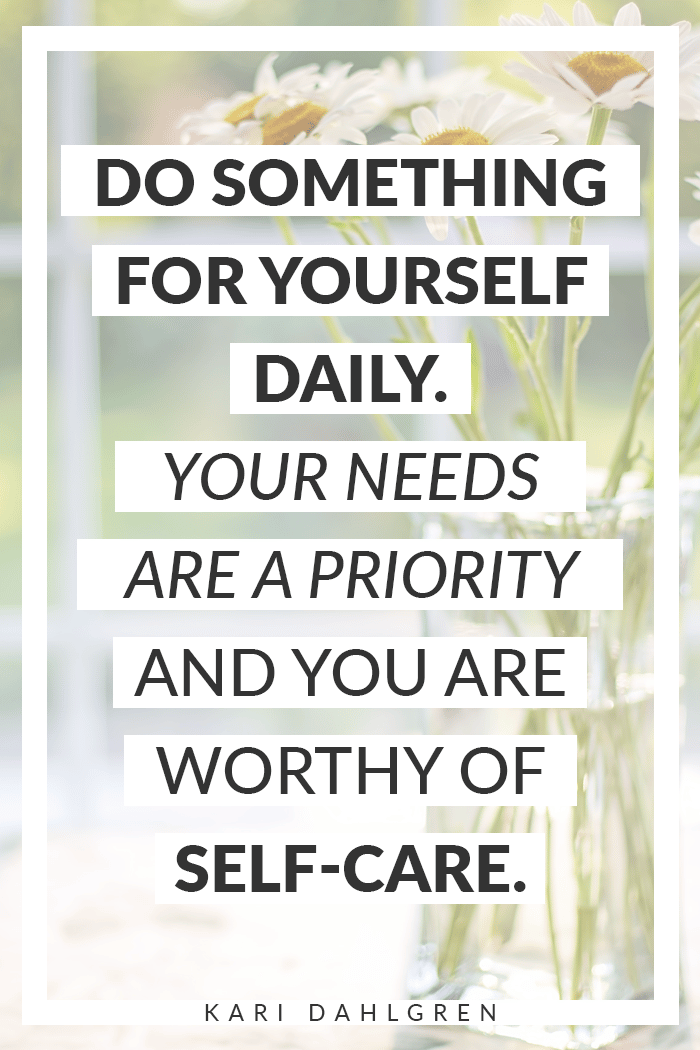 Doing something for yourself every day is, in my opinion, a healthy exercise of self-care.
This includes warm baths, home cooking, and leisurely strolls around the block. And ladies, sometimes it means buying yourself fresh flowers. Feel weird about that?
Many of us feel guilty when we indulge in these pleasures, as if we have to earn self-care by working hard. But I argue that self-care must come first, otherwise we burn out.
Self-Worth as a Prerequisite to Self-Care
Providing care for yourself can be difficult, especially if you haven't stepped into your worthiness.
If you're still waiting to be a certain way before you feel worthy, then you'll never take care of yourself, and you'll never get to where you want to be! It's like putting the cart before the horse. You have to believe that you're worthy now, not later.
If you feel like you have too many responsibilities to find the time for self-care, then think again. Taking care of yourself is a prerequisite for taking care of the other people in your life.
It's like putting the oxygen mask on yourself first. You have to take care of your oxygen supply so that you can help other people with theirs.
Give Yourself Permission
Owning your self-worth starts by giving yourself permission to treat your needs like a priority.
Without your permission, you won't do these things for yourself. You'll find excuses like, "Who am I to take a break from work to take a walk? I have too many things to do. Who am I to buy flowers for myself? I have too many responsibilities for that."
You take a break because you're worthy of a break. You buy flowers for yourself because self-care is one of those responsibilities.
And once you give yourself permission, it becomes much easier to follow through. Suddenly, you'll have an easier time saying, "I'm sorry best friend, but I can't go out tonight because I have a long bath that I need to take."
There's no need to feel guilty for taking care of yourself.
Sure, there are some people that are overindulgent and irresponsible with it; but chances are, if you're reading this post, you're someone who struggles with self-care as simple as finding time to eat outside of the car (Eating Guideline #2, by the way).
Own Your Space
Another way to own your self-worth is by giving yourself permission to occupy space.
I know this sounds crazy, but it's insane how many of us are running around apologizing for taking up space.
When we're too ashamed to take up space, we can't take care of ourselves because we aren't even allowing ourselves to be here. How can you take care of someone who wishes they weren't around?
If you want to feel worthy, start by feeling worthy of the space you already take up in this world. For the space you take up when you're out in public; for the space you occupy in the hearts of your friends; for the space you need to live your life.
Feel worthy of space, and hold that space for yourself.
You Are Worthy of Self-Care
If you struggle with self-care, then start by giving yourself permission to prioritize your needs. Then start holding space for yourself.
You are worthy of care. You are worthy of getting your needs met. And you are worthy of taking time out of your day to do that.
I just bought myself a dozen roses, and it feels so good each time I rest my eyes on them. What will you do for yourself today?