"Why do I still want to eat when I'm full?"
I see this question a lot, especially from binge eaters.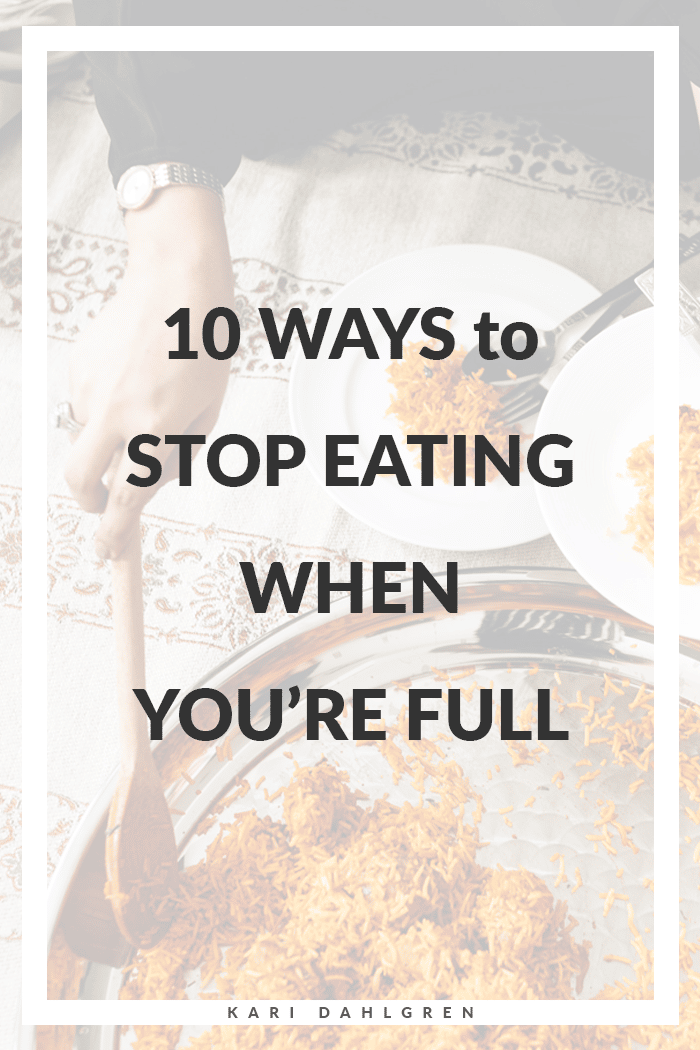 By the time some of my clients get to me, they are absolutely fed up with eating when they're not hungry.
And I don't blame them!
This is one of the most frustrating urges. I used to deal with it myself. And while I still feel the urge sometimes, the big difference now is that I don't act on it nearly as much as my old binge eating days.
To help you break the cycle too, I am going to list every single possible reason why you might desire food even when you're not hungry.
I'll also include some actionable advice with each step!
We'll start with body-stuff and then dig into psychology-stuff.
Ya'll ready for this?
1. Your Body Is All F*cked Up from Processed Foods
Dude, processed foods are the worst.
When we refine things like sugar and flour, they become extra concentrated and hit our system hard. This causes a spike in blood sugar.
A spike is always followed by a "crash," and this crash sends a signal to your brain that you need food again – even if you're not hungry!
Solution:
The solution is simple for this one: eat less processed foods!
The less processed foods you eat, the less you f*ck with your blood sugar, and the less you will crave food when you're not hungry.
2. You're Just Tired
How many times have you come home from a long day and all you want to do is eat even though you're not hungry?
You'd be surprised how often this is just physical exhaustion.
Solution:
Take a nap! If you're not hungry, don't eat for energy! Instead, rest for energy.
3. Your Mind Wants What It Can't Have
If you're a yo-yo dieter, then you probably have some food rules.
For example, maybe you don't let yourself have gluten or cookies or anything will more than 5 ingredients.
While these are good guidelines for healthy eating, they become problems when they're strict rules.
The mind wants what it can't have. So when you tell yourself you can't have cookies, your mind is going to crave cookies!
Solution:
This is why I am a huuuge advocate of giving up dieting for good.
Because when you let go of the rules and actually let yourself have whatever you want, a funny thing happens: you don't go crazy!
In fact, the opposite happens. Because you know you can have these things you crave whenever you want, you are able to wait until you're actually hungry to have them.
It's like reverse psychology. It'll make you mind f*ck yourself.
4. Your Environmental Design Sucks
Do you ever find yourself eating something just because it's there?
You walk into your office and there's a bowl of candy just sitting there, so you have some even though you're not hungry.
This is overeating caused by poor environment design.
Solution:
Sometimes keeping things out of sight helps keep them out of mind.
If you have true binge eating problems, this tip might not work. (You'll hide the food, and then find the food. But don't worry – the rest of these tips will help!)
But for some people, it really helps to keep tempting food out of sight.
Try it and see if it helps.
5. It's a Special Occasion!
It's a celebration?! Your mind might start shouting:
"Let's have some wine! Let's have some cake! Let's do all the things!"
Celebrations are fun, and you deserve to live your life.
But you also deserve to celebrate your body every day. And overeating is not a celebration.
Solution:
The next time you feel obligated to eat or drink something when you're not hungry because you're celebrating, remind yourself of what's important: YOUR BODY.
And if your body isn't hungry, it's just plain disrespectful to put food in it.
There are plenty of other ways to express celebration than eating.
Try hugs, good conversation, and confetti poppers!
6. You're Just Dehydrated
Sometimes the desire to eat when you're not hungry is simply caused by dehydration.
Solution:
Drink a glass of water and see where you're at.
7. Your Friends Pressure You to Eat with Them
I remember a time where my best friend invited me over for a movie marathon.
I came over in my sweats ready for a lazy evening. I ate before I went over.
When my best friend busted out the candy, I said I didn't want any because I was full, and she got really mad.
She wanted me to indulge in the candy because it would make her feel better about it.
Has this ever happened to you?
Solution:
Honestly, if not-eating upsets your company, then you're in bad company.
No one should pressure you to disrespect your body and eat when you're not hungry.
Reassess who you're surrounding yourself with, and realign yourself with supportive friends.
8. You Feel Obligated to Lick Your Plate Clean
DUDE. THIS IS A BIGGIE.
Sooo many people struggle with wasting food because they were trained at a young age to lick their plates clean. This has a huge impact on our behavior.
The belief that we need to always finish our plate becomes ingrained in our subconscious mind, and it needs to be unlearned.
Solution:
This is a hard-wired belief that is going to take some time to untangle.
Start by reading my guide to wasting food. (Yes, I created a whole guide that give you permission to waste food!)
Then start some affirmations where you say something like, "I give myself permission to throw away food when I'm not hungry."
I know it sounds crazy! But it seriously helps.
And if this sounds absurd or triggers you, then this is exactly where you need to start working.
9. You're Seeking Pleasure from Food
As a human, you are wired to seek pleasure and avoid pain.
When there isn't enough pleasure and joy in your life, you will seek that joy from food. It's called joy eating.
Sometimes the desire to eat when you're not hungry is actually just a desire for more joy.
Solution:
Find your joy and schedule it into your life. Make it the priority it deserves to be.
Otherwise you will continue to pay the consequence of overeating.
10. You're Avoiding Pain by Comfort Eating
The most common reason for overeating is avoiding discomfort.
When you stop to identify the feelings present when you overeat, there's always an uncomfortable feeling there.
Some examples are stress, shame, insecurity, uncertainty, fear, loneliness, and stress. And that's just a short list!
When these feelings come up, your primal brain is wired to avoid them – and food is an easy solution. But not the solution you want!
Solution:
The best way to stop eating when you're not hungry is to practice the "Stop, Drop, and Feel" method.
It helps generate awareness around the uncomfortable emotions that drive overeating.
Here's a video on how it works:
I use this method to stop myself in the middle of a binge very effectively.
It simply involves pausing your binge, dropping into your body, and asking yourself what you're feeling; and then making space to feel what's there!
This is a very difficult practice, but it's very, very rewarding.
Especially once you see your overeating patterns slowly come to an end!
How to Stop Eating When You're Not Hungry
Overall, getting yourself to stop eating when you're not hungry is a matter of making room for discomfort.
While environment design and proper hydration matter, usually it's these pesky feelings that are driving the desire to overeat!
By practicing the Stop, Drop, and Feel method, you can train yourself to feel your feelings instead of turning to food.
This is how you can master the psychology of weight loss and find sanity around food.