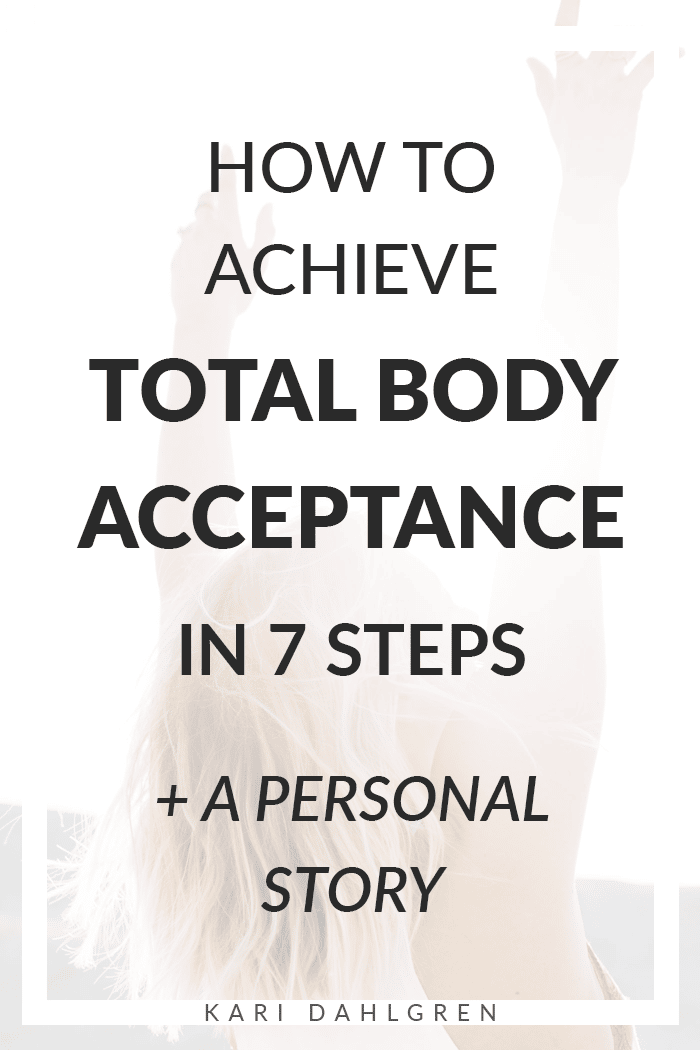 I remember sitting criss-cross applesauce in front of a mirror during yoga and noticing my belly scrunch up into plump little rolls.
As I sat there staring at my belly, I remember absolutely loathing what I saw.
I was so ashamed of how I looked, that I couldn't even look at myself for longer than a few second. I had to divert my eyes. Looking at myself was simply uncomfortable; too much to bear.
My shame ran so deep that I didn't even feel like I was inhabiting my body. I felt like a head attached to someone else's uglier body, and I was desperate to get thinner. This was my rock bottom.
It was a time where I had no relationship with myself because I could not love myself. My relationship at the time eventually ended because I could not love him because I could not love myself.
This was 5 years ago.
Today, things are massively different. Instead of total body rejection, I have finally learned total body acceptance. It's been a long, hard road, and I'd like to share my journey with you so that you can see that it's possible to heal a broken relationship with yourself.
It's possible to learn how to love yourself again – without losing the weight first.
Here's how I got there:
Kauai, the Turning Point of Total Body Acceptance
I recently we hiked the Kalalau trail in Kauai, which is a LONG, gnarly, hot, and sweaty hike (it whooped my ass).
I was with my friend and yoga teacher (who is fit as a fiddle) and two of her friends who both worked out 6x a week (i.e. also fit as fiddles).
The kicker was that I had been sick (the bedridden kind of sick) for 14 days before that hike. It's one of the hardest hikes in the entire state of Hawaii, and I was attempting it on the first day after I was better (do NOT do what I did).
Pretty much, I was out of my league. And I remember thinking to myself, "Bring it on."
I was dressed in some athletic shorts with a sports bra and tank, as were all the other ladies on this humid island.
After a couple hours of hiking, there came a point where it was so hot that the shirts had to come off, and that's where the old me would've resisted.
"Nope. Not doing it. Not showing my belly to the world. It's too embarrassing. Everyone will think I'm lazy and that I need to go to the gym, even though I already do but they won't know that. Just look at me. They'll take one look at me and dismiss me as the token fat girl. Nope, not doing it. I'm staying behind the safety of my shirt."
The self-talk would have been harsh and self-defeating because I was ashamed of the body I was in.
But not this time.
My Top Is Coming Off
Without even thinking about it, I took my tank top off and started hiking in just shorts and a sports bra. This is something that I would have NEVER been comfortable doing. So, what changed? I'll get to that in a bit.
But first, I also want to mention that there were dozens of other women hiking past us who also donned the same attire – only with chiseled abs and lean bods (people in Hawaii are typically very fit, I noticed).
What shocked me even more than my willingness to go shirtless was how much I was not comparing myself to other women. Of course, I absolutely noticed those gorgeous, chisel abs as they passed by me, but it was more out of admiration than jealousy. This was huge for me.
Instead of talking down to myself and feeling small alongside all these fit bods, I felt fine. I felt… like ME.
I felt like I finally arrived inside my body, and I was fully inhabiting it, and fully loving it. I was no longer a floating head attached to someone else's body. I was in my own body, and I was loving every second of it. Even with my shirt off and my not-so-chiseled belly showing.
When I came home and told my aunt about this crazy revelation, she asked me how I got here. I actually couldn't answer here right away because it took 5 years to get here, and I had no idea what I'd done in the meantime.
But after some good, long thinking, I can boil down the steps I took to get here – to get to total body acceptance – like this:
1. I got rid of my shame by telling my story
Nothing will paralyze you more than keeping silent about your shame.
When I was completely loathing my body, I didn't tell anyone. I never shared that I was on a diet. I never talked about how I hated my belly rolls.
Nope, I stayed silent, and that's how shame kills you.
Once you wrap a story around your shame, it melts away.
So one year ago, I started this blog, and one of the first posts I made was about my body-shame and perpetual dieting/bingeing problem.
As soon as I hit 'publish,' something in me shifted. It was as if the cat was out of the bag finally, and I could breathe.
This was the beginning of the change. This was the unraveling that I so desperately needed in order to start healing my broken relationship with myself.
2. I took a 6 month break from trying to lose weight
On the Psychology of Eating podcast, they always recommend taking a 6 month break from dieting and trying to lose weight. They give this advice to ALL of their clients who come looking for ways to lose weight.
After listening to a couple dozen podcasts, I realized that they knew their stuff and I made the radical decision to take a 6 month break from trying to lose weight.
It's ABSOLUTELY NUTS how radically this changed my relationship with food and with myself around food. There's no drama anymore. I am more able to listen to my body and stop when I'm full.
Taking a 6 month break from weight loss absolutely deflated my neuroses around food, and it gave me freedom. This freedom became another great foundation to build total body acceptance upon.
3. I started working on my self-love by fixing my self-talk
Once I realized how messed up my relationship with myself was, I started looking for solution. Then the book You Can Heal Your Life came into my life and it was exactly what I needed.
In that book, Louise Hay recommends telling yourself "I love myself" and "I approve of myself" constantly, every single day.
I heeded her advice and it absolutely changed me. I soon learned that self-love can radically change your life in many different ways.
I believe that it reprogrammed some of my subconscious talk. Sure, some of the old self-demoralizing talk still went on, but it began to soften over time.
4. I learned how to love every single picture of me (this was hard)
On The Life Coach School Podcast with Brooke Castillo, she talks about treating every single photo of yourself like a little cute puppy. (Stay with me, it's very solid advice.)
You would never tell a little puppy that she's ugly and that you'd better take another photo. No, you would never do that, and you should never do that to yourself.
In this day and age, it's far too common to have someone take a picture of you, and then quickly look at the picture to make sure you like it. I completely stopped doing this.
I decided to treat every single picture of me as if it's the best. Even if it's an unflattering angle, I still treated it as the best.
This helped quiet the mental chatter that kept trying to fix me; and instead, I turned up the volume on the mental chatter that kept telling me that I'm enough.
5. I realized that being thin won't make me happy until I learn how to be happy NOW
Dude, the Why Weight workbook by Geneen Roth was ABSOLUTELY FOUNDATIONAL in my journey to body acceptance.
It's pretty much a workbook that helps you dig up all the subconscious and unhealthy beliefs that you have about food and love and your body. It's unreal the kind of shit that you dig up doing that book.
And one of the most profound insights that I learned is that I subconsciously assumed that I would be happier if I was thinner, and that life would be easier if I was thinner too. And this could not be further from the truth. It's incredibly backwards.
So once I learned that, I started working on being happy NOW, without trying to lose the weight first.
I started learning how to own the weight instead of waiting to be happy until it's gone.
6. I stopped putting my life on hold while I tried to lose weight
Most likely, if you're perpetually stuck in trying-to-lose-weight mode, then you're probably putting your life on hold in big ways. (This is another lesson that I learned from the Why Weight workbook.)
When I did the workbook, I realized that I was putting off a lot of things until I was thin, including starting this blog!
Once I saw it spelled out for me in black and white, I decided to stop waiting and start living.
I started purposefully doing all the things that I was waiting to be thin to do, and doing them NOW, not later (when it's probably too late).
Life is too short to put your life and happiness on hold until you're thinner. Acknowledge that you are already amazing enough to do those things, and then gather the courage to go do them!
One of the biggest reasons why I was overweight was that I was living too fast and I wasn't making time for myself.
The definition of love, according to my father, is making space for something in your life, and in that space you place peace.
For me, I had to work really hard to downsize my life and clear up my calendar. I had to very consciously slow down and make more time for myself.
It was a very hard habit to rewire, but I did it. I minimalized my wardrobe and my calendar and my things and my obligations.
Then, I started taking better care of myself.
I used my new free time to go to the gym more and meal prep and go to yoga. It wasn't until I slowed my life down that I finally learned how to eat slower too.
Start Your Journey into Total Body Acceptance
All these little changes have added up in big ways.
By freeing myself of shame and learning how to own my body now – not when I'm thinner – I have learned to fully embrace who I am NOW, not who I want to be in the future.
Slowly untangling my shame took time and patience, but with these resources you'll be well on your way.
Working on loving and accepting myself has been the best use of my effort in my entire life, and I highly recommend you start your journey now, not once you lose the weight.
Remember, you have to own the weight before you can lose the weight.