My life is full of meaning, connection, and contribution – and I love it. But it took me a while to cultivate this space.
You see, before I started living my dream, I was a victim to busyness and stress.
I had a mountain of excuses for why I wasn't doing what I wanted to be doing – and it took me a while to realize that it was a choice.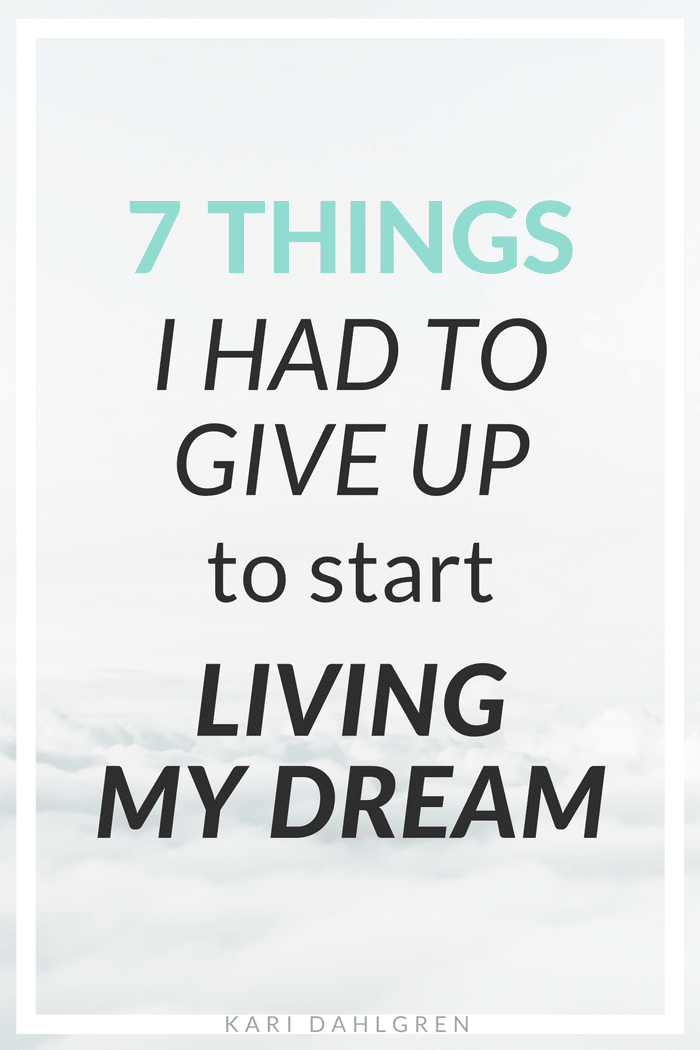 Once I realized that my life is my choice, I slowly started making changes to create a life that supports dream chasing – and I've never looked back.
Here are the 7 things I had to give up in order to make that happen.
7. Netflix
Netflix isn't bad. We should all have something in our life that's unproductive and enjoyable. But when we use Netflix to numb ourselves – that's when it's a problem.
When I was working 9-5, I would come home stressed out and immediately grab food and a beer and numb myself out to Netflix. It felt good in a guilty-pleasure sort of way, but it was preventing me from chasing my dreams.
My excuse was that it was all I had the energy for – but excuses are always just excuses.
I had energy to meditate. I had energy to do a little yoga. I had energy to sit down and write. Hell, I had energy to sit down and do nothing – but nothing was the last thing I wanted to do.
Because the real problem is that I didn't have energy to face myself and my discomfort – the discomfort of living a life I didn't love.
So instead of dealing with the real problem and creating space for what I loved, I binged on Netflix.
And once I realized how the habit was pushing me away from myself, I gave up Netflix completely. I transformed my after-work regimen into something that fostered the relationship I have with myself instead of ruining it.
I turned to yoga, which helped me turn to myself. Instead of coming home and tuning out, I came home and tuned in. I meditated, did yoga, and honored my body, which are all things that I value.
And slowly, I met myself. I grew closer to myself. And after a while, it became unbearable to not honor my dreams, too.
6. A Little Money
What is my dream? To become a weight loss coach.
How does one become a weight loss coach?
By being a well-read, knowledgeable source of light for others on their weight loss journey – and that requires tons of books.
In the last year, I've spent quite a bit of money on books and little gizmos to make this site beautiful and meaningful – and I don't regret a single penny.
The way you spend money on your dreams will probably look much different. But when you're spending on something that you're passionate about – it won't matter.
You'll do it because you're investing in your dreams.
5. Sleeping In
What you do in the early morning sets the tone for your entire day.
In the past, I used to get up with just enough time to shower, get dressed, and run out the door with my breakfast in my hand.
It made me feel rushed, like I never had enough time to enjoy myself.
Then I started waking up earlier  – A LOT earlier. (Like, 5am kind of early.) And I started a morning meditation and affirmation habit.
Then I also added a morning writing habit to the mix.
And soon I was accomplishing more in the first two hours of my day than I normally accomplished in an entire evening.
This created opportunity for me to work on myself and my dreams.
4. Obligations
The biggest excuse we have for not following our dreams – or worse, not even figuring out what our dreams are in the first place – is that we don't have enough time.
But we all have the same 24 hours.
We may not have the same life circumstances, and we definitely may not have the extra empty hours that we would like – but nobody ever does, really.
We will only have time to pursue our dreams because we make time.
And when we allow unwanted obligations to eat away at our time, we're taking that opportunity away from ourselves.
By learning how to say no to things that don't add meaning to our lives, we can say yes to the things that do.
3. Constant Pleasure
When we're home and away from the office, the last thing we want to do is work some more.
But when we have a dream that we're passionate about, it requires that we put in extra work during our free time.
And sometimes that work isn't fun, and that's okay.
Our ability to be uncomfortable is directly related to our ability to be successful.
And if we want to live our dreams, then it means getting nice and uncomfortable every now and then.
2. Toxic Relationships
There's no reason or room to hang out with people who bring you down.
You know who they are.
They're the leeches that never have anything good to say about anything or anyone.
You may feel compelled to hang out with these people out of pity, guilt, or 'empathy' – but hanging out with someone who brings you down isn't empathetic. It's self-defeating.
In order to live your dream, you have to say no to everything that does not add meaning to your life.
And that means saying no to hanging out with toxic people.
1. Ignoring My Calling
Once I started getting all my ducks in a row by foregoing the Netflix and extra sleep, I was left with no choice.
I had to pursue my dream.
Suddenly there wasn't anything standing in the way.
I had the time, space, and motivation to do exactly what I wanted to do.
And here I am. You're reading the very thing that supports my dreams!
Your Turn
What do you need to give up in order to chase your dreams?
What's getting in the way? 
Write them all down, pick one from the list, and share it with me in the comments below!
Then start working on it today 🙂