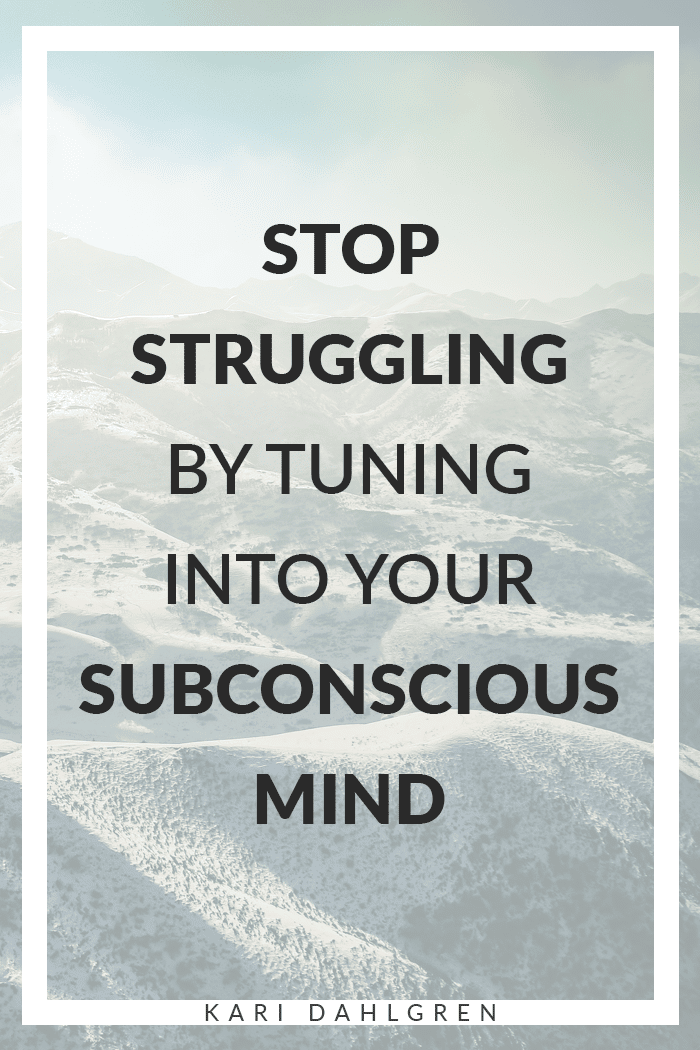 You're more powerful than you think.
While your conscious mind is running around making goals and slamming to-do lists, your subconscious mind is working 10x harder shaping your reality… without you even thinking about it.
If you take a look at the textbook definition of 'subconscious' you can see how influential our automatic mind can be:
Subconscious. Adjective. Of or concerning the part of the mind of which one is not fully aware but which influences one's actions and feelings.
Oooh. So our actions and feelings are being influenced by something that we're not even are of? That sounds really powerful and full of untapped potential.
Because although we are not aware of the beliefs that our subconscious mind is operating with, we have full control over what our beliefs are – if we're aware of them.
This article will show you how to generate that awareness.
Don't Make Things Harder Than They Need to Be
When life feels like a struggle, it's usually a sign that we have some limiting beliefs stuck in our subconscious mind that we need to shake.
Because you experience what you believe. And even if you aren't aware of those beliefs, they're still shaping your experience.
For example, I used to subconsciously believe that work should be a struggle. Climbing up the ladder should require blood, sweat, and tears.
I believed (without really knowing it) that doing well at my job should be stressful – and so that's exactly the reality I created for myself.
But once I stepped back and analyzed my life, I realized… Why am I struggling unnecessarily? What if I just let it all be easy? 
And so I stopped struggling and stressing, and I finally relaxed – and I still did my job really well.
These days, I fully enjoy my work because I'm focused on growth, productivity, contribution, and ease.
The Brain Science of Beliefs
Let's back up and dig a little deeper into the brain science of beliefs.
Each second your brain is bombarded with stimuli from all of your senses. In order to prevent you from going crazy from sensory overload, your subconscious brain efficiently suppresses information that you aren't interested in.
That's a powerful statement, so let me repeat: Your brain suppresses information that you aren't interested in… Those are the words that a Live Science article used to describe our brain's filtration system – and I find it sooo interesting.
Because who dubs something interesting or uninteresting at this level of automatic behavior? Your subconscious does. Which means that your subconscious beliefs are BOSS. 
So if you're unaware of the limiting beliefs harboring inside (and we ALL have them), then your brain is filtering your reality based on those beliefs (among others). The more limiting beliefs you're hanging onto, the more skewed – and most likely difficult – your reality becomes.
Luckily, you have total control over those beliefs! The only tricky part is figuring out what they are in the first place.
Uncovering Your Beliefs
You can slowly uncover your subconscious beliefs through self-inquiry, which simply means asking yourself questions and watching what bubbles up.
And – please, please, please – use a pen and paper when you do self-inquiry. Unless you have lots of practice with meditation, it simply doesn't work.
Our mental chatter gets in the way and completely blocks our subconscious wisdom. So it's imperative that you write it down.
Personally, I discovered a lot of my limiting beliefs through the Why Weight workbook by Geneen Roth. And if you struggle with overeating like I do, then you'll GREATLY benefit from that book.
But if you're here for personal development instead of weight loss, you can perform self-inquiry yourself by using the following steps.
Written Self-Inquiry
Using pen and paper, write this down:
Identify a point of pain in your life (example: my coworkers always irritate me)
Ask yourself what you believe about that situation in sentence completion format (example: my coworkers irritate me because I believe ____)
Complete the sentence as many different ways as you can – don't think too hard, just go (example: my coworkers irritate me because I believe that it's rude to stick up for myself)
Perform step 2 as many times as you can by coming up with as many sentence completions as possible.
I noticed that my answers get surprisingly deeper and deeper the more I write – and the surprisingly deep stuff is the truly subconscious stuff – which is exactly what we're trying to get at!
By performing self-inquiry (using pen and paper), you can uncover limiting beliefs that you didn't even know you had (which were most likely developed at a young age).
And the good news is that once you're aware of them, you can make the choice to keep them or change them. And once you decide to change the, you can start creating a different reality for yourself.
A Quick Recap and Daily Practice
Your beliefs are shaping your reality without you even realizing it. By taking control of your beliefs by simply uncovering them using self-inquiry, you can start creating a better reality for yourself.
If you're like me, for example, then you will be able to take off the life-has-to-be-stressful-if-you're-going-to-succeed hat and put on the let-it-be-easy hat.
But you can only do it if you write your self-inquiry questions down on paper. That part is really important.
So, what kinds of things do you rest your attention on? Is there a pattern to your attention?
And if that pattern isn't so good, what are some better things to focus on?
Start utilizing all that untapped potential you have in that noggin of yours.