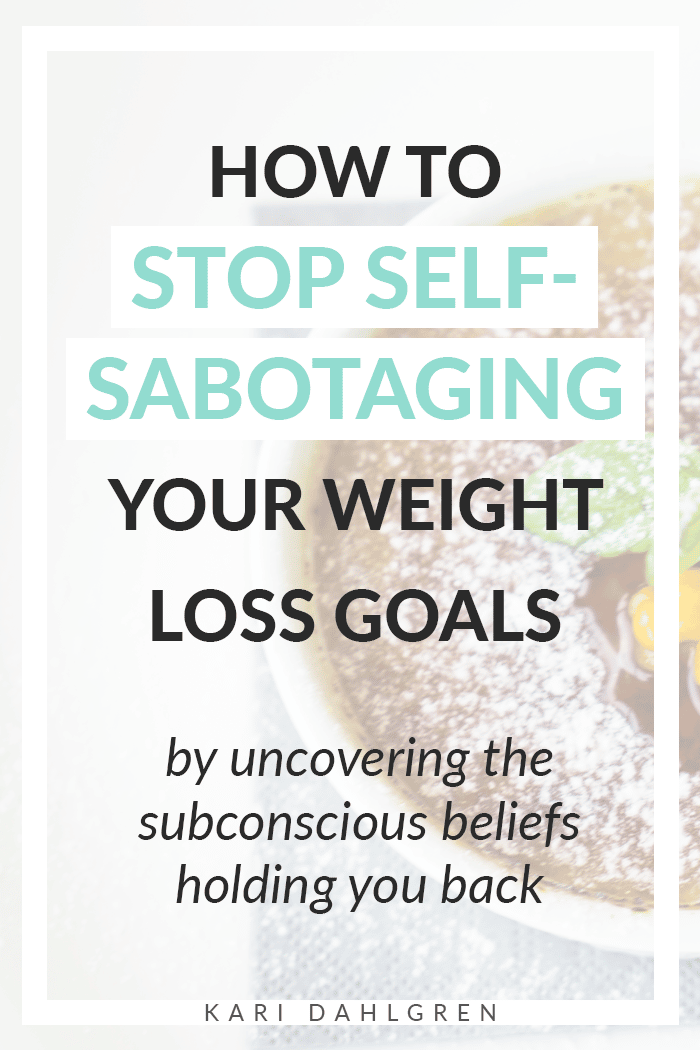 See if you can relate to this scenario…
You've been eating healthy all week and you're feeling on top of your game. You've stuck to the plan and you can see results just around the corner.
Then, you binge. You throw away a whole week's worth of effort in one hour of fog eating and the self-loathing begins. You were SO good and you threw it all away in one fell swoop. Might as well keep going and start over tomorrow. Or Monday.
This is what self-sabotage looks like, and it's also the definition of hell. I spent over a decade in hell and it's frustrating, to say the least. If you've been there too, I toootally feel your pain.
To put an end to the pattern, you need to stop looking at WHAT you're eating and start looking at WHY. This requires you to dig deep into your beliefs. Deeper than you'd think.
To help you figure out your WHY, I'll share the best way I know to overcome self-sabotage — starting with a personal story.
My Clearest Moment of Weight Loss and Self-Sabotage
When I was 10, I got a scooter. I loved that thing and I rode it up and down the neighborhood for hours every day. This was a big change from being indoors all the time.
It's no surprise, then, that within a few weeks, I lost 14 pounds. My size XL pants became too big, and I thought it was funny. I didn't really think much of it because I wasn't aware of the connection between exercise and weight loss. I was just having fun.
I only realized that I lost weight because my dad pulled me to the side one day and put a gallon of milk in my hands. He told me that gallon of milk was 7 pounds, and I just lost twice that much weight from my body because of all that scootering. Go Kari!
Shortly after that conversation, my older brother made a mean joke about me, and I threatened to hit him. (Not proud of it.) Usually, a simple threat was enough to get him to leave me alone. Only this time, I didn't have size to back me up. He wasn't scared and, suddenly, the tables were turned. I was defenseless.
Dad intervened and told me, "Kari, you can't threaten him anymore. You don't have the extra weight to protect you." Boom. There entered the belief: Being thin is not safe. I must be overweight in order to protect myself from harm.
I gained back those 14 pounds and continued to be a chubster well into adulthood because of this subconscious belief (among others). And the worst part is that I had no idea that belief was hanging around my entire life, until recently.
You Have No Idea
When your internal belief system and your external actions don't match, self-sabotage happens. 
When food is subconsciously protecting you from something, you won't give it up. When being overweight is actually meeting your needs in some way (needs that you're unaware of), you can't help but binge.
For me, being overweight provided safety; and every time I tried to diet, my subconscious was screaming, "This isn't safe!!!" And so, I would binge after every attempt to diet.
On the surface, I thought I was just weak. I thought I didn't have the willpower necessary to succeed. But the truth is that I was simply protecting myself.
This is why it's so, so important to discover your subconscious beliefs.
Examples of Self-Sabotaging Beliefs
Here are some examples of what these beliefs could look like:
You might self-sabotage if you believe that being overweight is protecting you from…
Rejection – because if someone rejects you, you can just blame it on your weight, not yourself
Unwanted advances from the opposite sex – because you don't know how to say no, so your body says it for you
Outshining others – because you're a people-pleaser, and if your body became a trigger for jealousy, you can't please everyone
The list goes on an on. And the only way to uncover these beliefs is by taking a look into your subconscious belief system. And the best way I've found to do that is through self-inquiry.
The Best Way to Stop Self-Sabotaging Your Weight Loss Goals
"I don't know what I think until I write it down." -Joan Didion
If you're caught up in the self-sabotaging cycle because you have unhelpful subconscious beliefs floating around, the best way to become aware of them is to write it down.
Self-inquiry is the best way, by far, to stop self-sabotaging because it uncovers the beliefs that you don't even know you have.
Writing helps separate you from the seamless stream of thoughts in your mind. It's hard to pinpoint a belief when you're swimming drowning in them.
When you're forced to write down your thoughts one by one, the truth comes out. It often helps to have some sort of workbook with questions and writing prompts to get your juices flowing.
The Best Tool Ever
The best tool I ever found for discovering the subconscious beliefs that cause binge eating is Geneen Roth's Why Weight workbook.
Through pages and pages of inquiry (like sentence-completion questions and writing prompts), you uncover aaallllll the subconscious beliefs that you're carrying around.
A lot of the beliefs I discovered through that workbook I had NO IDEA were even there. I would start answering a question and all of a sudden this crazy thing would come out. I would think to myself, "Holy crap. I can't believe I think that! I had no idea I felt that way!"
This showed me the importance of separating myself from my thoughts on paper.
It doesn't matter if you use this workbook or some other version of inquiry. All that matters is that you pick up a pen and start putting your thoughts down on paper.
Eventually, the truth comes out.
Awareness + Inquiry = The Way Out of Hell
So there you have it. Discovering your subconscious beliefs is the way out of hell, and self-inquiry will get you there. It generates awareness around WHY you self-sabotage, which is the most important piece of the puzzle.
Until you take the time to sort through all the subconscious 'gunk' (i.e. limiting beliefs), you will continue to self-sabotage because you will continue to believe (without knowing it) that your extra weight is actually protecting you somehow.
By freeing yourself from these limiting beliefs, you will free yourself from the extra weight.