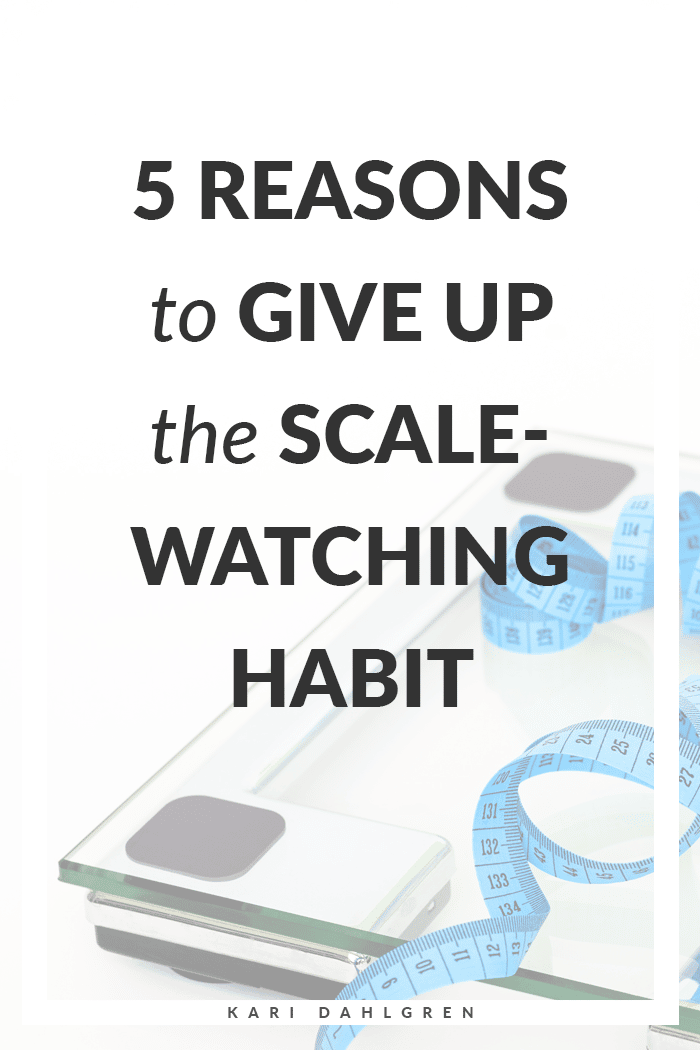 If you weigh yourself everyday, then for the sake of your happiness, you need to stop.
Weighing yourself everyday will prevent you from finding body acceptance and losing weight.
That's right. NOT weighing yourself will help you lose weight.
To help you understand this paradox, I've come up with 5 compelling reasons to stop the scale-watching habit.
I hope they illustrate how powerful this can be on your weight loss journey.
1. You'll get off the damn roller coaster
When you let the number on the scale dictate your day, all bets are off. Life becomes a roller coaster, and you're not in control.
Because when the number creeps up, you're consumed with shame. Your days are spent in repentance, trying to get that number back down.
And when the number goes down, you're filled with glee! Life is great!
The numbers tell you how to feel. Your emotions and sense of worthiness – or unworthiness – are dictated by each morning weigh in.
This intense connection between your self-acceptance and the number on the scale will throw you down the rabbit hole.
It will destroy your sense of self-worth because your self-worth is tied to a number.
It will put your life on hold because you're obsessed with your weight instead of chasing your joy.
It keeps you small – even though you feel too big – because you're ashamed of the body you're in.
And that's no way to live.
So give up the scale-watching habit.
2. You'll overcome fear and embrace intuition
When you're obsessed with your numerical weight, you're operating out of fear. You want to know exactly where you stand so that you can behave accordingly.
But you shouldn't be eating by the numbers. You should be eating based on your hunger, your fullness, and your desire to fuel your body with nutritious foods.
The bottom line is that if you're following the Eating Guidelines, listening to your body, and honoring what it needs from you, then there's no reason to know how much you weigh.
It's completely unimportant.
You don't need a scale. You can tell how your body is doing by the way that you feel; by how your clothes fit.
Your goal should be your natural weight, not a specific number in your head.
3. You'll cut the crap
Of course, if you're currently stuck in the scale-watching habit, you'll resist this.
You might use excuses like, "I need to the scale to keep me accountable. I need the awareness, otherwise I'll gain a ton of weight!"
Whatever the excuse is, it's B.S. and you know it. Deep down, you know that your excuse is just fear cleverly disguising itself as helpful, which it's not.
The scale will never be more helpful than your intuition.
But if you're someone who has relied on numbers to prop up your eating habits, giving up the scale-watching habit can be scary as hell.
And that's why body acceptance is so important.
4. You'll Find Body Acceptance
The scale is the wrong place to look for acceptance. You need to learn how to love and accept yourself as you are now, before you lose the weight; otherwise the weight will never come off.
You need to become so grounded in your enoughness that your self-worth can stand alone, without being tied to a number anymore.
This will give you the freedom to stop trying so hard to make the scale move.
Then, you get to pour all that extra energy into the other hard work that will actually help you achieve your natural weight, and that hard work is called Feeling Your Feelings.
5. You'll Be Forced to Practice the Very Thing That Will Help You Lose Weight
Your feelings are the seat of intuition. The more emotional awareness you develop, the more your intuition sharpens.
Feeling Your Feelings is the most important skill for weight loss. 
The reason why we overeat and gain weight is because there's a feelings that we don't want to feel.
We choose to eat instead of choosing to feel bored, hurt, scared, lonely, rejected, etc. We'd rather numb the feeling than Feel The Feeling because we believe that we're not strong enough to handle the discomfort.
But you can. You can totally handle the emotions that you've been avoiding by overeating. It will be uncomfortable, but it won't kill you.
This was the thing that did it for me. Developing the skill of Feeling My Feelings was the thing that finally helped me lose weight after years of yo-yo dieting.
So stop focusing on the scale and start focusing on how you feel.
Stopping the Scale Watching Habit
Giving up the scale-watching habit is essential for weight loss and body acceptance.
I know the obsession can be intense, but the habit must be kicked!
Take all that energy that you're pouring into dieting and scale-watching and pour it into Feeling Your Feelings and Chasing Your Joy instead.
They are much more worthwhile pursuits, and they're the things that will actually help you lose the weight for good.
So go on; get rid of it. Smash it with a mallet. And smash those excuses and fear while you're at it.