Have you ever unintentionally sabotaged your weight loss efforts?
Have you ever stuck with a new diet regimen for a solid week only to break it hard on Sunday, completely undoing the entire week's efforts?
If you have, you are certainly not alone. I've personally been there many times, and I know many others who have.
This kind of self-sabotaging is incredibly frustrating, and the question of the century is, why do we sabotage ourselves in the first place?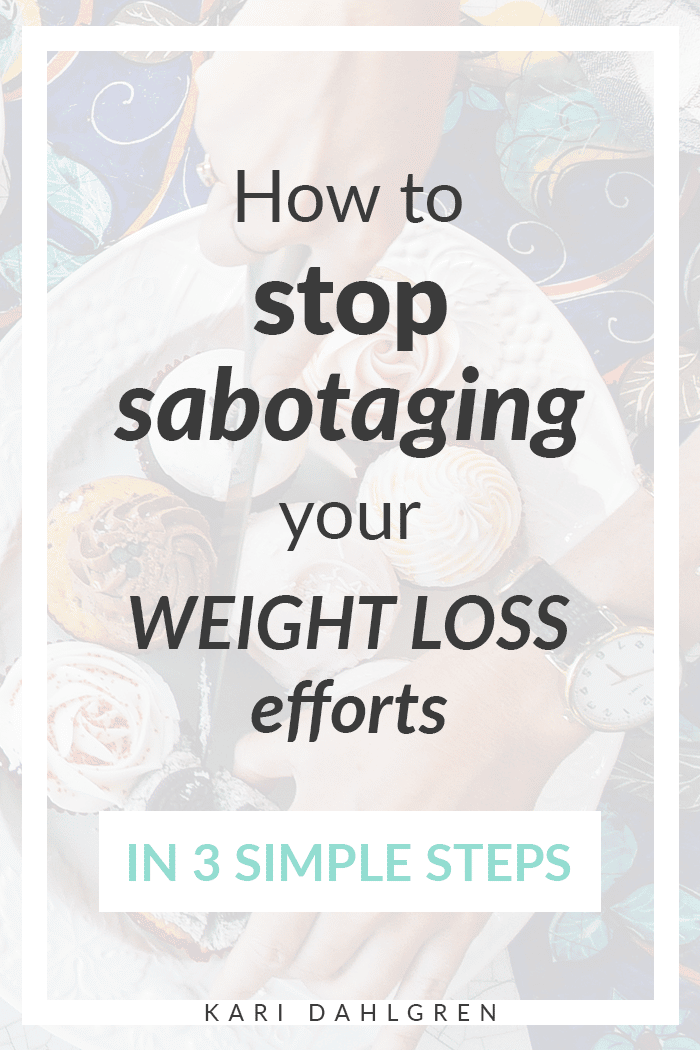 One answer to this is that we subconsciously believe that being thin carries certain responsibilities. And if we don't like those responsibilities, we will prevent ourselves from losing weight.
Here's what I mean by that.

The Responsibility of Being Thin
For example, let's say that you're a shy, reserved person.
Let's also say that you subconsciously believe that once you're thin, you're obligated to attend a lot more social gatherings and deal with much more attention from the opposite sex.
Naturally, this doesn't sit well.
"More social gatherings? More sexual attention? Nuh-uh. No thanks. I'll stay over here and use my body as a shield to protect me from that discomfort."
And… BINGO! We've found the belief that is preventing weight loss from happening.
This is why it's so important to understand your beliefs about weight loss. Otherwise, you might stay stuck at your current weight forever.
To figure out your beliefs, use the following three-step process.
Step 1: Perform Written Self-Inquiry
Pull out a piece of paper and complete the following sentence:
"Being thin means I can't…"
Write down as many answers as you can. Please, please, please avoid doing this in your head because it just doesn't work that way. We need the writing process to separate us from our rational mind.
So please, write.
Some examples of this sentence completion exercise are:
Being thin means I can't…
…have a lazy Sunday afternoon because I should always be at the gym
…have Starbucks Frappuccinos ever again
…use my weight as an excuse for social rejection
Notice what kind of answers you unearth when you complete this exercise.
These are the limiting beliefs that are subconsciously keeping you from losing weight.
And by simply becoming aware of these beliefs, you're already headed in the right direction!
Step 2: Debunk the Beliefs
To continue with our example, the above sentence completions would show that you subconsciously believe that thin people can't get rejected, eat dessert, or be lazy. Ever.
Those are quite harsh limitations to live under. It means that you can never fail, enjoy sweets, or have a lazy Sunday. Yuck!
And it's simply not true. You can have a thin body and still get rejected, eat dessert, and be lazy. It's absolutely possible.
Yet we often carry around very irrational beliefs like this without even knowing it. This is why it's sooooo important to become aware of our beliefs.
But once you're aware of it, how can you go about correcting it?
Step 3: Change Your Beliefs, Change Your Life
To form a new belief system, you need to believe first, and then find evidence to back it up second.
You've heard me talk about the confirmation bias here on the blog before, which essentially explains that whenever we form a belief about something, our brain finds evidence to prove it.
So if we believe that being thin carries certain responsibilities, then we will naturally notice tons of evidence that proves it. But that does not necessarily mean that it's true. (It's called a bias for a reason.)
Because our focus is fixated on it, though, we will notice enough evidence that makes it feel true.
This is where we take control of our thoughts instead of letting our thoughts control us.
Once we are aware of our limiting beliefs, we need to form the opposite belief. We need to start focusing on a better belief so that our brain will start finding evidence to back it up. Affirmations are a great way to do this.
Then, in due time, you will adopt it into your belief system.
You will see it when you believe it. It really is that simple.
Your Turn
So go on, do the exercise right now – on paper. It will reveal essential insight for your weight loss journey!