I've had a lot of binge eating episodes this past week…
Even though I was full, I would reach for chips and salsa or some Sour Patch Watermelon.
Initially, I chalked the whole thing up to unhealthy cravings and told myself that cleaning up my diet would fix things… which I knew, deep down, was bullshit.
I know better. I know that overeating is not about food. Rather, it's a sign that something is deeply wrong. So I heeded my own advice: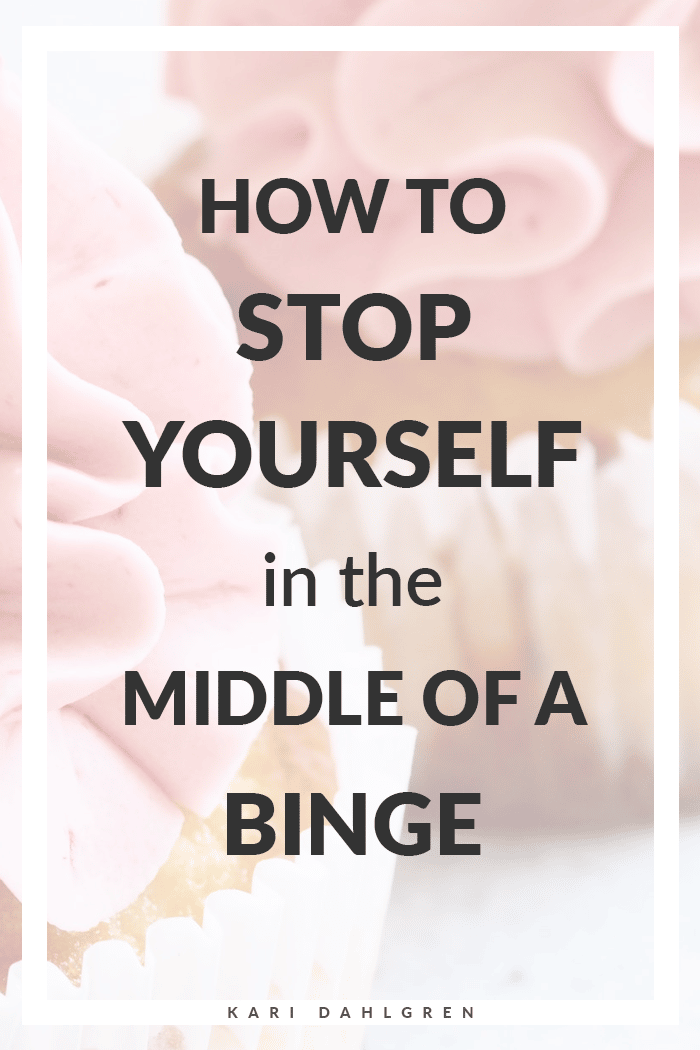 To get yourself to stop binge eating, you need to "Stop, Drop, and Feel."
How to Stop Binge Eating
"Stop, Drop, and Feel" simply means to stop what you're doing, drop into your body, and pay attention to your feelings.
Sounds simple enough, but breaking the momentum of a binge can be hard at first. If you struggle with that, just tell yourself that you can get back to the binge when you're done — but you probably won't. Here's why:
When I was binge eating, the only thing I wanted was another bag of Sour Patch Watermelon… but I decided to try my own "Stop, Drop, and Feel" trick first. (I told myself I could get back to the candy if I wanted later.)
So I put the candy down, sat back on my couch, and asked myself, "What am I feeling? What feeling am I avoiding with food?"
And BOOM. There it came. The tears. The sadness. The grief. All of it came flooding down AND I HAD NO IDEA IT WAS THERE.
And the best part is that once I let myself sob and feel those feelings… my desire to binge and overeat completely went away.
This is how the psycho-spiritual approach to weight loss will help you put an end to binge eating.
This is why understanding yourself and your psychology matters so much!
It's a Psychology-Thing, Not a Food-Thing
We assume the weight thing is about food, but it's not. Food is just the symptom.
The weight thing is about YOUR LIFE. It's about the psychological pain (from your past, present, or future) that you aren't willing to feel yet. And since you aren't willing to feel it, you subconsciously numb the pain with food.
This might make you feel ashamed of your lack of willpower, but your willpower is no match for your subconscious brain's drive to protect you from your feelings.
IT'S NEVER OBVIOUS.
When I was in the middle of my binges, not once did it feel like it had anything to do with sadness. And yet, the ENTIRE THING WAS ABOUT SADNESS.
This is why diets don't work. Diets only address the food-thing, which is the symptom.
The psycho-spiritual approach to weight loss addresses the BELIEF-thing and the FEELINGS-thing, which are the real problems.
Once you learn how to tune into your feelings and identify what's actually going on, you can work on your psychology and give yourself the healing you need.
Then, your weight will take care of itself.
My Personal Breakthrough
If you're curious about what exactly was going on, I was feeling sad because I had my first therapy session on Monday… and it brought up some shit from my past.
Essentially, my therapist helped me realize that I have issues with trust because of some particular things that went down when I was in middle school.
My therapist helped me realize that, because of those events, I don't trust myself, and that made me really fucking sad. I don't have my own back, and that's heartbreaking.
So I'm working on healing that wound. I'm working on developing my self-trust, and food is the perfect opportunity.
Because when you trust yourself, you learn how to listen to your intuition and eat intuitively too; which is the best way I know to lose weight.
End Binge Eating and Lose Weight
To put an end to binge eating, start practicing the "Stop, Drop, and Feel" method.
Step away from the binge episode, drop into your body, and ask yourself what you're feeling.
If you can't break the binge to do this, make yourself a little deal that you can get back to your binge once you're done. But I bet that you won't.
Once you give your feelings the attention they deserve, you will no longer need food to numb them.
This is difficult work, don't underestimate it. But the more you practice, the more self-awareness you will develop.
And as you develop this essential skill, you will stop binge eating and slowly return to your natural weight.
Have you had any binge episodes lately? Are you freaked out or confused? Leave me a comment below and I'll help coach you through it!
PS. I also highly encourage EVERYONE to go to therapy or work with a coach. We all need it, but we don't… because it's uncomfortable (the risk, the money, the feelings, the shame…). But seriously, you NEED to treat yourself. And I'll leave it at that. 🙂