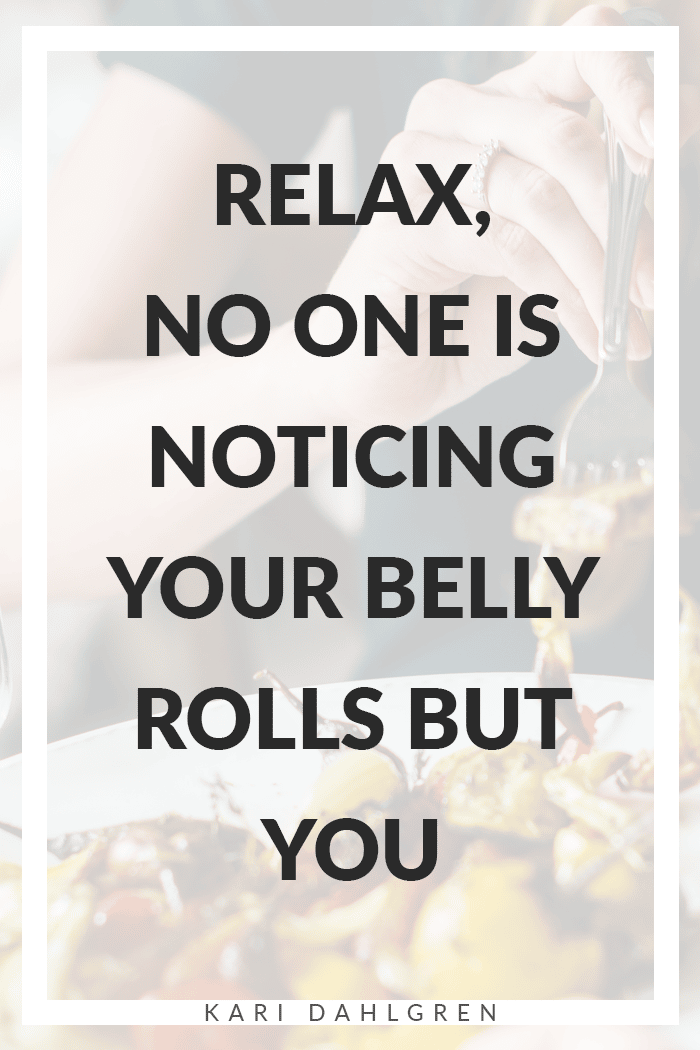 If you feel insecure about your belly – and if that insecurity is holding you back from living your life – then this post is for you.
Because a lot less people are noticing those "belly rolls" than you think.
And I've got science to back this up.
Psychologists Prove that We're All a Bunch of Narcissists
A recent psych study showed that people incorrectly believe they observe others more than others observe them.
But the truth is that the observation flows both ways.
For example, if you walk into the gym feeling insecure about your so-called "belly rolls," you will naturally assume that everyone is thinking about how you look.
But the truth is that they aren't. According to the science of psychology, a lot less people notice than we think. This also works in reverse.
For example, if you're minding your own business at Starbucks ordering your regular drink, there's a good chance that someone is observing you. That sounds creepy (and stalkers are a completely different story!), but it's just how people are.
People notice other people sometimes. It's not a big deal.
Now, what does this mean for you and your belly rolls?
Never Assume Anything
Don't assume you know what other people are thinking about. You'll never know for sure, and it's a game that will do nothing but drive you crazy.
This means that when you're feeling particularly insecure about your body, try to relax knowing that not as many people are noticing as you think.
Our psychology makes us all a little bit of a narcissist. We believe that everyone is paying attention to us when they actually aren't.
That might sound like tough love, but it's a good reason to finally let yourself off the hook and relax.
If you feel like others are noticing you flaws, then try to realize that it's just a story in your head that you made up.
And you can make up a different story.
Tell A Better Story
The story that you tell yourself in your head has a massive impact on your happiness or unhappiness.
For example, if you walk into the gym and feel like everyone is watching you, don't assume it's because of the way you look.
I keep using this example because that's how I felt for a very long time, and the eye contact I got from all these strangers only solidified my assumptions.
But that's all that it was: an assumption.
And assuming the worst in people makes us feel worse.
So, I turned that ship around. Whenever I caught someone staring at me at the gym, I stopped assuming that it was because of my belly rolls.
Instead, I just assumed that it's because they're working out at the same time as me, and they're rooting for me just as much as I'm rooting for them.
You can assume that everyone is judging you, or you can assume that everyone is on your team. The choice is completely up to you.
Choose Happiness
The story that we tell ourselves influences our happiness soooo much.
Be mindful of your story. Observe yourself and the assumptions you project onto people. And start assuming more positive things.
Chances are, no one is noticing your belly rolls but you.