You don't need to "be spiritual" in order to have a spiritual practice.
You can come from any religious/atheist/esoteric/skeptical background and still develop a spiritual practice that brings you the personal growth and solace you need.
Just replace the phrase "spiritual practice" with "a routine that brings you closer to yourself" and we're on the same page.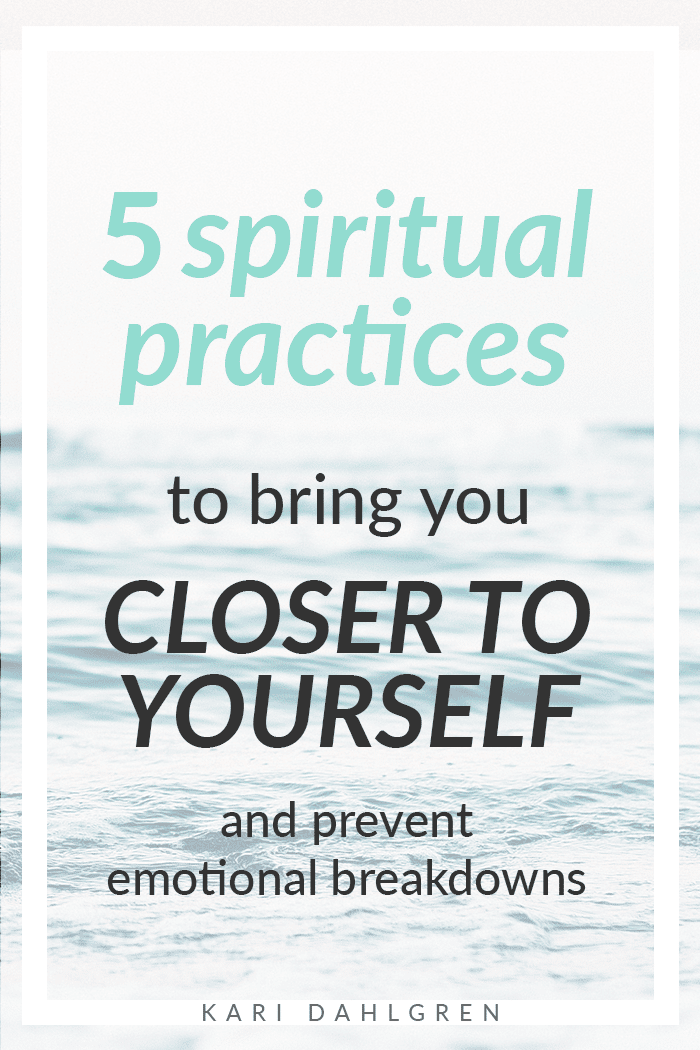 Because that's all it really is. Anything that fosters your relationship with yourself is a spiritual practice in my book.
And it doesn't need to be dripping in magic, either. Obviously, I'm a big fan of magic. But your practice should be yours.
You can adopt some of my mystical practices, or you can try other soul-nourishing activities like:
Reading non-fiction for half an hour
Meal-prepping high quality, nutritious food
Taking afternoon walks without your phone
You can do whatever the heck you want. The point is that your practices consists of something that nourishes your soul and gets practiced daily – without fail.
Here's why you reeeeally need this in your life.
Why You Really, Really Need a Spiritual Practice
When life is good, my spiritual practice elevates me. It allows me to dream big, chase those dreams, and live my highest truth.
When life is still good but I fail to maintain my practice – for whatever lame reason – then I'm still good. I'm coasting on the fruits of my labor.
Now, when life turns to shit but I appropriately stay with my spiritual practice like I know I should, my practice keeps me together. It keeps me grounded amidst the chaos.
My spiritual practice helps prevent emotional breakdowns.
Now (here's the kicker), when I fail to maintain my practice and my life turns to shit – that's when I become undone.
A little while ago, LOTS of things in my life turned for the worse, and I became SO undone. I hit the floor in anger, grief, and despair and I tried to drag those closest to me down with me. Needless to say, it wasn't pretty.
And it was in that moment that I realized how important my spiritual practice is.
In that moment, I promised myself that I would never abandon myself again.
And by honoring my spiritual practice every single day, I keep that promise to myself. Here are the 5 spiritual practices that made me the love warrior I am today.
5. Yoga to Promote Heart-Centered Living
There's something about yoga that brings us closer to ourselves.
When we're on our mat, it's just us and our bodies. During that hour, we become so focused on breath/movement connection that the mind has no room to interject with thought. And if it does, we do our best to observe without judgement.
For that hour, it's just you, your mat, and your flow.
And in that space, you learn things. You learn to let go, to focus, to concentrate, to stop listening to your mind and start listening to your heart.
It's no wonder that yoga has turned me into a better person. 🙂
4. Journaling to Promote Self-Discovery
Why, oh whyyy, did I just barely start journaling?
Seriously, if you haven't started a journal yet, you need to start one yesterday.
The process of writing your days/thoughts/beliefs/dreams/hopes/pains down helps you better understand yourself. Sometimes things spill out that you had no idea were even there.
Journaling promotes self-understanding. And when you understand yourself, you naturally grow closer to yourself.
If you don't enjoy writing, then know that the writing is just the means to an end (and that end is YOU).
3. Gratitude Journaling to Shift Your Perspective
Gratitude journaling is supposed to engage neuroplasticity and train your brain to notice more things to be grateful for. That's the science-y low-down behind it.
But that's not even why I do it anymore.
And if you're already a pretty grateful person (which, I'm safely assuming you are), you may feel no need to take up the practice. But!
But, but, but. Getting into the habit of gratitude journaling every day will force you to sit down on a totally awful day and write down things you're grateful for.
Suddenly, WHABAM! Your meltdown is tempered by a sudden shift in perspective. Because even though everything is going wrong, there are still many things to be grateful for.
I love this spiritual practice – not because it has trained me to be more grateful, although that's a great reason to start – but because it has forced me to look at the bright side on days when I really don't want to.
2. Meditation to Develop More Grit
Duuuude I cannot even BEGIN to express the immense changes that my daily meditation practice has created in my life. And I'm not even doing anything crazy, you guys.
I'm just meditating for 2 minutes a day, and that's it. But the benefits that I've experienced from just 90 days of 2-minute meditation is breathtaking.
To put it shortly, meditation has helped me develop more grit.
You know, the characteristic that you assume only comes from tough life experiences like boot camp, military training, or having a hard knock life growing up.
Yeah, no.
I developed that rough, raw trait through soft, spiritual meditation.
I discovered my newfound grit when I was having a particularly challenging day at work. Yet, instead of reacting to my coworker and freaking out about the project, I simply responded and handled it. Totally coolheaded.
And I was like woooaaahhhh where did that come from!? What's different? Oh yeah – my morning meditations. (Smirk.)
This practice has become one of my staples that I refuse to give up because I've experienced all the benefits first-hand. I've seen it transform the way that I deal with strangers, coworkers, and the people I love.
I will not abandon them, and I will not abandon myself.
1. Mirror Affirmations to Soften Your Hard Edges
I saved the best for last!
Mirror affirmations have provided THE MOST RESULTS BY FAR of anything I've ever practiced in my life! Yes, I realize the significance of what I just said, so listen up.
Mirror affirmations are simply affirmations that you recite into your reflection. For some reason, looking into your own eyes while saying positive affirmations makes them far more effective.
This spiritual practice changed my life because it helps me soften my hard edges (i.e. the things preventing me from living my highest truth).
Some of my hard edges included insecurity, lack of confidence, chronic people pleasing, and chasing external validation.
And yes, mirror affirmations helped me with all of those things.
Often, I incorporate affirmations that are specific to whatever hard edge I'm dealing with, but I always keep my essentials:
"I am enough"
"I love myself"
"I approve of myself"
"I am perfect, whole, and complete"
These 4 affirmations are the foundation of my spiritual practice.
By reciting them every single morning, I have transformed the relationship that I have with myself.
I'm no longer pining for other people's approval because I approve of myself. I'm no longer unhappy with my body because I love myself.
I'm no longer in a dark abyss of wondering if I'm enough because – on most days – I sincerely believe that I am enough.
Yes, there are days when I still struggle. We all have days where we struggle.
But that's why we have our spiritual practice.
To keep us together when life falls apart.
(Inspired by Pema Chodron's book When Things Fall Apart)