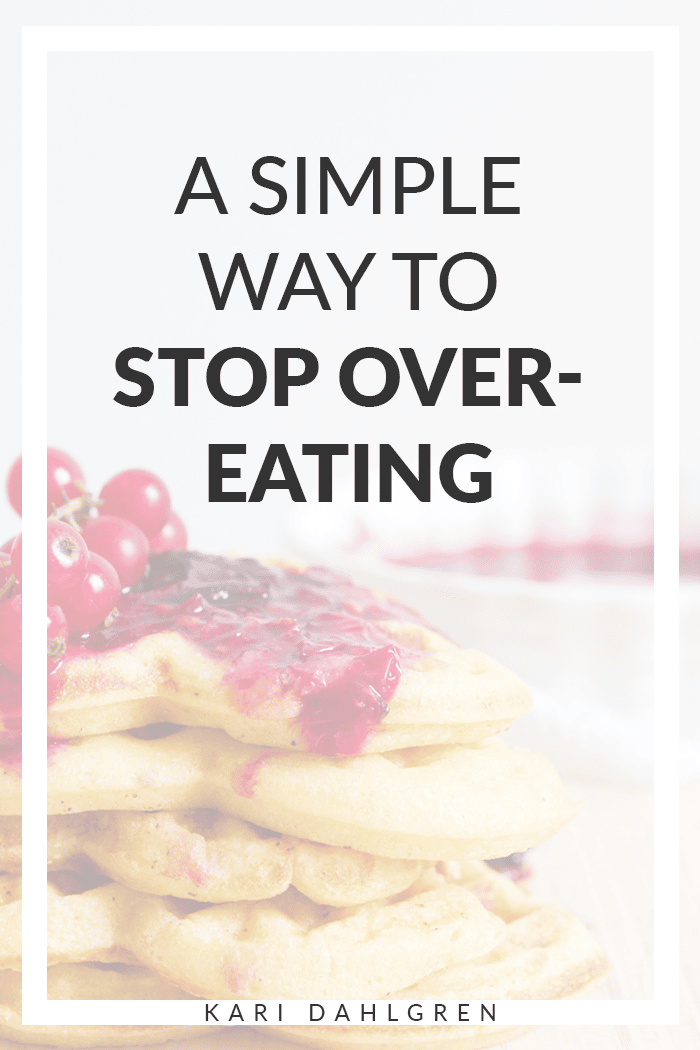 Do you struggle with overeating? If you do, there are millions of Americans right there with you.
And I'm one of them.
Overeating is something that I still struggle with. And this struggle, as you know, goes much deeper than food.
The Misunderstanding That Pisses Me Off
Most people assume that someone with a 'food problem' only has a 'food problem.' As if getting the food thing under control will put our weight under control.
I hate this because it Because even if you're eating all the right things, it's still very possible to stay overweight.
For example, I used to have a very clean diet – I was a plant-based vegan / green juicer to boot – and I was still overweight.
So, I give a big fat middle finger to everyone who thinks that 'eating less' is the simple solution to weight loss.
Because a 'food problem' is actually an 'everything problem.' One that cannot be solved with portion control and willpower alone.
The Cure to Overeating Has Nothing to Do with Food
Since the food problem has nothing to do with food, it makes TOTAL sense that the solution shouldn't have anything to do with food, either, right? (I'm glad we agree.)
So, here's my simple solution:
Each time you feel like overeating, stop whatever you're doing. Just freeze. Pause.
Then, self-inquire: "What am I feeling right now? What feeling am I avoiding that's causing me to overeat?"
And just sit with it. Let the feeling bubble up, and just watch it.
Some of the emotions that may surface are tiredness, anger, sadness, loneliness, frustration, boredom, hopelessness, etc.
These are the emotions that you're trying to avoid by overeating. And by choosing to feel them instead of stuffing them down with food, you are curing your overeating problem for good.
Because once you give these negative emotions the attention they deserve, they fade away. Poof, they're gone.
And suddenly you won't feel like overeating anymore.
Simple as 1-2-3
Try this simple process the next time you find yourself standing at the fridge with no agenda – other than to eat when you're not hungry.
Go somewhere and sit down away from food
Ask yourself, "What feeling am I avoiding?"
Watch the feeling bubble up, avoid judging it, and patiently let it pass
It's a very gentle method for stopping the emotions that drive overeating and it will help you develop a better relationship with yourself.
Solving the 'Everything Problem'
The problem that us overeaters have is that we're not present with our true state of being.
We're off in a dreamland where we only feel the feelings that we want to feel. We only want the happiest, best feelings and we want to get rid the rest.
So we rid the rest by numbing them with food.
Most of us have been doing this for so long that we don't even realize that we're doing it. Which is why the weight loss process HAS to start with yourself.
The only way to achieve your natural weight is to figure out what's going on inside and address that first. Then, the outside will naturally follow.
The hard part is staying with yourself and feeling all your feelings.
But if you can master that, you've mastered everything.
Because life is really uncomfortable. And if we can learn to sit with the discomfort instead of running from it, we've mastered the most critical skill for facing all of life's challenges.
Including the weight thing.
Let Overeating Fade Away
So, the next time you find yourself elbow-deep in a bag of chips, stop, lie down, and ask yourself, "What emotion am I avoiding?"
Then, feel the feeling and watch it fade away like the last cloud on a hot summer day.
Then, meet yourself. Meet the true you. The real you that experiences real, negative emotions sometimes.
And make the promise that you will never abandon yourself again.
And if you'd like a better explanation of all this, read my masterpost on how to stop overeating. It's got aaaall the good stuff.