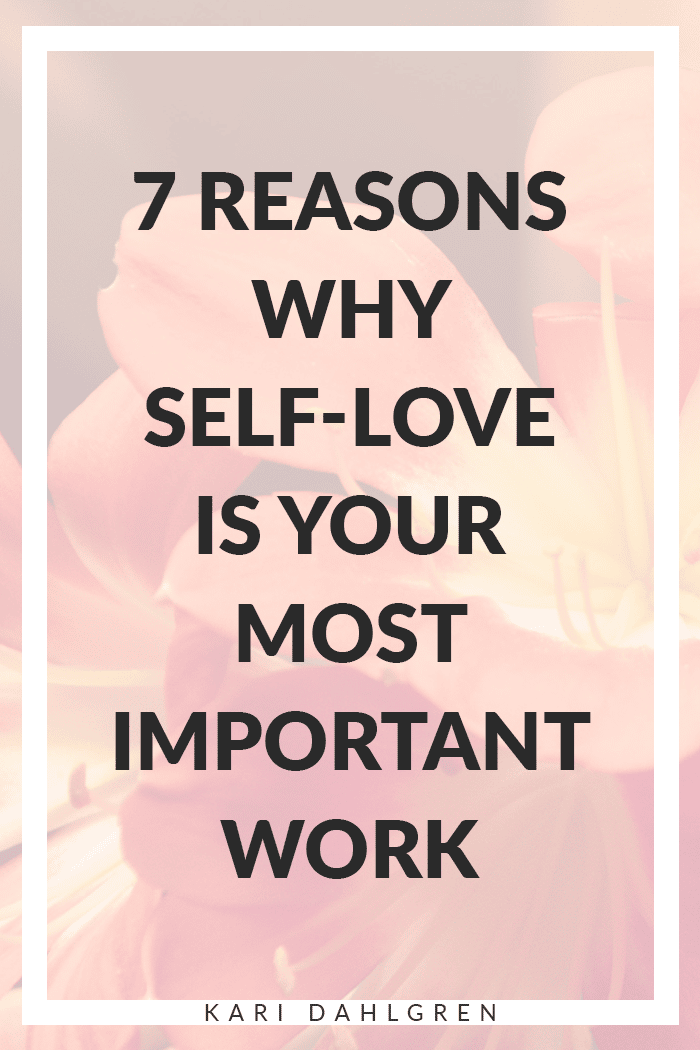 Loving yourself is your most important work. Period.
When you love yourself, everything works.
With self-love, you will grow faster, stronger. Your relationships will improve. Health and happiness will start to come naturally.
The benefits are huge, but the path is often unclear. So, how do we get there?
How to Love Yourself
Learning how to love yourself is an interesting thing. You might assume that it should come naturally, but it often takes deliberate intention.
I personally saw a sharp upturn in self-love when I started mirror affirmations.
Each morning, I'd look myself straight in the eye and say the words "I love myself" over and over and over. It felt strange at first, which showed me how much I needed to work on it. But soon it became natural.
Now, why are affirmations such a big deal? Well, from a scientific perspective, affirmations work because they train new thought patterns into your brain.
From a spiritual perspective, affirmations work because what you put your intention on – in other words, what you wrap words around – is what you attract into your life.
Whichever way you want to look at it, the bottom line is the same: Saying the words "I love myself" over and over and over for weeks changed my whole life for the better.
Here what can happen when you start increasing your self-love, too.
7. Your Personal Growth Happens Faster
Often, in the pursuit for more – more pleasure, more approval, more admiration – we use shame as our primary source of fuel.
We hit the gym in the hopes of getting rock hard abs because we hate the way our body looks. Or we go on a 3-day juice cleanse because we can't stand the skin that we're in.
But we shoot ourselves in the foot by using shame as our motivation because shame makes us grow like sludge.
When we do things to avoid shame, we're much more likely to burnout. To hit the ground. To fail. And hate ourselves even more when we do.
But when we love ourselves, motivation comes naturally.
When we love ourselves, we love our bodies and our jobs and our friends. Then, instead of trying to show up everything and everyone, we're simply just trying to become better versions of ourselves.
There's no competition. No shame. No force. No pressure. No foul play.
And that's when growth starts to come easily. Naturally.
When you love yourself, it's easy to go to the gym; to stop when you're full; to quit the Instagram habit.
The more you love yourself, the easier life becomes because the mind-made struggle ends. And what's left is totally doable.
6. You Stop Finding Problems and Instead Find Yourself
There's a saying that goes, "wherever you go, there you are."
And it's true. If we don't love ourselves – if we're trapped in mental loops of self-hate and self-judgment – then we will continue to find reasons why we are unlovable everywhere.
Not because it's true, but because our mind's confirmation bias makes us find proof of our not-enough-ness, even though it doesn't exist. The more flawed we believe we are, the more proof and problems we will notice to back this hypothesis up.
Along these same lines, something beautiful happens when we start to love ourselves. Instead of finding proof that all our flaws are real, we start finding proof that our loveability is real.
We start finding reasons why we're worthy of love and compassion from others, and we start to attract those things to us. Because we notice it. Because love attracts love.
And our reality is catching up to our vibration.
5. You Stop Feeling Small
There are some days where I just can't help but feel small around amazing, drop-dead gorgeous women. The magnitude of their beauty aggravates my insecurities.
It wasn't until I started reciting my self-love affirmations that I could be in the presence of gorgeous women and not feel intimidated; not project judgement onto them; not feel like I'm losing some unspoken competition.
This was the greatest relief ever.
Instead of feeling tense and bothered around people who intimidate me, I love myself enough to feel secure in who I am.
As you learn to love yourself and focus on your wholeness instead of your flaws, you will also notice the wholeness in others.
You won't get sucked into comparison games because it won't even occur to you anymore.
4. Your Friendships Will Improve
I have a friend who I love dearly, but a few years ago she started driving me a little crazy. I just didn't enjoy being around her because of all the annoying things she would do.
I was on the cusp of ending our friendship, and then I started my self-love practice.
And the next time I spent time with her, things were… great. I had a lot of fun. She didn't do anything to upset me. And that's when I learned the most important lesson ever:
We only have a problem with others because we have a problem with ourselves. Once we stop resisting ourselves, we stop resisting others.
If there is someone in your life who is driving you out of your mind – I guarantee that you are creating most of it for yourself.
Without self-love, it will be impossible to love others as well.
3. Your Romantic Relationships Will Transform
Something very interesting happened when I started my self-love practice…
My relationship went up in flames. Toast. Done-zo. Finito.
And just as rapidly, a new one began. It was hard for me not to rush into something because I believe in taking ample time to heal, but it happened so naturally.
And I believe from the core of my being that my self-love attracted all of it.
Because self-love changed my vibration, it pushed my old toxic relationship away and attracted the most loving man into my life.
I wholeheartedly believe that when you start loving yourself, one of two things will happen:
Your current relationship will have far less problems because you stopped nitpicking yourself, which means you nitpick your lover less
You will attract a brand new relationship with someone else who loves themselves just as much
We attract what we believe about ourselves.
If we believe in wholeness and love, we will find those features in our lover. Whether it's your current lover or a new lover will depend on their capacity to love themselves, too.
2. You Will Move from the Passenger Seat to the Driver's Seat
When you are unaware of your subconscious behavior, you're living in the passenger seat. You're a victim to your subconscious beliefs; guided by forces that you aren't controlling.
When you make the decision to start loving yourself, you make the decision to take the driver's seat. You make the choice to stare your limiting beliefs in the face and defy them.
This is the difference between a conscious and an unconscious life.
To allow your relationships – the relationships with your friends, your lover, and yourself – dissolve under the strain of self-hate is to live unconsciously.
To show up each moment in love is to consciously create a life you love. To attract things worth loving. To notice things worth noticing.
To live a life worth living.
1. You Solve the Overeating/ Overworking/ Overdrinking/ Oversexing Problem
That's the core of all personal development work: to just show up.
Show up. Be here.
It's simple but I bet that you're not doing it 100% of the time, because unless you've been working on personal development for quite some time, it's almost impossible.
Because when life gets challenging, our first inclination is to run, hide, numb. We want to make the pain go away.
So we reach for a self-help book, a cookie, a lover. We reach for something – anything – to soften the pain.
And when we do this, we leave. We abandon the present moment because the discomfort is too great.
But this moment is the only thing that truly exists. The present moment is the most precious thing we will ever have.
Showing up in this moment – and showing up in love – is the cure.
Facing the pain is how we overcome the pain. Not by softening it. Not by numbing it. Not by running from it. But by facing the very thing that's causing the hurt.
When you do this, you can handle any obstacle life throws your way.
That is what self-love does. And that is why self-love is your most important work. Period.