Getting recognition always feels good.
When we do something well, it's always nice to receive feedback that confirms it. And there's nothing wrong with that. Work hard, feel love hard. Seems reasonable enough.
However, when you feel like you're not getting the recognition you deserve, it's always a bad idea to go looking for validation from other people.
You can't control other people. But you can control yourself.
You are the most reliable source of approval and validation in your world, so why not try looking there for the recognition you desire?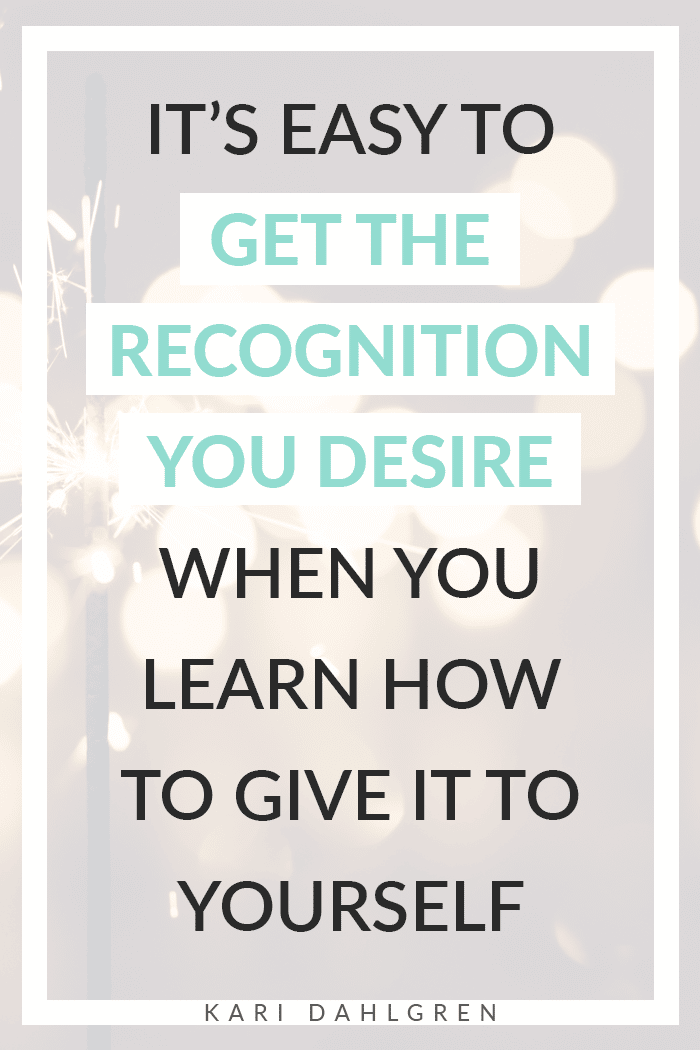 You Are the Only Provider You Should Count On
When you rely on other people to provide the recognition you crave, you're putting your happiness in their hands.
The problem here is that people are inherently messy (you and I included), and when you put your happiness into the hands of a messy person, you're just asking for trouble.
Never rely on something outside of yourself for happiness or validation.
Rather, learn how to provide all the happiness and validation you need yourself.
Learn how to pour love into yourself so that you don't have to rely on others pouring into you.
Because most other people aren't loving themselves either (sad, but true), so how can you go around expecting others to love you when they aren't getting their needs met either?
When both wells are dry, how can anyone win?
The Miracle of Self-Approval
It's in your own best interest to make it personal development priority to learn how to provide all your needs for yourself.
I experimented with this last week when I found myself yearning for recognition and I just wasn't getting it.
It started when I initiated a new project at work and executed it extremely well – in my humble opinion. I increased sales and provided immense value and yada yada. Yet my bosses barely noticed.
I did aaallll this amazing work, and crickets.
But instead of getting irked by the lack of approval, I gave myself a mini celebration.
I opened up my journal, and poured into myself. I congratulated myself, patted myself on the back, and raved about my hard work. Go Kari!
I gave myself the approval and validation that I was craving, and that filled me up. And best of all, I no longer needed it from anyone else.
Love Yourself First
Learning how to provide your own needs is empowering because it places all your happiness in your own hands. You are in control of how you feel – not someone else.
You get to step into your power. Because instead of relying on the messiness of others, you can rely on yourself to always pull through.
Whether it's recognition, validation, or love that you need – learn how to provide it for yourself. It will free you. It will change you. And it will empower you.
Then, when someone finally comes around providing recognition and validation that you enjoy, it's just icing on the cake, baby. And it's even sweeter.