Most of us self-help junkies always have a goal.
We want to get our life on track, get a promotion, start our own business, lose weight, become a better parent, level up, etc.
So we work on ourselves. We read self-help books (perhaps even devour them, like I do), do a little meditation and yoga work, and listen to podcasts every once in a while.
Those who really want results learn that they need to go beyond knowledge and take action, too. So we work day after day applying the concepts we learn.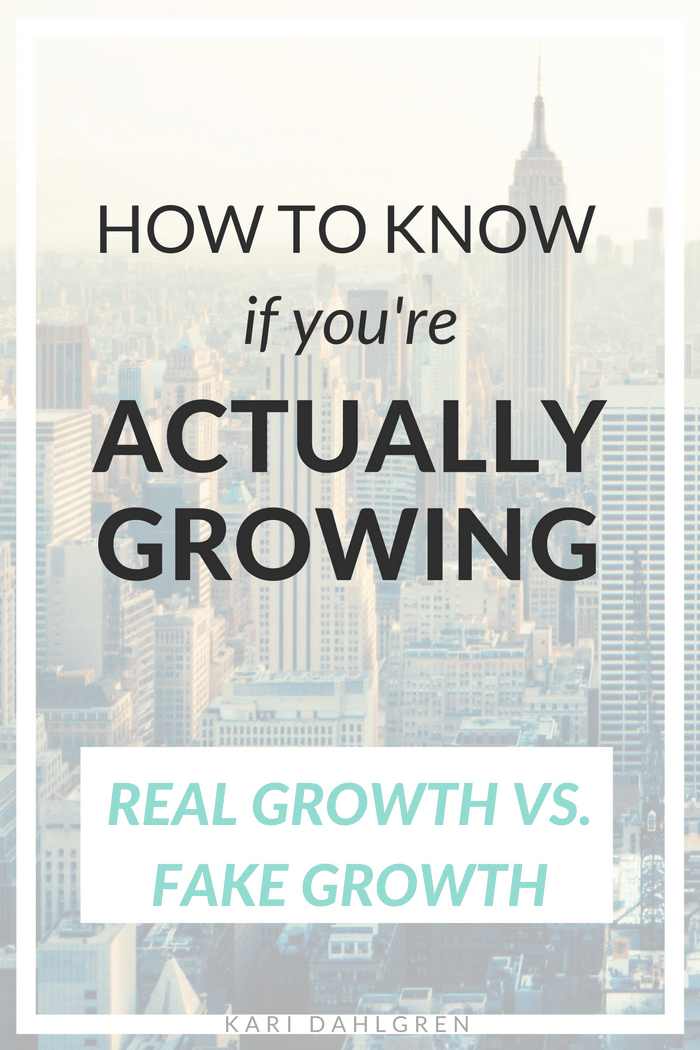 We're putting in the effort, and we're seeing results.
Therefore, we must be growing… right?
Sometimes, not quite…
The Problem
When we inhale information in problem-solving mode, we tend to have frequent realizations.
You know, those 'oh shit, this is it!' moments where something huge clicks. And we often get fooled into thinking that the clicking is permanent.
This is where we unknowingly get off track.
After the realization clicks, we briefly put it into practice (our intention is to keep it up forever, but in this case, that's never how it goes), see results, and assume that the lesson has settled into our subconscious.
We have achieved success, so we stop trying.
And that's where fake growth tends to sneak in.
Fake Growth
Fake growth occurs when we solve the symptom of a problem without addressing the root problem.
We get fooled into fake growth when we manage to take the pain away through success; only, once the pain comes back, we learn that we never actually grew.
We were just using our success as a crutch to avoid the real problem underneath.
These problems can include things like low self-esteem, unhealthy interdependence, the need for external validation, etc.
No matter how much success we achieve to mask these symptoms, the problem still exists within us – we just can't feel it anymore because we're comfortable.
For example, let's say that a friend is jobless and it's really tearing at his self-esteem. He thinks that getting a well-respected, well-paying job will fix is self-esteem, so he works really hard and gets the job of his dreams.
With his new job, his confidence is through the roof! He's achieved real growth, right?
Nope.
The underlying cause (low self-esteem) has only been pacified by the success of a new job. If that job were taken away from him, then he will remain distressed.
That's what I mean by fake growth.
There's still something underneath that needs to be worked on.
Real Growth
Real growth comes when you address the real problem inside of you, and hammer away at it persistently. This requires a great deal of discomfort.
Real growth is typically nonlinear and can therefore be confused with failure. We improve, slip up, fall back a little, and assume we've failed.
Only, you haven't failed. With enough persistence, you can achieve a general upward pattern of real growth.
So, how can you know if you're really growing?
An easy way to tell is by imagining what life would be like without all your successes – without your crutches.
If you didn't have a kickass job or fit body – or whatever it is that brings you security and comfort – could you still feel whole and complete?
Could you face your family and friends without feeling judged?
Real growth is achieved when you can take the crutches away and still be okay.
The Solution
All fake growth is centered on one thing: tangible success.
The job, the car, the body, the friends, the status, the money, etc. All of those things could be fake growth. They're just pacifiers that make you feel good for the time being.
And once they're taken away, you could be toast.
Real growth, on the other hand, comes from intangible success.
The ability to be still, to sit in silence and not go crazy, to walk around without projecting judgment onto people, to have a shitty job and somehow still feel grateful, etc.
Those are all things that indicate real growth.
You can be uncomfortable and still be okay.
Now, this isn't to say that you can't be comfortable and still grow at the same time. You can still achieve success and live in comfort and still be a badass so long as you don't identify with these things.
As long as you can still be okay – as long as you can still love yourself – without these things, you're evolving.
And you will continue to evolve and live a life of increasing freedom.
You'll be free from the opinions of others, from feeling like a victim, and from whatever self-inflicted idea of success you have in your head.
You'll be free, and you will continue to grow.
For real, this time. 🙂