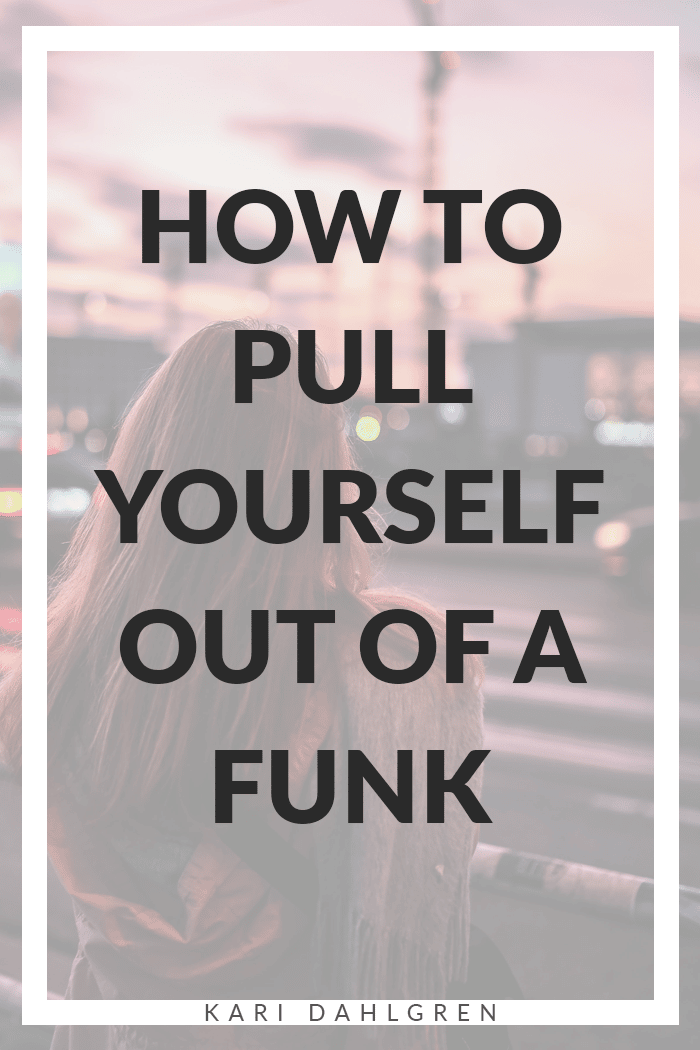 So, I cried every day this week…
Yeah, it's a bad week. I'm in a "funk," as some would say.
And as I searched for advice or comfort from friends, I didn't really like what I heard. Mostly, I didn't like this popular line:
This too shall pass…
To which I would respond (in my head),
Yeah, mhm, I know. But please tell me how to make it pass faster?
And that was exactly my problem. I ended up pulling myself out of this funk by allowing myself to dive deeper into it.
Don't worry, I have more practical steps for you to follow than just 'diving deeper.' But first, I need to clarify some definitions really quick.
A Funk Is A Feeling, But What Is a Feeling Anyway?
A feeling is a vibration in your body, and all feelings are caused by thoughts. (This is known as the Thought Model.)
No feeling can be created without a thought. This puts 100% responsibility for your emotions on you.
You can't just be sad because the emotion chose you as its victim (you are not a victim). You are sad because of a thought that you had that caused your emotion.
Pay attention to this and you will find it to be 100% true 100% of the time. While this responsibility can be daunting, it's also empowering.
It illustrates how a simple shift in thought can change your emotions, since all emotions are caused by thoughts.
My mistake happened when I learned this and then tried to use it to never feel a negative emotion again (because I can just "think" my way out of it, right?).
Resistance Will Always Perpetuate Your Funk
This whole week, I've been resisting my feelings without realizing it.
Things would go wrong, and I'd get all in a fuss trying to figure out where the damn feeling came from – and which thoughts created the damn feeling – so that I could try to make it go away.
AND THAT WAS MY ONLY PROBLEM.
My problem wasn't my negative emotions. My only problem was the unwilllingness to feel my negative emotions.
Awareness Will Always Dissolve Your Funk
I realized what was happening when I re-listened to one of my favorite podcasts by Brooke Castillo (from The Life Coach School podcast) called "Owning Negative Emotions." (It's a good one.)
As always, Brooke's words shook me wide awake.
I thought to myself, "Holy shit. I'm in total resistance mode right now.
I wonder what would happen if this was all okay?
What would happen if I decided right now that this bad mood is okay?"
As soon as I asked myself these questions, my body settled.
I relaxed and settled into the present. I settled into reality.
The REAL reality that's 50/50 good and bad. The reality that isn't sunshine all the time (like I so desperately wanted).
The reality that I honestly much prefer over the strenuous, resistance-filled one I was inhabiting.
Pulling Yourself Out of a Funk
The willingness to feel your feelings – especially the bad ones – is the best skill we can learn.
When we are truly willing to feel all our feelings, we can pull ourselves out of any funk by simply being okay with the fact that we're in a funk!
Imagine how much easier life would be if we stopped spending so much energy resisting and started simply allowing?
Negative emotions are much less harmless than we think.
It's like letting a little monkey hang on your back for a while instead of running a marathon trying to avoid it.
Yes, the funk may continue. But you're much less bothered by it, and it passes much faster.
Starting My Practice
This is something that I'm going to start practicing.
Once a day, I'm going to choose to allow and accept all my emotions, including the bad ones.
I think I'm going to call them my "Total Emotional Acceptance Practice Periods." Yeah…. That's what I'll do.
And in time, I hope to get better and better at it because I'm a little exhausted from running from my emotions.
I want to get really good at staying with myself during the storm, and loving myself through it.
So, here it goes.
Cheers to reality.
The REAL reality.