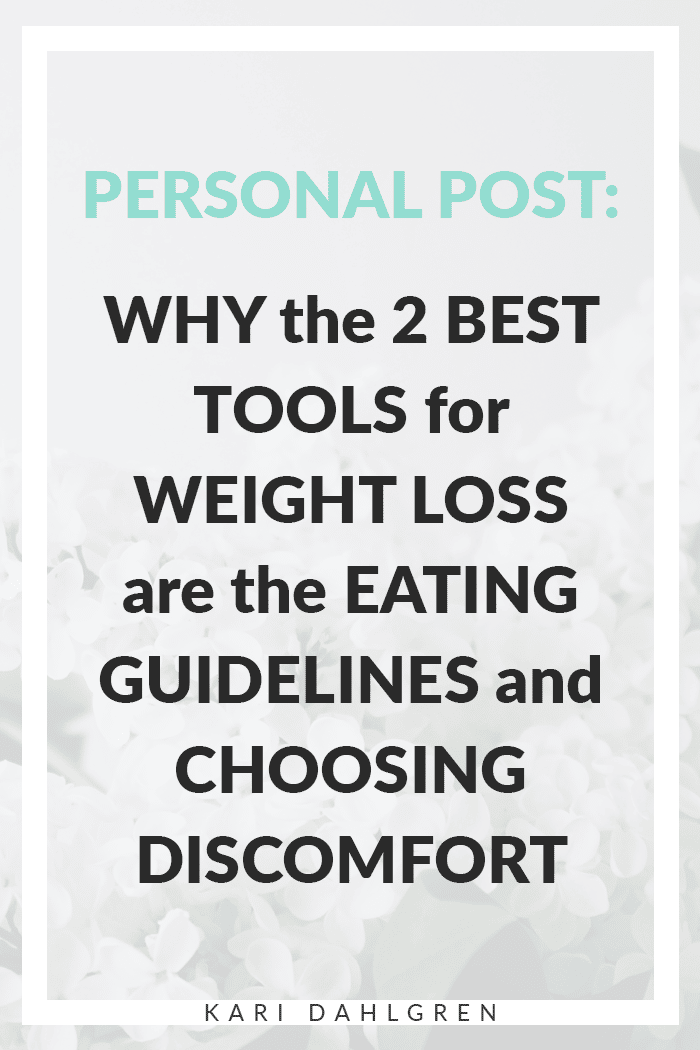 I'm sure you're well aware of how tough it is to stop overeating. When you're faced with something that's, well, in your face, you can't help but obsess over it. I know I did for well over a decade.
And over those years I've learned about what works and what doesn't.
What DOESN'T work is self-betrayal, which includes ignoring your body's cues by counting calories, dieting, bingeing, and burning out at the gym – just to name a few.
What DOES work – and always will work – is self-honesty, which includes following the Eating Guidelines and Choosing Discomfort instead of inappropriately numbing yourself with food.
It's a simple formula, but it's the hardest to follow – harder than all of the tactics that don't work combined (that's why yo-yo dieting is such an easy trap to fall into).
I have fallen into that trap time and time again – to the point of exhasperation, desperation, and isolation. And 9 times out of 10 I'd completely fail and betray myself by overeating.
But recently, these statistics have changed.
Recently, I was put to the test and I succeeded.
But first let me back up a bit.
I recently suffered from a week of gastroenteritis; and during that week, I probably ate only 2 days worth of food spread out over that entire week. I was pretty sick.
So the day that I finally felt better, I was stoked to eat normal food and I had my heart set on the leftover Chipotle in the fridge. But since my stomach had shrunk from the tiny bit of food I was eating, I could only eat ¼ of it before getting full.
This is where my logic almost led to self-betrayal. (And it's always the mind that leads us astray – our bodies never lie.)
The Most Important Question I Could Ever Ask Myself
Anyway. Logically, I knew I could eat more and get away with it – and you can see how slippery this slope already is, because the Eating Guidelines suggest that you should only eat when hungry and always stop when full.
But my justification was that my body needed it. I was starved for a week, so surely a little overeating would do me some good… Right?… But the truth was that I was full and I needed to stop eating.
So I stood there at my countertop with a warm spoon in my hand, staring down my leftovers in front of me. The longer I stared, the louder my internal dialogue grew.
"To eat it, or not to eat it? It looks so good and I've been craving it all day… but this would probably make me overstuffed and uncomfortable… I shouldn't… But it's so tasty… My body needs it… But that's not honoring my hunger… But what is hunger right now? My stomach is so messed up…"
After staring at my cold leftovers for a while, the most important question came to mind: "Do I stuff myself with comfort, or face what's really doing on?"
And in that moment, I made the difficult decision of honoring myself. I walked away from the food that was calling my name, and I laid down on my bed to ask myself what was really going on.
And, like clockwork, the truth bubbled up.
The 2 Best Tools to Stop Overeating
The truth was that I was seeking food because I'm nervous about moving into my new apartment. I was trying to find comfort amidst the chaos.
This was a very clear illustration of how the Eating Guidelines and Choosing Discomfort help us reconnect with ourselves. We don't just follow the guidelines and choose discomfort to lose weight.
We do it for everything.
We do it to learn how we run away from our struggles, and we use it to bring ourselves back to our truth – instead of the fantasy dream world where there is no pain.
Today I proved to myself that my relationship with myself matters. I proved that I'm aware enough to make the hard decision and stay uncomfortable and figure out what's really going on instead of reaching for the easy, comfortable fix (which, for me, is food).
Following the Eating Guidelines and Choosing Discomfort are helping me peel back my layers and discover what I'm truly made of.
If you struggle with overeating too, then this is something that I really, really want you to experience.
Your Turn
The next time you find yourself listlessly looking for something to eat when you aren't hungry, stop and ask yourself what's really going on. What are you running from? What are you trying to numb?
Then make the tough decision to feel your truth – even if it's painful – instead of overeating.
I'm about to finish my sixth month of not dieting, and it has taken me these six full months of practice to get here.
So if you suck at Choosing Discomfort and following the Eating Guidelines too, be very, very patient with yourself. It's a difficult skill to learn – but it can be learned!
Try to remain as self-aware as possible and practice, practice, practice.
You have what it takes to make the tough journey home.
And, as always, I'm right here with you.