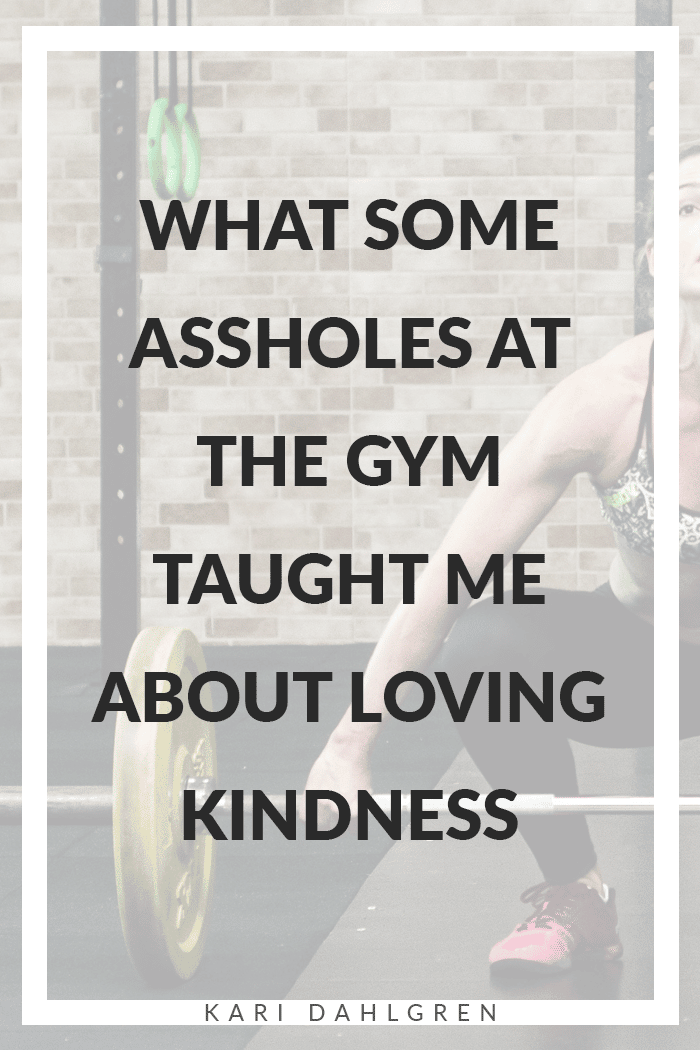 Dude… These people at the gym, man. They're driving me crazy. They make me not want to workout.
They're storming the gym with their arrogant attitudes and yell-grunting (it's like grunting, but it's so loud they're practically yelling).
The gym is now a trigger for me. One that spikes my adrenaline and makes me feel feisty inside. Not the cute kind of feisty, but the I'm-going-to-get-into-a-fight(-and-probably-lose) kind of feisty.
My internal dialogue sounds something like,
…"Don't you dare encroach on my space, you're already hogging up enough equipment." 
…"I'm going to leave this area after this set because that guy is sooo obnoxious!"
…"Dude, the front desk girl is a bitch! I say hi and she just looks at me and then looks back down. What a hoe!"
I could feel everyone's sour attitudes making me sour, and I didn't like it. I wasn't proud of it.
Then Pema Chodron came to the rescue. Again.
I opened up her book Comfortable with Uncertainty onto a random page – that ended up being far from random.
It was about loving kindness, and it was formatted like a guided meditation.
She guides you through a series of paragraphs where she has you wish loving kindness to yourself; then to someone nearby like your neighbor; then to someone farther away and farther away and farther away.
Soon, you're wishing loving kindness to everyone.
It left me feeling extremely compassionate. (Obviously.)
I found myself thinking, "Mmm… of course this is how I want to feel! Of course I should be practicing loving compassion to everyone around me – including the monkeys at the gym."
So I took Pema's lesson to heart, and then I headed back to the gym with my new attitude adjustment.
And as I worked out and inevitably came across the same assholes with their sour attitudes and nasty behavior, it didn't bother me nearly as much anymore.
My only job was to offer loving kindness to all beings; and making peace with those around me was how I offered that kindness.
I made a mental switch from "that guy deserves to have his membership revoked" to "that guy is obnoxious, but maybe he's struggling with a battle that I can't see, so I will be kind to him."
And that switch changed my experience. Not just at the gym, but everywhere I go. (Which really helps in SoCal traffic…)
The benefits of mindfulness and meditation and loving kindness should not be overlooked.
By choosing kindness over resentment, you both help yourself and those around you. It reduces your inner turmoil, and it reduces the tension in your environment.
Loving kindness is soooo good. I'm going to try practicing it every day. I invite you to join me.
I know that there will absolutely be days where I forget because of my feisty habits. But hopefully those habits will be overridden in time.
Loving kindness is what I can always offer the world.
And if we can all make loving kindness a habit, then the world becomes a much better place.