It's early November 2016, and back in August I started this brand new thing where I'm trying to feel all my feelings. (Wait, what?)
It sounds weird – like a super basic human skill – but it's surprising how AWFUL we are at the skill of feeling.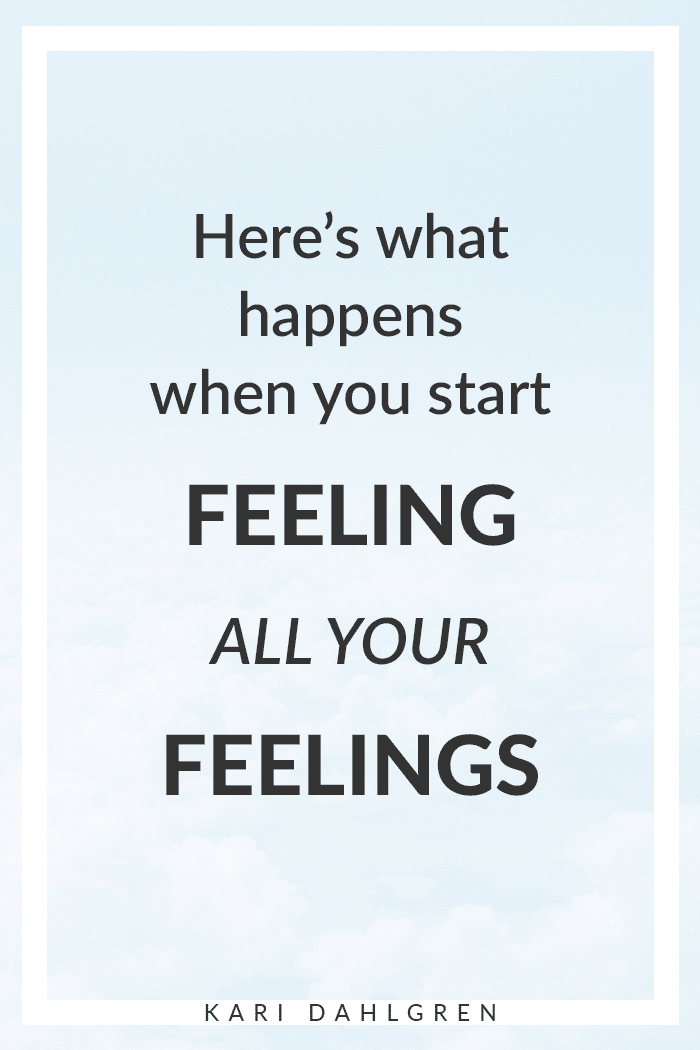 Why do I suddenly care about my feelings? Because it's essential for living an authentic life. I'm trying to repair my relationship with myself, and that starts by getting to know my true self – what's really going on beneath the surface.
I want to get to know my WHOLE experience, not just the pieces I like. I want to know my happiness and sadness; bliss and pain; success and failure. I refuse to keep denying half of my experience on Earth simply because it's uncomfortable.
I don't want to tune out anymore. I want to tune in.
The other reason why I'm working on feeling all my feelings is to stop overeating. I want to face whatever unwanted emotion is there instead of numbing my feelings with food (or shopping or gossiping or drinking, etc).
And it's ridiculous how hard this is.
It's also ridiculous how often I notice myself gravitating towards food when I'm feeling unsettled, frustrated, fearful, hesitant, sad, stressed, pressured to please others, etc…
At least, these are just the handful of emotions that I've tracked in my 'What Emotions Are Causing Me to Overeat? Journal.' (Yup, I'm a nerd.)
Anyway, what I wanted to share with you is what to expect when you start feeling all your feelings.
At first, it took some time to remember to pay attention to myself. I spent so long ignoring my negative emotions that it became a pretty strong habit.
Second, once I started getting a gauge of what feelings are actually there, I started experiencing more of them…
I started feeling more feelings…
Or was I?
Eventually, after a couple months or so, I realized that I wasn't feeling more negative feelings. All my feelings were just closer to the surface, so I felt them more frequently and with greater intensity.
While this sounds awful – and it's obviously more painful to go through – it's soooo helpful for me on this journey. I'm learning where my edge is, and I'm learning to lean into it instead of away from it.
This is wildly helpful for me and my growth. Because instead of running away from the icky feelings, I turn inward and ask myself, "Hey icky feeling. What's up? Why are you here?
What are you here to teach me?"
And I find an important lesson each time.
For example, my anxiety tells me that I'm fearful of the project I'm procrastinating on – and I better get to work. My pain is here to tell me that I'm moving too quickly in my new relationship – and I better slow down.
My unknown negative emotions are here to tell me to sit the frick down and figure it out – because I owe it to myself.
Our feelings are always here to tell us something. And the sooner we stop to listen, the sooner we can give ourselves what we really need.
We never need more shoes, craft beers (although they are delicious), or BBQ kettle chips (although they are delicious, too).
What we really need is to tune in and figure out our true feelings, and then compassionately let them in.
Today's lesson in a nutshell:
Lately, I thought I was experiencing more negative emotions, but I'm not. All my feelings – good and bad – are just closer to the surface. And it's a really, really, really good thing. I'm growing closer to myself, and I'm watching my whole life improve because of it.