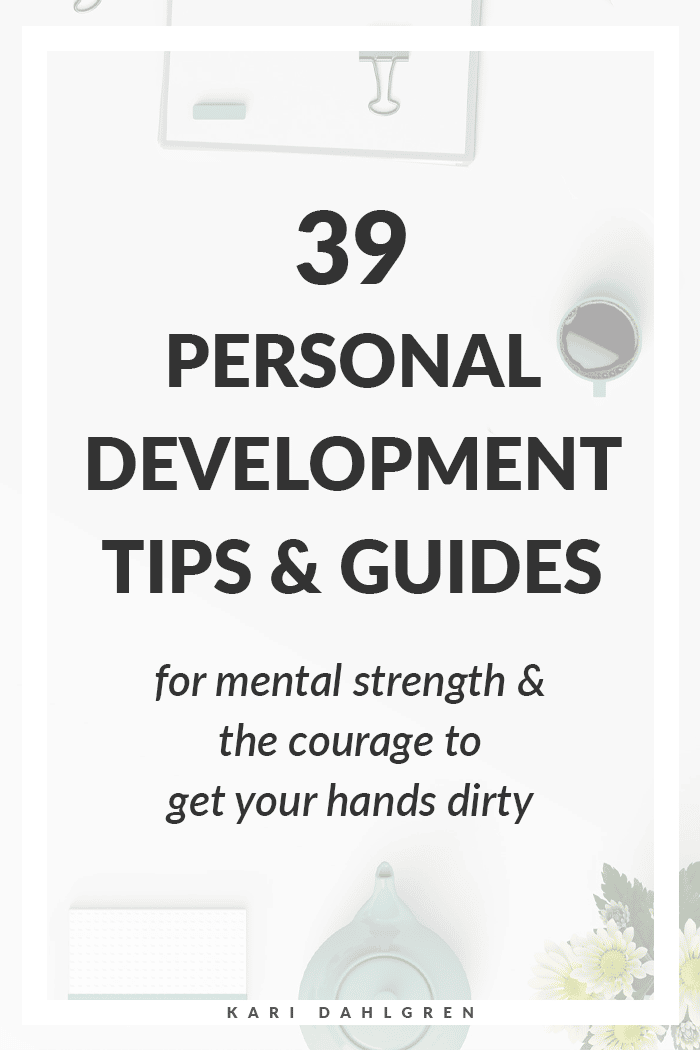 Below you will find all of my personal development tips, ever.
Each tip is a mini-summary of the guide that accompanies it. So if something resonates, the guide will take you deeper.
For those who want to just gobble up a ton of great personal development tips, this list is perfect for you.
Let's start with my best stuff.
Best Personal Development Tips
1. Sometimes you have to let something go to make room for your dream.
Dream chasing requires time, and when your time is limited (like it always will be), something's gotta give. A few of the things I had to give up in order to chase my dreams are Netflix, obligations, and toxic relationships. What do you need to give up to make room for your dream?
Guide: 7 Things I Had to Give Up to Start Living My Dream
2. Your life unfolds in proportion to your courage to feel your pain.
Most of us have preferred coping mechanisms for pain by using things like food, alcohol, or drugs to 'take the edge off' when life gets hard. But these crutches keep us small. We overeat, overdrink, and overwork ourselves in the pursuit of comfort, yet these very things create more discomfort. If you want a big life, you need to stop numbing and start holding space for yourself to feel your pain. It's personal development priority.
Guide: Be Willing to Feel Your Pain (This Is Personal Development Priority)
3. You need a spiritual practice to keep you together when things fall apart.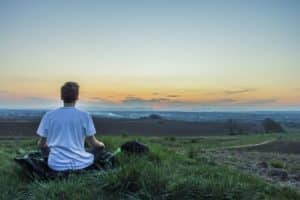 Everyone has phases where everything seems to fall apart. When this happens, we typically panic and resist the discomfort like crazy, and it's not cute. A great way to prevent yourself from spinning out the next time life falls apart is to have a spiritual practice. Consistently training in staying centered makes it much easier to stay centered when shit hits the fan. My spiritual practice involves yoga, mirror affirmations, and gratitude journaling. What's yours?
Guide: 5 Spiritual Practices That I Cannot Live Without
4. Negative feelings are normal and necessary for a happy life.
We all assume that life is supposed to be 90% sunshine and rainbows; when in reality it's only about 50% rainbows. This is not bad news. In fact, it's really good news. It means that all your feeling are perfectly normal! We're supposed to feel sad, frustrated, and depressed sometimes. It's N-O-R-M-A-L. And it creates the necessary contrast for us to appreciate those rainbows.
Guide: All Your Feelings, Especially the Bad Ones, Are Perfectly Okay
5. It's often a good idea to just slow down.
I'm all for productivity, and I use plenty of productivity techniques to streamline my day. But I've also found peace in practicing single-tasking instead of multi-tasking; going slow instead of fast; and appreciate white space instead of trying to make the most of everything. There's a time and place for productive, and there's also a need for slow.
Guide: Slowing Down to the Speed of Life & Questions to Ask Yourself
6. When you learn how to love yourself, everything in life works.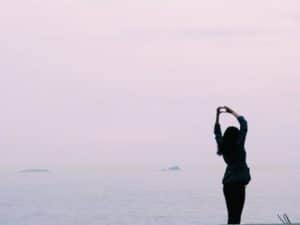 When you love yourself, life loves you back. Self-love will smooth out your entire life for two reasons: 1) you won't tolerate being treated poorly by anyone anymore and 2) you will change your vibration and attract very different experiences into your life. This is also personal development priority.
Guide: 7 Reasons Why Self-Love Is Your Most Important Work
7. Happiness can be found in wanting less & loving more.
When we shift our focus from what we want to what we already have, we find happiness.
Guide: A Minimalist Approach to Happiness (Want Less & Love More)
8. You'll miss your entire life if you keep waiting for the next thing.
Do you feel like you're behind in life? That feelings is caused by too much future-focus and not enough presence. We cannot allow ourselves to simply tolerate the 'bad times' while we wait for the good times to come. Life is too short for that. We should live the whole thing – not just the parts we like.
Guide: How to Stop Feeling Like You're Behind
9. Your ability to be uncomfortable is directly related to your ability to be successful.
Success takes action, and action is often uncomfortable. When we try to do big things, life gets messy – and that's O.K.! Yet many of us stop taking action once we get the first taste of failure or rejection. This is why learning how to feel your pain is personal development priority. It helps you do today what others won't, so that tomorrow you can do what others can't. Success requires discomfort, so embrace it and keep going.
Guide: Why Discomfort Is Necessary for You to Achieve Your Goals
Other Damn Good Personal Development Tips, in No Particular Order
Below you will find the rest of my personal development tips.
They aren't the best, but they're still damn good, and I hope you get something out of them.
10. Don't confuse success with growth.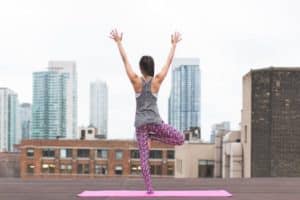 In the pursuit of personal development, it's easy to confuse real growth with fake growth. Here's how you can tell which type of growth you've achieved: If you took away your success, are you still okay? If you took away the lean body, the nice car, the job promotion, would you still be centered? If so, you've achieved real growth. If you're not okay without success, then you've achieved fake growth, and there's more work to do.
Guide: Real Growth vs Fake Growth – How to Know If You're Actually Growing
11. Having an abundance mentality is EVERYTHING.
If you want to create abundance in your life, you need to be focused on abundance. Feelings of gratitude, forgiveness, and contentment are some of the best emotions for attracting more abundance in your life.
Guide: How to Create a Life of Abundance using Magic and Science
12. After a breakup, it's important to feel the void, not fill the void.
Breakups are supposed to suck, but most of the pain comes from your thoughts about what happened. When your mind is trapped in the past, the void becomes unbearable. But that's why we practice feeling our pain. Mistakes are often made when we try to get rid of the pain by filling the void too soon.
Guide: 10 Ways to Heal from a Breakup and Become Better, not Bitter
13. You can "turn off fear" (and get shit done) by taking tiny steps.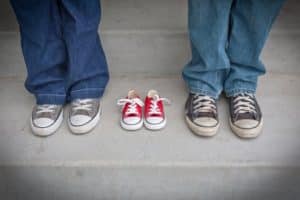 Our amygdala is (part of) the fear center of the brain. When it's active, fear will prevent you from taking action. The best way to turn your amygdala off is to take tiny actions. Writing one paragraph is much less scary than writing a 15-page essay. Excitement can also shut down your amygdala, too. So if you have trouble taking tiny steps, then just get really freakin' excited about the big steps you're about to take. It will keep fear out of the way.
Guide: How to Overcome Fear – A Simple Approach Using Easy Science
14. If you want to stop being a control freak, you need to make peace with imperfection.
Control freaks (like yours truly) are obsessed with maximum efficiency. While that helps get things done, it leads to stress and poor relationships. If you want to stop being a control freak, you need to make peace with imperfection and choose peace over efficiency sometimes (more often that you'd like).
Guide: On Being a Control Freak and Perfectionist
15. Train your brain to notice the good in a relationship (your relationship depends on it, kind of).
A healthy relationship needs at least five good interactions to balance out each bad interaction.*
This is because our brain has a negative bias that remembers bad things more strongly than good things. Not good. To counteract this, start a gratitude journal for your relationship by writing down all the things you appreciate about your lover. The more you do this, the more you will train your brain to be on the look out for good things, which counteracts that negative bias.
*According to Rick Hanson, author of Hardwiring Happiness – my favorite book on positive psychology.
Guide: Try This: A 2 Minute Practice for Healthy Relationships
16. Affirmations can change your life by changing your brain.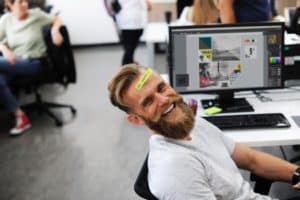 Affirmations are statements that you repeat over and over. While it sounds like a bunch of hippie magic, it's actually based in science. The more you repeat something, the stronger the connections in your brain become. Affirmations become part of your brain, which then become part of who you are.
Guide: How Do Affirmations Work? A 3-Step Process Backed by Science
17. You probably need to work on your relationship with yourself.
Most of us have poor relationships with ourselves. We spend all day beating ourselves up over things we could have done better, and it leaves us beaten and bruised. Improve your relationship with yourself with soul-satisfying activities like journaling, exercising, and meditating.
Guide: 5 Ways to Develop a Better Relationship with Yourself
18. When you don't feel like enough, your brain's confirmation bias is probably making it worse.
When we form a hypothesis about something, our brain's confirmation bias will start searching for evidence to prove it, and it can really help you or hurt you. When you're busy thinking about how lousy you are, your brain will seek out things that confirm that belief. But when you get busy thinking about how loveable you are, your brain will start searching for that evidence instead. Be intentional with your focus.
Guide: How to Believe that You Are Enough (Even When You Just Can't Seem to See It)
19. Learning how to feel your feelings is important work that might trip you up at first.
Life is 50/50 positive and negative. Most of us live in denial of that. When you really stop and tune into the emotions that happen all throughout the day, you'll notice that the 50/50 rule is true. When I first started practicing feeling my feelings, I felt like I was going through a 'rough patch' in my life. Later I realized that I opened my eyes to what was there all along. So when you start your practice, don't freak out when all the yucky emotions come bubbling up to the surface. It means you're doing it right.
Guide: This is what happens when you start feeling all your feelings…
20. Holding space and practicing kindness are cornerstones of self-love.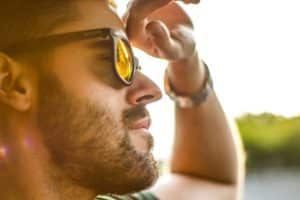 Self-love means holding space for yourself when you don't feel like enough. And as you hold that space, pour compassion into yourself. It's the hardest thing to do, and it's necessary. Holding space and filling it with kindness is the very essence of love.
Guide: How to Love Yourself
21. Having a life you love requires deliberate practice.
When someone says, "I fucking love my life" (like you'll often catch me saying), it's likely because they're very intentional about the how they spend their time. Stop tending to obligations and start doing more of what brings you joy – and get clear on what that is!
Guide: 9 Ways to Design a Life You Love
22. A great romantic relationship starts with self-love because you cannot pour from an empty glass.
The reason why most of my past relationships ended was a lack of self-love. If you can't love yourself, then you can't let others love you. The moment I started practicing self-love, ALL of my relationships changed – friendships and romantic relationships included.
Guide: How to Prevent Your Relationships from Falling Apart
23. Adopting a minimalist mindset is a great way to reduce stress.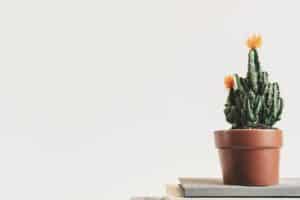 Minimalism is the intentional promotion of what we value most and the removal of anything that distracts us from it. The more shit you subtract from your life, the less you have to stress about.
Guide: 7 Ways to Reduce Stress with Minimalism
24. Stepping closer to negative emotion actually helps lessen it.
When we resist negativity, it amplifies negativity. Logically I know this, but it's sooo hard to practice sometimes. For example, there was a day where I was in the middle of a meltdown and, right on the verge of tears, my phone reminded me to meditate. Although the last thing I wanted to do was sit with those awful feelings, I did it. And I was blown away by how much my meltdown softened as I leaned into my feelings instead of resisting them.
Guide: Meditating in the Midst of a Meltdown
25. Feeling guilty about a setback doesn't make you bounce back any faster.
We get stuck in a setback when we feel guilty for backsliding. If you want to bounce back from a setback, start by acknowledging your enoughness. Even though you're backsliding, you are still enough exactly as you are. Stepping into your enoughness will help propel you forward again.
Guide: How to Deal with Setbacks, Slumps, and Feeling Bad About Yourself
26. A meaningful life has purpose, passion, and screw ups.
Want a meaningful life? Start a passion project, develop sense of purpose (something that goes beyond yourself), and mess up every now and then – the more frequent, the better, actually.
Guide: 3 Ways to Add More Meaning to Your Life
27. A good morning routine creates intention for the day.
My morning routine is not complete without mirror affirmations. Sometimes I skip the affirmations and do the "15 things" exercise instead. It starts by listing 5 things your proud of yourself for, 5 things you forgive yourself for, and 5 things you commit yourself to. It's a powerful way to start the day.
Guide: A 3 Minute Morning Ritual to Start Your Day Off Right
28. Your subconscious mind has more control over your behavior than you think. Reel it in.
Your brain is constantly bombarded by stimuli, and your subconscious mind filters out the 'noise' to help you out. But what qualifies as noise? Who's making that decision? NOT YOU! At least, not the conscious you. And if you have limiting beliefs lurking in your subconscious, then your brain is filtering out information based on those limiting beliefs. Yikes. Use written self-inquiry to discover your subconscious beliefs. Then tend to your mental garden by pulling limiting beliefs and sewing seeds of better beliefs.
Guide: Stop Struggling & Tune into Your Subconscious Mind
29. When you have integrity and self-trust, you become more resilient to rejection.
Rejection sucks. But being rejected is a good sign because it means that you're putting yourself out there. You're trying new things and that's great. Never stop. A great way to soften the inevitable blow when rejection comes around is to always act within your values and trust yourself.
Guide: How to Deal with Rejection
30. Do more of what works and less of what doesn't. (I mean, duh)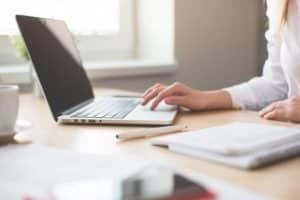 Do more of what works and less of what doesn't. It's an obvious idea, yet many of us never sit down and actually get clear on what's working/not working in our lives. Don't overlook the obvious. Sit down and give your life an audit today.
Guide: How to Do a Life Audit
31. Follow the 25/50 rule for a simple life.
Want a simple life? Spend 25% less time with obligations and, with that freed up time, slow down by 50% during everything else.
Guide: How to Live a Simple Life: The 25/50 Rule
32. A large part of self-discovery is knowing when to say no.
Part of living a minimalist lifestyle involves weeding out the unnecessary and learning what's necessary. Once you've done the weeding, the rest is simple: say yes to what's necessary and say no to what's not.
Guide: A Minimalist Approach to Self-Discovery (Saying No to 'Should')
33. It's a great idea to revisit past work that gave you the best a-ha moments.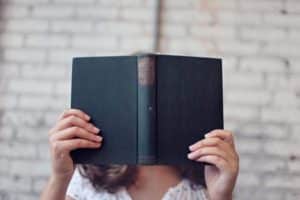 Your biggest a-ha moments are useless if you forget them. So revisit those books and podcasts that gave you the biggest a-ha moments to keep filling your cup. Then practice, practice, practice so that the a-ha stays with you.
Guide: One of the Best Things You Can Do for Personal Growth
34. To pull yourself out of a funk, dive headfirst into it.
When you're in a funk, don't resist it. What you resist persists. Instead, lean into it. Give the funk full permission to be there, and watch how quickly it dissolves.
Guide: How to Pull Yourself Out of a Funk – A Personal Story
35. Offer loving kindness to yourself and everyone around you, especially the assholes.
When people do annoying things, like they always do (let's be real), try to send loving kindness their way. Although it's the last thing you'll want to do, it will transform the way you are affected – or rather, unaffected – by their behavior. (I could use this reminder over and over again, that's for sure.)
Guide: Loving Kindness
36. It's important to show up for yourself and feel your feelings, especially when life sucks.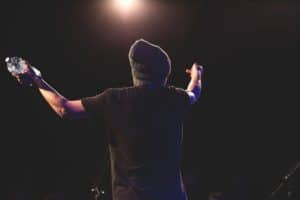 When life throws curveballs, instinct tells us to run and escape the pain until it's gone. This is self-abandonment, which is the opposite of self-care, and it corrodes our relationship with ourselves. In order to elevate your life, you need to show up through thick and thin. When life is great, feel great. And when life sucks, stay with yourself through the suck. Don't keep abandoning yourself just because you don't feel the way you want to feel. The consequence isn't worth it.
Guide: Feeling Your Feelings Is Personal Development Priority
37 . Make space for growing pains.
Growth cannot happen without discomfort. The problem is that most of us instinctually run from discomfort. So hold space for yourself when you're feeling uncomfortable and learn to lean into those emotions. You'll grow faster than you ever thought possible.
Guide: Holding Space: How to Grow Yourself When You Feel Discomfort
38. Try single-tasking for calmness and clarity.
Multitasking comes at a cost: the present moment. If you want a life with more calmness and clarity, try single-tasking as often as you can. It's less efficient (barely), but it will improve the quality of your work, life, and happiness.
Guide: Why We Should All Do More Single-Tasking
39. Choose an intentional, slow life over a busy, distracted one.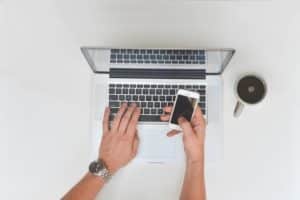 I used to be perpetually busy with things that didn't matter. Once I slowed down and got rid of my obligations, I became much happier. A slow life is full of focus, stillness, and clarity – and I love it.
Guide: 7 Benefits of Living a Calm Lifestyle
And that's it for the personal development tips and guides… for now.
I post something new every Sunday and keep this page continuously updated, so bookmark it or sign up for my newsletter to keep up with my latest personal development tips.