"You have to own the weight before you can lose the weight."
When I first heard those words on the Psychology of Eating podcast, my mouth dropped.
I have to own this weight – this overweight – before I can lose it? If I had heard those words a few months ago, I wouldn't have known what he meant.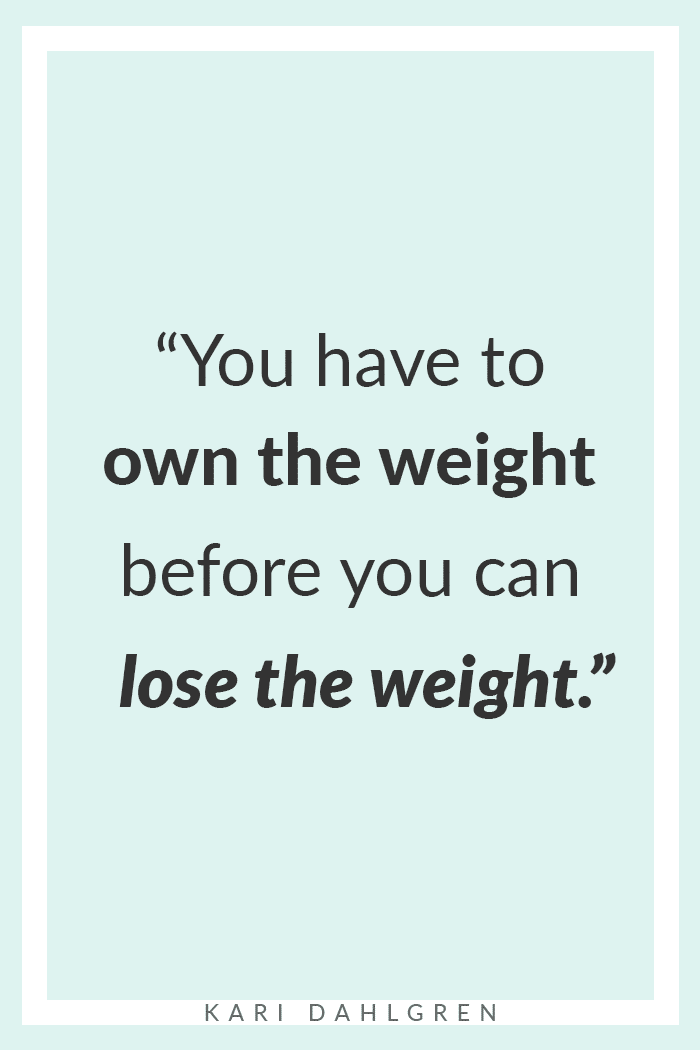 In fact, I would have just been confused.
"Um. What? Explain. Now, please. Because until you do, you just sound crazy."
But after doing all this work with self-love and how it relates to weight loss, I see exactly what it means.
And I'd like to share it with you.
Being Thin Will Not Fix Anything (Wait, What?!)
Sometimes we make the mistake of thinking that life will somehow be different once we lose the weight.
We assume that our relationships will be easier, we will feel less judged, be more confident, have less drama around food, etc.
The list goes on and on, but the underlying assumption is always the same:
Everything will be amazing once we lose the weight. Once we get the outside right, the inside will be right too.
But unfortunately, that's not how it works. That's the lesson that takes years – sometimes decades – to fully realize.
We have to find body acceptance now, and the weight loss will follow later.
As much as we hate to accept that reality, it can't happen any other way.
One Woman's Example
I once read a story about a woman who attended a weight loss retreat – not because she needed to lose weight, but because she had successfully lost 70 pounds by going through the retreat the previous year.
Only, she wasn't back again to share her success story. She was back so that she could share how her weight loss wasn't successful.
Because she assumed that once she lost the weight, she'd be free. She'd be happy. Everything in life would fall into place.
And when she finally lost the weight, she was devastated by how much her life still sucked.
She realized that her 20-year-long obsession with weight loss was just a distraction from the real problems in her life: a crumbling marriage and a job she despised.
It was only after losing the weight that she realized how her life made her feel more trapped than her body ever did.
And without weight loss to fixate on anymore, she was forced to deal with the hard stuff.
She learned that weight loss doesn't make everything better. 
The hard stuff still exists even after losing the weight. Body acceptance and life acceptance cannot be found through weight loss.
You have to find the acceptance within yourself first.
Honeymoon Sex vs Feeling Fat
There was an example strikingly similar to this in Glennon Melton's book Love Warrior.
In the memoir (which is amazing, by the way) she wrote about having sex on the night of her wedding, explaining how she imagined that she'd never feel lonely again once she tied the knot.
Only, on the night of her wedding, she couldn't feel more alone – even while having honeymoon sex! And it freaked her out.
"Being married was supposed to be different," Glennon wrote.
(Being thin is supposed to be different, I read.)
"To arrive inside the moment in which you are supposed to feel different… and still feel lonely is utterly terrifying," she wrote.
(To arrive inside a thin body in which you are supposed to feel different and still feel fat is utterly terrifying, I read.)
They are two completely different situations with the exact same problem:
We mistakenly assume that fixing the outer problem will make us happy (fake growth). But we need to address the inner problem in order to create lasting change (real growth).
The Only Weight Loss Mentality That Works
In order to lose weight sustainably, you need to address the inner reason why you're overweight.
It's not because you don't have enough willpower or eat too many carbs or don't go to the gym enough or don't have enough time.
And until you are 100% okay with yourself exactly as you are right now, the weight won't come off. Or, it can come off, but will come back full force in the future.
No matter how hard you try, weight loss cannot be permanent until you can find unconditional self-acceptance first.
Because when you love yourself, there's no need to shame yourself into being thin.
Instead, you'll love yourself into being healthy.
Don't Sweat It
So own it, baby.
You are perfect, whole, and complete exactly as you are. It may take time and serious personal work to get there; but as long as you're aware of your demons and you're working on them every day, you will get there.
In the meantime, don't sweat the whole weight thing. Figure yourself out first, and watch how your weight figures itself out after.
Own the weight, so that it doesn't own you.