This isn't your average 'how to stop overeating' article.
I'm not going to explain how to lose weight quick. (Whaaaa?)
Instead, I'm going to explain how to end overeating tendencies once and for all (which may sound familiar so far) by addressing the root problem that often goes overlooked: avoiding negative emotions.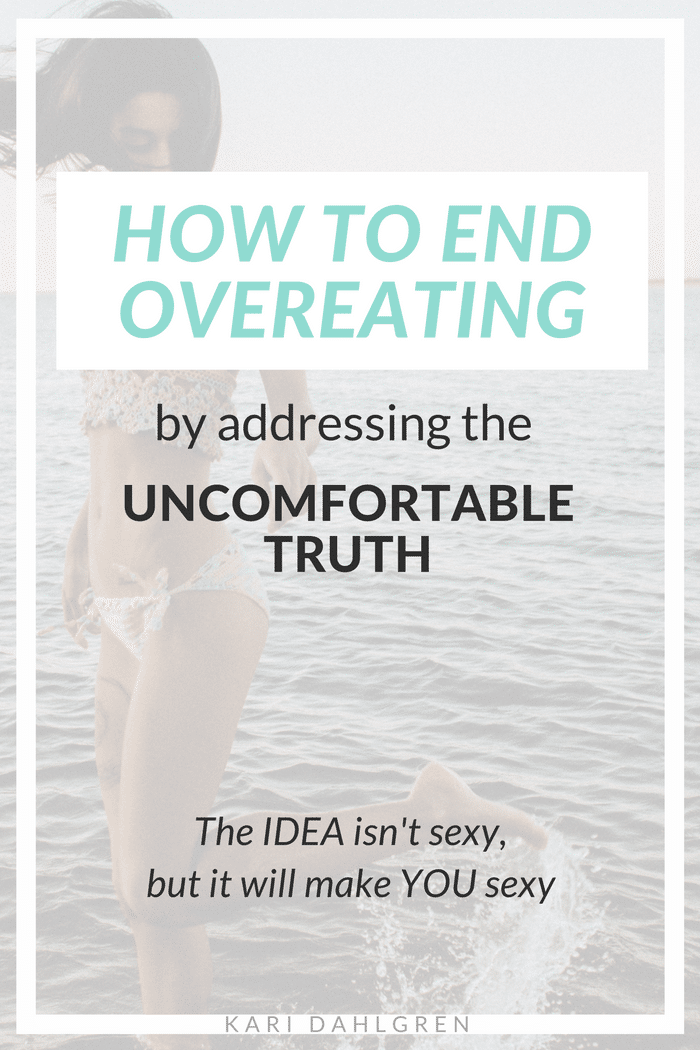 I want to talk about why we use food to numb our emotions, and how facing those emotions will help you lose that stubborn weight.
Because the premise of this article is this: If you can choose to face uncomfortable emotions and sit with the feeling of discomfort – instead of overeating – then you will lose weight.
The idea isn't very magnetic, but if you stick with me, it could be the revelation you need to finally drop that excess weight.
So, let's get nice and uncomfortable.
The Uncomfortable Truth
The reason why we overeat is because we're using food to numb a negative emotion that we don't want to deal with.
(With the exception being joy eating.)
We overeat because we'd rather numb our pain than face it.
Of course, we aren't aware that we're making this choice, otherwise we wouldn't do it, right? We've all been trying to lose weight for so long that, at this point, we'd do ANYTHING to get rid of it.
So that's the first step: generating awareness around the negative emotions that we avoid by overeating.
Here's an easy tool for developing that awareness.
Stop Overeating Tool
In a journal, create a chart with 3 columns:
For the situation, write down everything that happened in your environment that caused you to overeat.
Then for the emotion, write down what happened inside of you that caused you to overeat. Try to sum it up in one or two words.
As you continue to track your emotions for a month or two, the patterns should become obvious. And it's very useful.
Here's what happened when I started using this tool.
My Personal Experience
On my weight loss journey, the best thing I ever did was track the negative emotions that led me to overeat.
I tracked myself for almost two months, and it helped me notice a trend. I realized that I mostly overate when I was feeling exhausted or overwhelmed.
This helped me realize that I needed to start choosing naps instead of food. (It may not sound like a big revelation, but I had no idea!)
It also helped me realize that I need to learn how to feel exhausted without reaching for food for comfort or energy.
Exhaustion can't kill me, and it took a while for me to embrace that.
Learning how to stay with negative emotions took TONS OF PRACTICE, too.
And at first, I sucked at it.
I would fall into moments of overeating – fully aware that I wasn't hungry – but I'd keep going.
And it wasn't until I really started practicing searching for the emotion that I was avoiding that I was able to slowly end my overeating tendencies.
Why This Is More Effective Than Going on Another DIet
Now, I know this isn't a very sexy premise.
Why on earth should we pay attention to our negative emotions, especially when we have hectic lives and zero energy left over to deal with our pain?
Here's my answer to that.
In order to lose weight, we HAVE to be fully connected to ourselves and our emotions.
That's why it's so hard for us to lose weight through diet and exercise alone. It doesn't address the emotional hurricane going on within.
Because when we deny our hunger during a diet, we deny ourselves. And when we punish ourselves at the gym, we only drift further and further away.
It ruins the relationship we have with ourselves. (This doesn't mean that diet and exercise can't be healthy – but when they're used as tools to channel self-hatred, then it's unhealthy.)
To lose weight in a sustainable, lasting manner, we need to get as close as we can to ALL our emotions. We need to honor every part of ourselves, and that includes those icky emotions.
And when you start to become aware of the negative emotions that you avoid by overeating – and you start to feel those emotions instead of trying to numb them – you will grow so much closer to yourself.
You will finally get to know yourself.
And THAT is the place where true weight loss comes from.
The Mind, Emotions, and Crayons
Learning how to deal with negative emotions is a skill that takes time, awareness, and practice – and it's not easy at first.
But the weird part is that you can make it easier on yourself by allowing yourself to feel negative emotions…
(Wait, what?)
That's the key to ending overeating: Ending the resistance to negative emotions.
The more we resist an emotion, the more strength we give it. And when we surrender to them – when we stop, sit back, and just get curious about what's going on underneath – the emotions suddenly lessen.
Unbelievably fast.
It's like the bratty kindergartener who only wanted to use your crayons because you wanted to use them – and the moment you decide to do something else, the brat doesn't want the crayons anymore.
That's exactly what our emotions and mind do.
The moment we decide that we don't want to resist our emotions, our mind loosens its grip on them – as if it's saying, "Oh, you DO want these emotions? Well I take them back. You can't have them anymore."
The mind can be a brat sometimes.
Your 2 Choices
Again, I know this concept is far from sexy.
I mean, I'm pretty much accusing you of denying yourself and your emotions (and I'm really sorry for that). But never mind me.
You are the person in charge – always.
Because you always have a choice. You've always had two choices, actually:
Avoid emotional pain and overeat instead
Face emotional pain and don't overeat
Neither option is very enticing, is it? And that's okay.
Life isn't supposed to be sunshine, bubbles, and comfort all the time. Life will ALWAYS present us with negative emotions that we have to deal with.
In fact, if we aren't feeling negative emotions, then it probably means that we aren't challenging ourselves and growing enough.
Our ability to be uncomfortable is directly correlated with our ability to be successful – always.
And choosing discomfort over comfort is exactly how you lose weight sustainably and permanently.
What to Pick
So, yes. What I'm saying is choose the discomfort.
Choose the discomfort so that you stop running from yourself; so that you can honor yourself and foster the relationship you have with yourself.
And if you make that choice consistently and repetitively, it will become a skill – the most valuable skill you will have ever developed.
And soon you will have the mindset and skills necessary to stay with yourself when life gets tough.
And THAT'S how sustainable, permanent weight loss is achieved.
How To Stop Overeating By Addressing The Uncomfortable Truth – In Once Really Long Sentence
By choosing to feel negative emotions instead of numbing them by overeating, you will grow closer to yourself and find a much greater capacity to eat when you're hungry and stop when you're full – which is the only recipe for true, sustainable weight loss.