This isn't your average how to stop overeating article.
There isn't a shred of advice about what to eat or how to exercise. (Whaaa?)
Instead, I'm going to explain how to stop overeating by addressing the psychological problem that's often overlooked:
…avoiding negative emotions.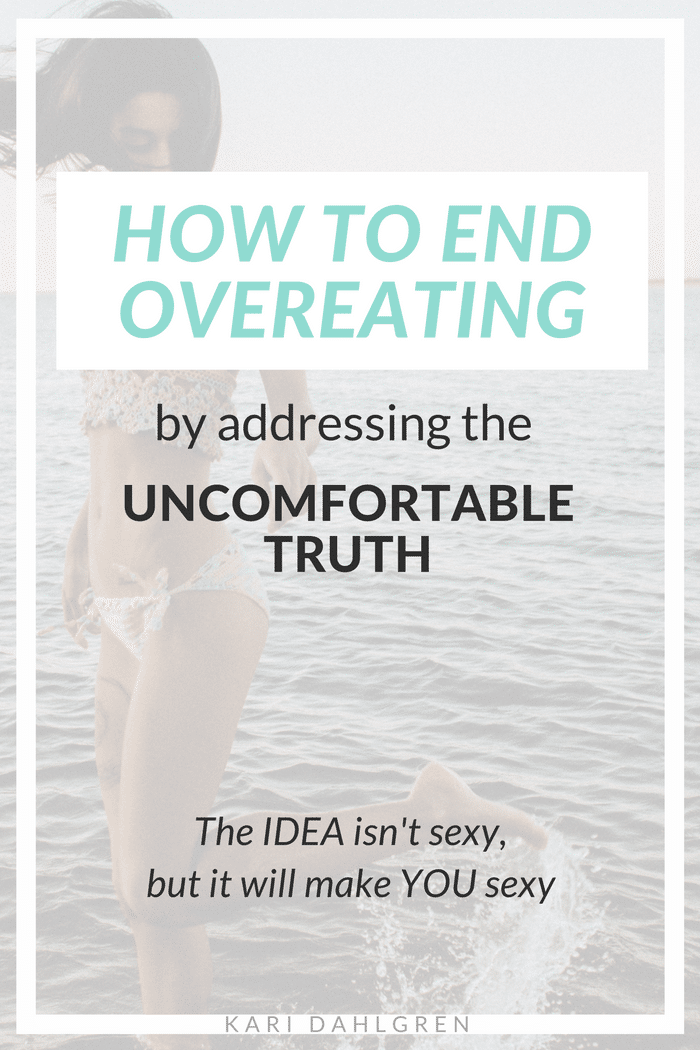 Today you'll learn why we use food to numb our emotions, and how facing those emotions will help you lose weight.
The idea isn't very magnetic, but if you stick with me, it could be the revelation you need to finally drop that excess weight.
So, let's get nice and uncomfortable.
THE UNCOMFORTABLE TRUTH
The reason why we overeat is because we're using food to numb an emotion that we don't want to deal with.
(With the exception being joy eating.)
We overeat because we'd rather numb our pain than face it — and we have no idea that we're doing it.
Our brains are so good at avoiding pain (because we're wired to survive, not thrive) that negative emotions are avoided on autopilot (i.e. we have no idea we're doing it).
Since we have no idea that it's happening, it's no wonder why we self-sabotage!
If you've ever eaten really "good" during the day only to break and binge at night, this exactly why.
In order to break free from the self-sabotaging cycle, you need to start by generating awareness around the negative emotions that you avoid by overeating.
Here's an easy tool for developing that awareness:
Stop Overeating Tool
The best tool I know to stop overeating is the Stop, Drop, and Feel method. (I talk about it a lot on my blog because it's really fucking important.)
You can use this tool to stop yourself in the middle of a binge, and you can also use it to stop overeating in general. Here's a video of how it works:
Whenever you feel the desire to eat when you're not hungry, follow these 3 steps:
Stop what you're doing
Drop into your body and ask yourself, "What am I feeling?"
Feel the uncomfortable feelings that come up
And once you allow that uncomfortable feeling to be fully felt, it will pass right through, like a train moving on to its next station.
And the desire to overeat will pass right along with it.
This practice sounds weird, I know! I have fully embraced how crazy I sound. But when you finally give it a try, you'll see that it really does work.
My Personal Experience
In the video above, I talk about a time where I was going through a deep emotional low, and my binge eating returned.
At first, I just thought that I was just stressed out. But after a couple days of binge eating, I knew something else was going on.
So after I found myself reaching for some Sour Patch candies again – when I wasn't hungry (red flag) – I did the SDF method…
And I burst into tears.
I was grieving, and I didn't even know it.
On the outside I seemed just fine. But clearly I wasn't.
But it wasn't until I stopped and asked myself how I was feeling that I had any idea that an emotional storm was rumbling around inside me. It's no wonder I was binge eating.
And once I made space and allowed myself to grieve and heave and sob… the desire for candy completely went away.
And that's how Feeling Uncomfortable will help you stop overeating.
The Brain Science Behind It All
If this is all too "airy fairy" for you, please let me back it up with some science.
Feeling Uncomfortable is a skill that you can develop with time, awareness, and practice – but it's not easy, especially since your brain is literally wired to avoid this stuff.
From a biological standpoint, your brain is wired to seek pleasure and avoid pain, so your natural reaction to discomfort is to avoid it by seeking pleasure — usually from food since it's an easy buffer.
Although your brain is working against you, you can slowly train it to stop buffering with food. You can do this with repetitive practice (i.e. practicing the SDF method over and over and over).
The more you practice Feeling Your Feelings, the better you will get at it. Repetition is the mother of all skill.
This is simple brain science.
Your brain uses neuroplasticity to rewire itself based on what you repeatedly practice. That's why mathematicians have more grey matter in the area of their brain that controls arithmetic: neuroplasticity has strengthened that part of the brain.
So when you start to practice Feeling Uncomfortable, you will literally get good at Feeling Uncomfortable. The part of your brain that helps you cope with discomfort (whatever that is) will literally get stronger 🙂
And since all growth requires discomfort, imagine how much progress you can make with your goals – all your life goals, and especially your weight loss goals – by simply practicing Feeling Uncomfortable on a daily basis…
A Plea for Masochism
I know this concept is far from sexy.
But I could not believe that no one told me about it sooner!
Once I started playing with this idea of Being Uncomfortable instead of numbing my emotions with food, my entire life changed.
As I started making a habit of Feeling My Feelings by practicing the SDF method, my binge eating slowly came to an end.
So try out the SDF method the next time you feel the urge to overeat, and make room for what comes up. Allow yourself to get nice and uncomfortable, and watch how it dissolves your desire to overeat.
If you do this frequently enough, it will literally become a skill. And the weight thing will take care of itself.