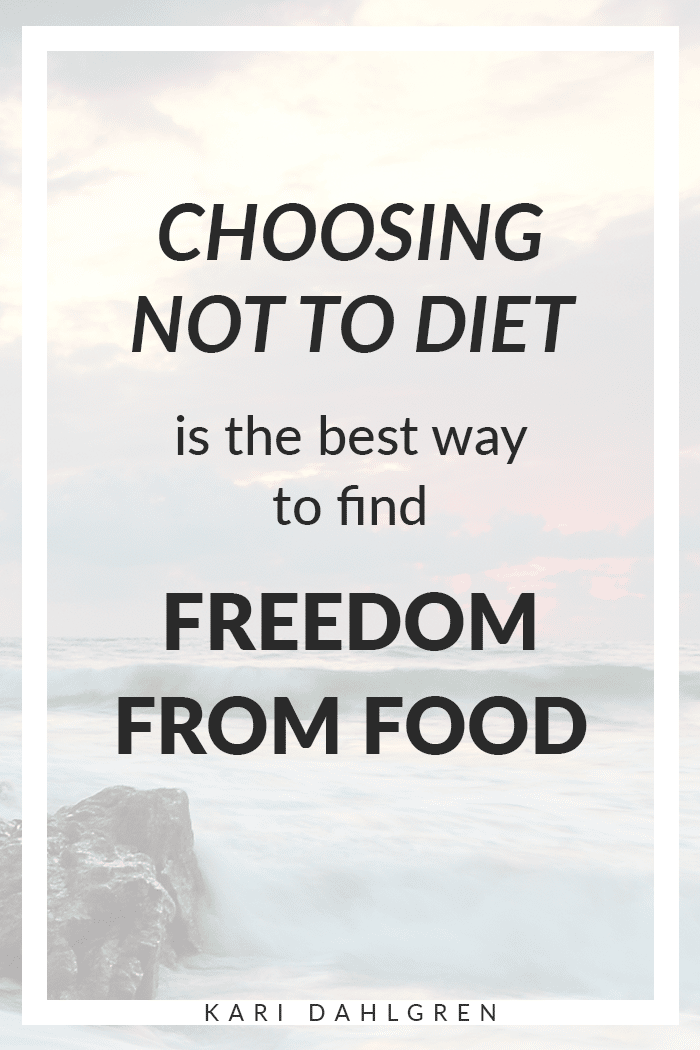 Something irritated me the other day.
I was talking to a close friend about how radically my life has changed ever since I stopped dieting, and in response he said:
"That's awesome. I'm really proud of you. And look at me. I'm the perfect example. As soon as I stopped caring about what I ate, my body totally leaned out. I used to eat exclusively chicken breasts and steamed veggies and I barely lost weight. Now I eat hamburgers and fries and I'm in the best shape of my life."
I'm proud of him for what he accomplished, but it irritated me because…
'Not dieting' is NOT the same as 'not caring'
I stopped dieting a few months ago but I still care A LOT about how I eat.
But please let me be extra clear: I care less about what I eat and I care more about why I eat.
I care more about the anger and self-loathing that I'm feeling and why it's causing me to overeat. And I care about choosing to feel those feelings instead of stuffing them down with food.
I care A LOT about the reasons why I eat and I care far less about the old rules and restrictions around what I should and shouldn't eat (i.e. I don't care for dieting).
There's a huge difference between eating a cheeseburger because you stopped giving a crap and eating a cheeseburger because it's your way of honoring your body's truth.
I understand that cheeseburgers are unhealthy. But I also understand that depriving my body of what it wants will cause me to overeat later, and overeating is unhealthy, too.
This is not about the lesser of two evils
When I say that I stopped dieting, what I'm saying is that:
I started eating exactly what appeals to me when I'm hungry
I try my best to stop eating when I'm full
If I don't want to stop when I'm full, I pay extremely close attention to why
That last step is the hardest. It means facing my demons and fears and all the ugly parts of myself that I try so desperately to run from.
It takes a lot of courage not to diet
And in order to have courage, you have to fucking care.
You're choosing to face all of your emotion – the bad ones included – and honor your truth, even if it means eating an unhealthy meal (which is a tough thing if you're a health nut like me).
But this path leads to the most beautiful thing ever: freedom and closeness.
Choosing not to diet will free you from the obsession with food, and listening to your body will bring you closer to yourself.
You will learn more about yourself than you ever thought possible.
Not because you stopped caring.
But because you care A LOT.