Question: Do you have a number in your head of how much you want to weigh?
Second question: Have you spent more than 3 years trying to achieve that weight?
Third question: Have you gone on more than 3 different diets trying to achieve that weight?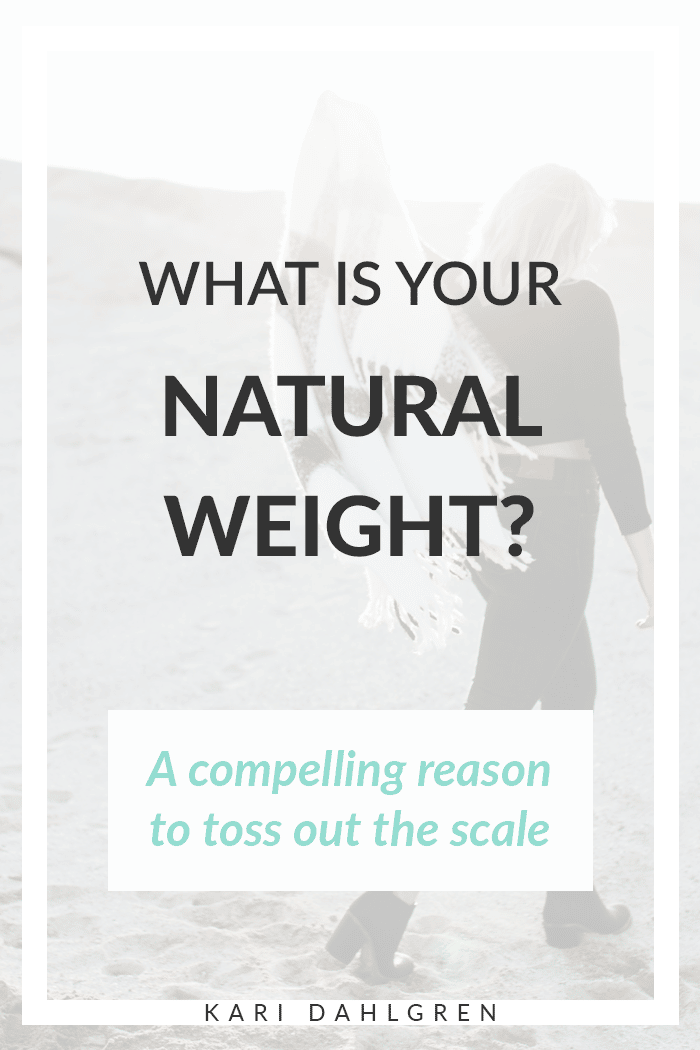 If you answered 'yes' to any of these questions, then I kindly suggest that you seriously rethink your goals. The number on the scale that we neurotically obsess over (if you won't admit it, I will) is often unrealistic and unrepresentative of your real health.
And that number might not even be your own. Sure, you created the number, but the whole idea was probably influenced by what you see in popular media, consumer ads, fitness articles, and other external cues.
These cues often tell us that thinner is better, more loveable, and acceptable; and anything else is unacceptable, unloveable, and not okay. (And in my humble opinion, I say fuck that.)
External cues have absolutely no right to influence how you want your body to look. Striving to achieve a number that wasn't even your idea to begin with – let's be real – is not the way to live an authentic life.
Internal cues (i.e. listening to your body) are the best way to live true to yourself; trust yourself; and achieve your natural weight.
What is your natural weight?
It's the weight you eventually settle upon when you eat when you're hungry and stop when you're full. It's a comfortable weight that you don't have to struggle to maintain. There's no war, no shame. There's just you. And truth. And love.
If you're anything like me when I was obsessed with a specific number, I would religiously weigh myself everyday. If the number was higher than yesterday, I would be disappointed and my whole day would revolve around getting the scale to move back (i.e. restrictive eating, mental games, ugh).
If the number was lower than the previous day, then I was allowed to be happy (i.e. my happiness was contingent upon how much I weighed – ugh, again).
The whole thing totally sucks because 1) your weight should not dictate how much happiness you are allowed to feel, and 2) your body is an organism that moves and breathes and fluctuates – in unpredictable patterns. 
Your natural weight is always slightly fluctuating because your body is constantly working, building, and repairing itself. Sometimes there's extra stuff hanging around, sometimes there's not. The body is constantly changing.
Therefore, the scale will show inconsistencies that should not affect how you feel about yourself. And once we separate ourselves from the number on the scale, our weight can fluctuate like it oh-so-naturally does and we won't lose our minds over it.
It took me so long to figure that out, and it didn't really sink in until I gave up dieting and the scale-watching habit altogether. These days, my weight can fluctuate each day and I don't lose my happiness over it – because I don't even know that it's happening.
And I don't care.
Can you imagine what a relief this is?
So, if you are fixated on the scale, then it's time to stop the scale-watching habit for good. It's also time to find more ways to love yourself instead of looking for love on the scale.
The sooner we can make peace with the weight we are naturally meant to be – instead of the weight that popular culture suggests – the sooner we can get there.
The sooner we ditch the inauthentic number, the sooner we can love ourselves unconditionally, which – in my opinion – is the quickest way to get to your natural weight, anyway.