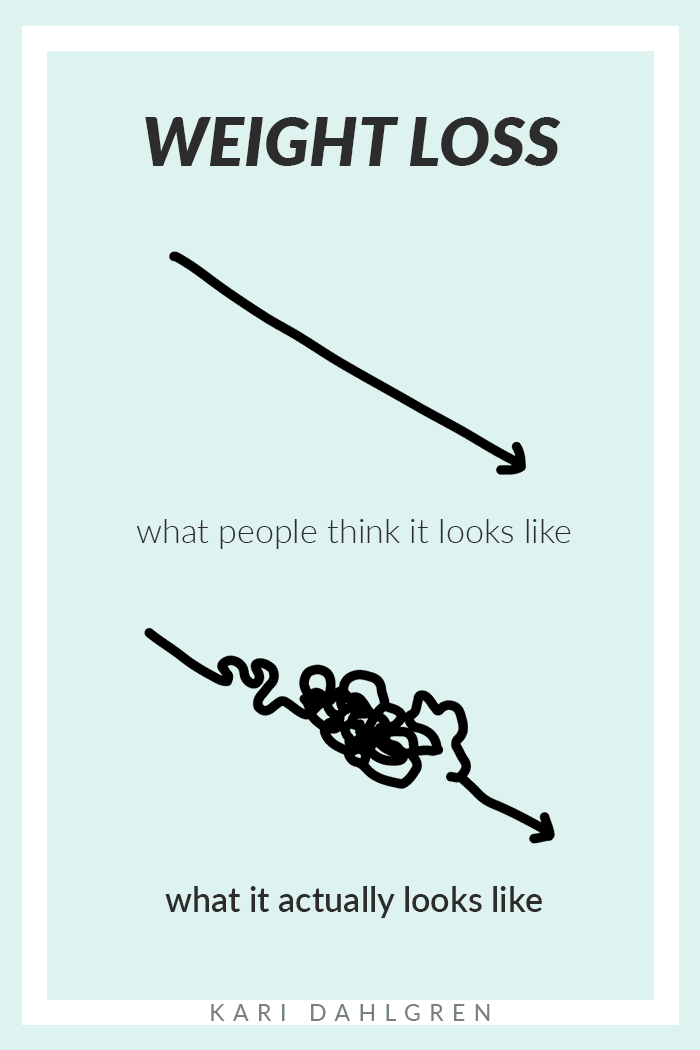 If I could track my weight loss journey on a graph, it would look like a ball of yarn.
A good-looking ball of yarn, mind you, but a ball of yarn nonetheless.
But if it wasn't for the frustrating up, down, forward, and backward movements, I wouldn't have become the person I am today. And for that, I'm grateful.
So today, I'm excited to share the meaningful, tedious, formerly frustrating way that I lost my excess weight.
It's not a 'here's the one thing that helped me lose 65 pounds' kind of story.
But the fact that my weight loss journey is less-than-dramatic – but successful – should be proof that it's legit.
My Secret Sauce
About 6 years ago, I wanted that dramatic change, though.
I wanted to lose weight fast and 'get skinny' so that I could finally feel good about myself, and booyyyy did I have a lot of lessons to learn.
And my first lesson started with nutrition. Then it moved into fitness. And then it moved into self-love.
I needed all 3 – but I needed self-love the most.
That may not be the case for you, but it was the secret sauce for me.
The Nutrition Thing
I'd like you to know something about me: I'm super, ridiculously passionate about nutrition.
Juicing, antioxidants, plant-based, grass-fed, paleo, vegan, raw vegan, probiotics, Ayurveda, Traditional Chinese Medicine, macros, calories, minerals, only-foods-you-can-pronounce, only-shopping-the-perimeter-of-the-store, get-your-thyroid-tested, skip-the-carrageenan (yes, I just spelled that from memory), soy-free, GMO-free, etc. etc. etc.
I've researched all of it, I love all of it, and I tried all of it just to see what's up.
And it helped me lose 10 pounds.
Over 3 whole years. (This is the less-than-dramatic part.)
Those 3 years helped me become a helluva lot healthier though, but I was still overweight, and it was driving me crazy.
It was driving me crazy because I was 'doing everything right' and yet I was still going up, down, left, and right.
I was eating ridiculously clean – cleaner than all my friends – and had barely anything to show.
It didn't matter that I was eating kale salads with apple cider vinegar dressing for lunch (or so I felt at the time) because I was still overweight and not going anywhere fast.
So I ditched the rigid eating rules and kept what felt good to my body, which is a mostly plant-based diet with an emphasis on gut health.
The Fitness Thing
After I got off the obsessive nutrition bandwagon and relaxed my diet in a way that satisfied me and my body, I started getting into fitness.
SURELY this would be the missing piece, right? 😉
So I started lifting and doing HIIT 3-4 times a week. And I LOVED it. (Who knew barbells could be so fun?)
I took BCAAs to maintain muscle growth while on a plant-based diet and had the occasional protein shake.
And it helped me lose 5 more pounds. 
Over one more entire year.
This time, it didn't drive me crazy, though.
Because I enjoyed the gym, it wasn't like I was punishing myself or shaming myself into being there. (Although, that can definitely be the case sometimes.)
But I was still racking my brain over how to lose this stubborn weight.
I tried dieting. I tried exercising. And at that point, it had been 4 years.
And I was frustrated.
The Self-Love Thing
Then I read a book called You Can Heal Your Life by Louise Hay and it, well, started to heal my life.
It was my first introduction to self-love and affirmations, and it helped me realize how much I WASN'T loving myself.
So I started doing the work.
I started repeating the affirmations "I love myself" and "I approve of myself" and "I am enough" over and over and over for weeks.
And sho 'nuff – I experienced little miracles.
I slowly noticed myself being kinder to myself. Which was weird because I wasn't aware that I WASN'T being kind to myself in the first place.
Then two more life-changing books came into my life: Women, Food, and God and Why Weight, both by Geneen Roth. (I love her!)
And man oh man, they REALLY helped me discover how much I wasn't loving myself.
Only, Geneen's books came with a different self-love realization.
They helped me realize how I was using food and exercise in a way that was ruining the relationship I had with myself. They helped me realize that I wasn't honoring my body like I thought I was.
These books helped me unearth the really uncomfortable reason why I overate. They helped me address the feelings that I avoided by overeating, and they taught me how to honor my body and emotion better.
And slowly… I lost 0 pounds.
Wait, What?
Yuuuuup.
The self-love thing, which felt SO GOOD, helped me lose nothing – except my slavery to my weight, which is something that I wouldn't trade for the world.
As I worked on loving myself, I realized that it would be a good idea to stop dieting and weighing myself every morning.
Although I hadn't been on an actual 'diet-diet' in years, I always felt like I was eating in a certain way in order to get the scale to move, ya know?
So I quit both dieting and the scale-watching habit for one month.
And that month was AMAZING.
Because there were no more rules and restrictions around food, I was able to free myself from the prison that I held myself captive in for so long.
I stopped trying to spend my days manipulating my body.
I stopped weighing myself obsessively every day.
I stopped caring about what other people think of me.
And I feel so freakin' free!
When Life Changed Forever
Although I'm not at the 'goal weight' I once yearned for, I feel better than ever before.
And I know from the CORE of my being that achieving my goal weight through diet and exercise alone would not feel nearly this good.
If I had succeeded on that route, it would have made me a lifelong slave to meal plans and workout regimens instead of becoming a slave to love.
Learning how to love myself was the final piece of MY puzzle that I needed to finally free myself of the weight loss burden.
Not by losing the weight, but by losing the need to lose the weight in order to feel good about myself.
6 Years Later
These days, I'm still working on loving myself.
And I know that the more I love myself, the easier it will be to move towards my natural weight.
So, I'll update this post if I lose more weight on my this wonderful journey of self-discovery.
But if I don't lose more weight – even if I continue into my 6th year on this journey without losing another pound – I'm okay with that.
Because I've gained MYSELF through the process.
And I wouldn't trade anything for that.
Not even another 10 pounds.
---
Check out my other articles on weight loss to see what I think the real conversation on weight loss should be about!