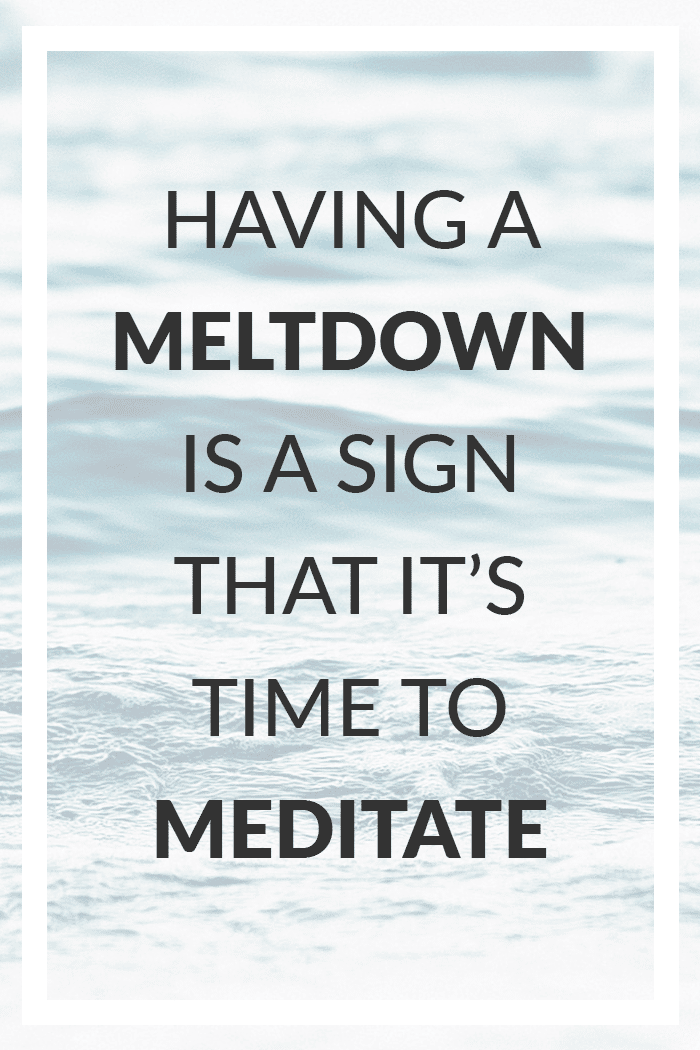 I'm a mess right now.
And it's no surprise. Emotional breakdowns are inevitable when your life is in radical flux and you can't seem to find stable ground anywhere.
In the middle of my tears today, my phone buzzed with an alert to meditate, otherwise I'd lose my 93 day streak. I glared at my phone with squinty eyes. "Fiiiiine I'll do it. But only because I don't want to lose my streak."
And I had a sneaking suspicion that it was going to be the best choice I made all day.
Why? Because I know that all feelings are created by thoughts. Which meant that there was a possibility that I would stop crying if I silenced my thoughts.
And that's exactly what happened.
I set my timer for 2 minutes and began meditating, and my tears… stopped.
Stepping closer to our crazy emotions actually helps lessen them.
Go figure, right?
As I continued to mediate, my mind would wander and I would find myself crying again. Then, I'd notice the thought that caused the tears and I would bring myself back into the present moment.
I've never seen such a clear illustration of how our thoughts create our emotions.
Each time I'd slip back into thinking, those negative emotions would bubble up (because, hello, meltdown) and I would feel bad.
But as soon as I recognized the negative thoughts that were causing those emotions, and I gently pulled myself back into my meditation, it stopped.
This is the closest thing to a miracle that I've ever experienced.
And I wanted more.
So, when I was done meditating, I decided to take control of my thoughts. I started by choosing simple, positive statements like, "Everything is going to be okay. Everything is going to work out."
I didn't say them in a consoling way.
I said them in a matter-of-fact way, as if PEACE WAS GOING TO HAPPEN, dammit.
And my whole demeanor changed.
My whole body relaxed.
And I finally found clarity.
So, the moral of the story is this:
If you ever find yourself in the midst of a meltdown, just stop and watch your thoughts. It will be the last thing you want to do, but just do it. And watch how your whole body changes.
Even in the midst of misery. Even when you want to kick, scream, and punch something. Allow yourself to feel those feelings, and drop into them.
Meditation is a great practice for this. Meditation forces us to see what's really going on underneath the surface, and it makes room to choose peace.
Sometimes awareness is all we need to shift from a meltdown to a miracle.
When we step back and focus on our breath, amazing things start to happen. All the mind-made bullshit falls away – sometimes slowly, sometimes rapidly like today – and we're left with what's here. With what's real.
And what's real is an absolute miracle.