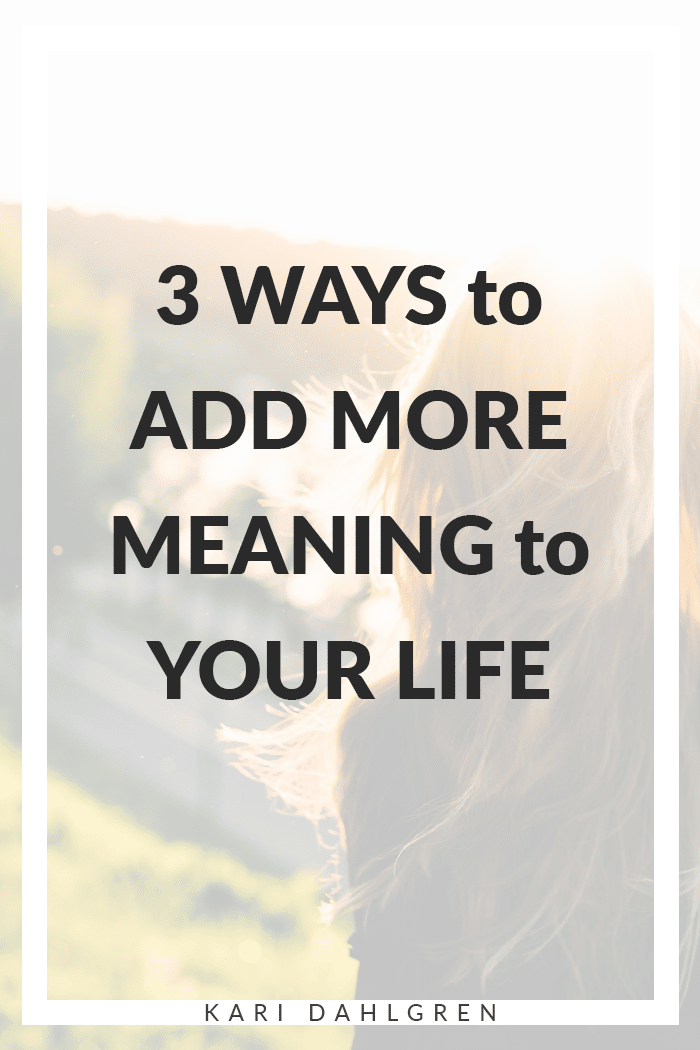 3 things. That's all you need to create a more meaningful life.
Do you feel like I'm oversimplifying it? Let's find out.
1. Start a Project Baby
Have you ever seen the love that a mother has for her child? It's pure, passionate, and she will do ANYTHING to make sure her baby is safe and happy.
This is the kind of passion that you need in your life. And the best news of all (if you ask me) is that you don't need a baby in order to create that kind of meaning.
No, you don't need an actual baby. What you need is a project baby.
You need to start working on a project; one that utilizes YOUR unique skills and abilities. Not the skills you think you SHOULD have, but the unique gift that only YOU can bring into this world.
This project needs to be something that can put you into the state of flow. Something that just feels really, really good while you're working on it.
This could involve a blog, a book, an Etsy store, some informative YouTube videos that help solve someone else's problems.
Whatever it is, make sure that you're contributing to something higher than yourself.
Because the 2 deepest human desires are contribution and connection. This nails the first one.
Which brings me to the second:
2. Be Intentional with Your Relationships
Humans are wired for connection. Without connection, we easily grow depressed.
Yet, our relationships are the easiest thing to neglect. Unless we're paying deliberate attention, we can easily take them for granted.
Take a second to ask yourself, that would life be like without your closest friends?
Now ask yourself, what do you do to show these people your love?
If you aren't actively letting your loved ones know that they are loved (read about the 5 love languages), then they might not be motivated to stick around.
So make dinner dates. Plan coffee dates. Go hiking with friends. Spend quality time with mom and dad once a month. Or, you know, maybe just give them a call.
The more love you give, the more love you attract.
3. Embrace the Inevitable Struggle & Discomfort
Sometimes… life completely sucks. Ya feel me?
But during these setbacks, we get to choose who we want to become moving forward.
We can choose to be courageous, brave, and dynamic; or we can choose to be comfortable, safe, and static.
In order to create a life of meaning, you need to be constantly growing, which requires constant challenge. And challenge requires struggle and discomfort.
But once we overcome the challenge, we get to experience happiness, success, comradery, contribution, and growth. All the elements that make a life worth living.
So when life gets tough, don't run. Don't pull away. Don't resist it.
Instead, move towards it. Embrace it. Relish in the struggle, as crappy as it feels.
Because struggle is a sign that you're working towards something meaningful.
Three Things, That's It
So let's wrap this up with a nice summary, shall we?
Step 1: Birth a project baby to bring purpose and contribution into your life.
Step 2: Foster your relationships because without them, life is flat.
Step 3: Embrace the messiness of life, and watch yourself expand.
Are you ready? You've got work to do ❤️