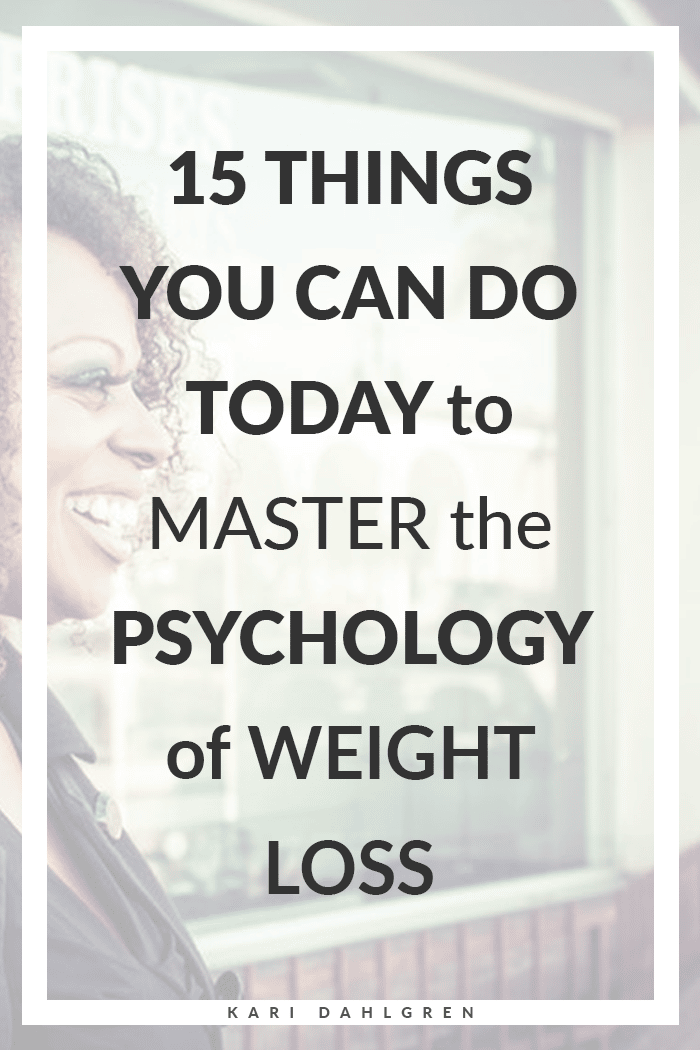 Not gonna lie, I put a loooot of work into losing weight. You too, I'm sure!
But if you're trying to lose weight through diet/exercise, then we're on completely different pages.
Before any of my weight came off, I had to first realize that dieting fucking sucks and it was literally the reason why I was overweight.
Then I had to tackle the psychology of weight loss to finally see results. 
Although I took a lot of action to finally lose weight, I've narrowed down the 15 most important steps that you can start today.
No diets, no excuses. Just psychological tips that work. Lezzgo!
1. Buy the Why Weight Workbook
Action step: Buy this workbook and actually do it.
I could have paid a therapist $5k to discover what I learned through the Why Weight workbook by Geneen Roth, The self-inquiry-style workbook gave me incredible insight into my psychology, and it was critical for my weight loss success.Get it. Now. You won't regret it.
2. Stop Screwing Yourself Over with Dieting
Action step: Take the vow to give up dieting forever.
I already touched on this briefly, but if you want to lose weight the psycho-spiritual way, then you need to stop dieting. Diets will only fuck you up. Yes, eating well and exercise are important, but use them as tools for overall health, not for weight loss.
When you give up dieting and no longer have food to obsess over, it forces you to look at the psychological reasons why you overeat. You'll learn about those reasons as you keep reading.
3. Retire from Being a Foodie
Action step: Stop joy eating by creating more joy in your life
One of the psychological reasons why you might be overeating is because, well, food is enjoyable. And if you don't have much joy elsewhere in your life, you'll subconsciously use food to fill that void. (All you "foodies" out there are probably super guilty of this.) Instead of using food as joy, do a little soul searching and identify what brings you joy outside of food. Then, start doing those things!
4. Start Listening to Your Body Instead of Your Mind
Action step: Follow the Eating Guidelines
My aunt once told me, "Your mind can lie to you, but your body never will." And I couldn't agree more! The entire problem with dieting is that you ignore what your body is trying to tell you. And I firmly believe that your body has all the wisdom it needs to maintain its natural weight.
So let go of the rules and restrictions and just listen to your body. Give yourself permission to eat whatever you want and follow the Eating Guidelines. And yes, people – including myself – actually lose weight by eating exactly what the body wants!
5. Start (Respectfully) Wasting Some Food
Action step: Call out your B.S. excuses around wasting food.
Most people have psychological blocks when it comes to wasting food. But if you want to lose weight, you need to eat when you're hungry and stop when you're full, and that often means wasting some food. If you feel like an asshole for doing that, then see this post where I knock down all your silly excuses.
6. Develop the Psychological Skill Essential for Weight Loss
Action step: Spend 15 minutes every day purposely feeling uncomfortable. (Sound weird?)
The psychology of weight loss revolves around being uncomfortable and making peace with discomfort. When you chase the comfort of food instead of allowing yourself to feel uncomfortable, you end up overeating. That's why learning how to be uncomfortable is ESSENTIAL on your weight loss journey.
You can develop this skill by spending 15 minutes every day being uncomfortable. It sounds crazy, but skills are built through practice! You can create the discomfort yourself by taking ice cold showers, or you can use the grueling trip to the gym as your practice grounds. It doesn't matter how you get the practice in, so long as you start practicing!
7. Create Your "Once I'm Thin" Bucket List
Action step: Write down everything you're putting on hold until the damn "weight thing" is over.
Do you idolize being thin? Honestly, I did.. for a helluva long time. And you know what? It put my life on hold for over a decade because I was waiting to be thin to do really amazing, fulfilling things. And now I say… fuck that!
Take out a sheet of paper and write down all the things you're waiting to do once you're thin. Hopefully it'll help you realize how crazy it is that you're waiting to live your life…
8. Then Start Doing Those Things Right Now
Action step: Start living your damn life!
In order to get the results you want, you need to start living as if you're already there. So pick one thing from that list to start doing now. Even if you think it's impossible, just do it. This is where your psychology will likely trip you up though.
For example, if you're self-conscious of how your belly looks during certain yoga poses, then you might wait to be thin to join a yoga studio. But if you continue to think self-conscious thoughts, you will continue to be self-conscious once you're thin. (True story! It happens all the time!)
Don't assume that anything will be different once you're thin. Create the results by changing your thoughts, feelings, and actions now. Start loving your body now. Start doing the yoga classes now. Tackle your list now! And eventually, your natural weight will catch up to you.
9. Throw Away Your Scale (Right Meow)
Action step: Ok, don't throw it away, but put it in your donation box and never look back.
That scale has got to go. If you want to master the psychology of weight loss, you need to stop focusing on how much you weigh. Instead, focus on how your body feels and what thoughts you're thinking (mastering your thoughts = the psychology of weight loss). The numbers are arbitrary. You'll see your results through the way you feel and how your clothes fit.
10. Overcome an Unassuming Psychological Block to Weight Loss
Action step: Share your body story to a close friend.
Body shame is a psychological block that needs to be conquered before you can lose weight. And the best way to overcome shame is to tell your story. Share your real hang up with dieting to a friend.
Telling the story of my diet-obsessed past (well, at the time, it was my present) and publishing it online for the world to see was the most liberating thing I ever did. It obliterated my shame and helped me make peace with my body; peace with food; and end my disordered eating days.
Telling my story changed my life. Maybe you can change your life too too if you take this brave, brave step and share your story.
11. Rewire Your Thoughts to Restructure Your Psychology
Action step: Tell yourself that you love yourself!
Affirmations help rewire your brain and train new thought patterns. And since mastering the psychology of weight loss is all about mastering your thoughts, you need affirmations in your life pronto.
Every morning, I tell myself that I love and approve of myself. This keeps me grounded in my self-worth and out of people-pleasing mode, which helps me say no to social eating and other things like that.
Are you starting to see how deep the psychology of weight loss goes?!
12. Go to the Gym with the Intention of Feeling Good Instead of Looking Good
Action step: Count nutrients, not calories!
Stop thinking of the gym as a way to get rid of calories and start thinking of the gym as a great way to prevent disease and stay healthy!
13. Start Your Food-Feelings Journal
Action step: Track your Food Feelings.
If you're absolute sick and tire of this damn "weight thing," then you need to write down every single thing you eat – and don't stop there. You also need to write down the emotions you feel before you eat. I call them Food Feelings. While it's tedious, this step is ESSENTIAL for generating the self-awareness necessary around the emotions that drive you to overeat. This awareness is critical for losing the weight.
14. Say Goodbye to Diet Mentality Friends
Action step: Surround yourself with who you want to be.
You are who you surround yourself with. So if all your friends are talking about how fat they are and which diets they're going to try next, then you're going to stay stuck in Diet Mentality mode too. Bleh. Talk about self-sabotage! If you have friends who are stuck in Diet Mentality, then do yourself a favor and say goodbye. It's in your own best interest.
15. Develop the Self-Awareness Necessary for Change
Action step: Hire a weight loss coach or do the damn workbook.
Self-awareness is the first step towards change. Once you're aware of the psychological blocks that cause self-sabotage, you can start to form new behavior. The best way to develop self-awareness is through coaching (like coaching with me) and workbooks (like the Why Weight workbook). These two tools require you to perform the self-inquiry necessary for change. So pick one and do it!
And there you have it! Fifteen beautiful things you can start doing right now to master the psychology of weight loss.
I have mad respect for you if you really, truly, actually start putting these steps into practice.
Do any of these steps surprise you? Which step are you going to take first? Leave me a comment below and let me know! I'll be your accountability buddy 🙂