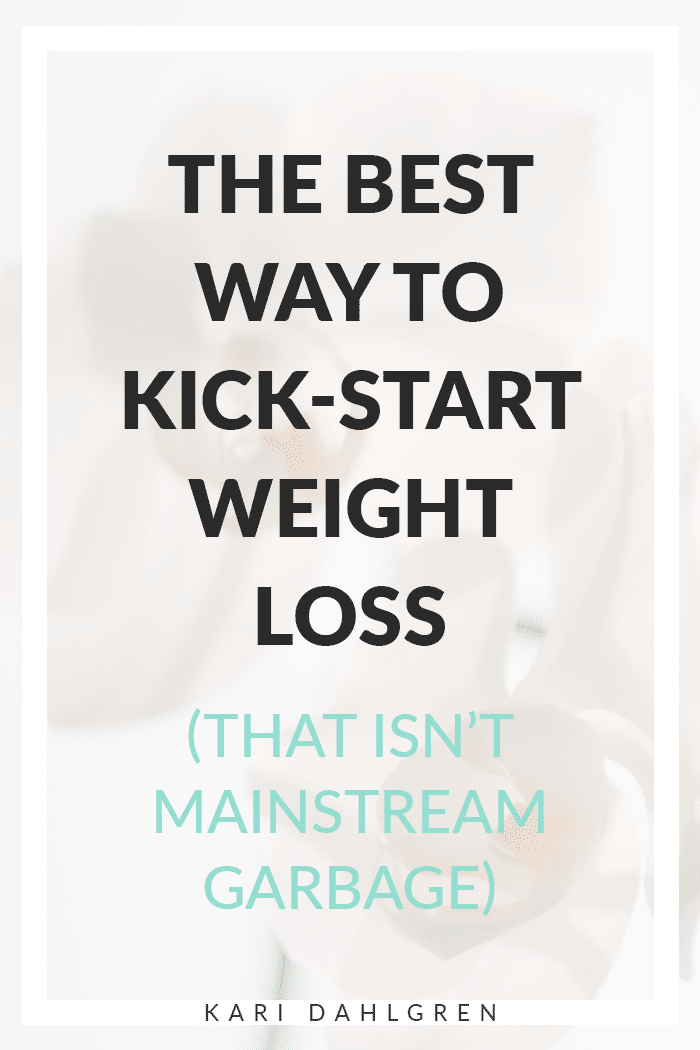 The best way to kick-start weight loss, according to yours truly, sound pretty unappealing at first, so bear with me.
My recommendation for weight loss is slow and painful when compared to the quick fixes featured in most health and fitness magazines.
So why even bother?
Because for different results, you need different ideas, like these:
Let Me Dirty Up Your Mind
We have all been a bit brainwashed by our image- and convenience-obsessed society; a society that loves to sell us on the idea of quick, painless weight loss.
Drink these shakes once a day and lose 14 pounds. (Not.)
Eat this 1,200 calorie meal plan every day for a month and watch what happens! (Hunger happens.)
Get this surgery procedure and lose 100 pounds without doing a thing! (Except heal and then rebound because you didn't address the real issue.)
We've seen it a bazillion times, but we can't help but get a little seduced each time.
But if you've been struggling with weight loss for years, then you know that quick fixes and diets don't work.
You already know that diets don't work, yet you continue to try them. Why?
Because dieting is easier than dealing with all the real B.S. going on underneath. Although we know that a diet (most likely) won't work, at least it's straightforward and simple.
Dealing with the messiness of our emotions and psychology is far more complicated and painful. (Ugh.) So we diet instead; reasonably so.
But if you're ready to make a real change – a change that will last long-term without causing rebound – then you need to start slowly with the following tactics.
Start here, and then move onto the other stop overeating advice when you're ready.
Give It a Rest, Man (at Least for a Little While)
In order to lose weight, you need to take a 6 month break from weight loss. Don't slam the door on me just yet.
It's very counterintuitive, but it's necessary right now because, honestly, you care too much.
You care way too much about how you're eating and exercising. And I soooo get this. When it feels like your weight is creating so much discontent and frustration, it's hard not to obsess over it until it's resolved.
But this over-caring is likely creating over-stress. And this stress is producing the stress hormone cortisol in your body, and that cortisol is causing your fat to cling to you like glue.
So even if you decide to radically restrict your calories and burn more at the gym, you are more likely to lose muscle than fat when your body is in this stress-induced survival mode. (We call this 'skinny fat.' Gross.)
Unless you're capable of following a non-radical healthy eating plan without being a perfectionist about it (um, guilty), then you need to listen to this advice.
Take the leap of faith and take a 6 month break from weight loss. Trust me, it's amazing.
When I took a 6 month break from weight loss, I watched my relationship with food DRAMATICALLY change in a very positive way.
Eat Slower or Live Slower?
The majority of the time, we overeat because we simply didn't give our body enough time to register that it's full.
It takes the body 20 minutes to recognize fullness. So if you scarf down that entire plate in 5 minutes, then you will be left feeling overstuffed about 15 minutes later.
For me, the mindfulness tips on eating slower didn't work. Instead, I had to slow my whole life down in order to get myself to eat slower, too.
Because the way we do one thing is the way we do everything. Most likely, if you're a fast eater, you also live fast.
By slowing down and adopting a minimalist attitude, it will be much easier to eat slower, too.
Set Up Your Foundation
If you build a castle on sand, it will fall. Similarly, if you build a lean body on shame and dieting, you will likely fall, too.
That's why I didn't dish up any healthy eating or exercise advice in this article. You don't need those yet.
For now, your #1 focus should be setting yourself up for mental success. Master the mind and the body will follow.
The heart advice here will take 100% of your attention and willpower. You don't need to be wasting any of that mental RAM worrying about the calorie content of your food. (Read: the healthy matrix.)
It's going to take time to master these steps, so take it nice and slow.
In Summary
In order to kick-start weight loss, you need to stop looking at the symptom (weight gain) and start looking at the core problems (body shaming and eating too fast, to name a few).
The best way to address these problems is to make the tough choice and choose to take a 6 month break from weight loss instead of hopping on another diet.
This path isn't glorious or easy, but it's the one that works.
So go slow, be gentle with yourself, and relaaax.
And the weight will handle itself.
To learn about the other core problems to weight loss, read my masterpost on how to stop overeating.