When you lose 14 pounds after a juice cleanse and immediately gain it all back – it's frustrating, to say the least.
The reason it doesn't work, however, isn't because you're undisciplined. I mean, you just demonstrated how disciplined you are by finishing a juice cleanse. That's an accomplishment. (Not one that I recommend, as you'll soon see, but it's still an accomplishment.)
So I'd say you're good on the discipline front.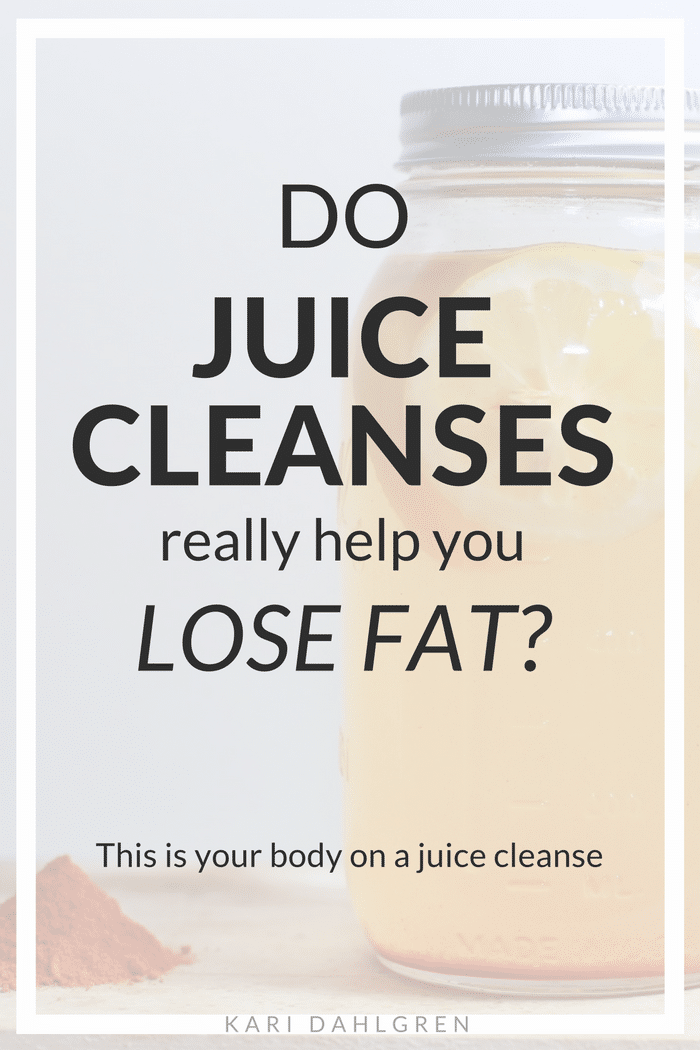 There's another, much bigger problem at play here. But before I dig into it, let me tell you a story.
A Personal Story
I knew a woman who was lean and fit and had a pretty face to match. At times it didn't seem fair, but she ran long distance and lifted heavy so I knew she put in the work.
To my surprise, I later discovered that although she was strikingly lean, she was unhappy with her weight and religiously checked her body fat percentage every week.
When her percentage got 'too high' (which was still pretty dang low), she liked to do radical things to get back down – like so many of us do.
One time she decided to go on a 3-day juice cleanse to 'shed some excess fat.' I was intrigued, because she really didn't need to lose anything, and I was curious to see if it would work.
Lo and behold: She came back to me a couple days later and told me she didn't understand what was going on.
Her juice cleanse was making her body fat percentage go UP!
The gears started shifting in both our minds, and that was when I realized juice cleanses are NOT good.
The Cause of Confusion
When we think of juice cleanses, we typically think of them as ultra-healthy solutions to fat loss. The idea is wonderful, but the reality is not.
Juice cleanses have become a socially acceptable way of using disordered eating and dietary deprivation to 'quick-fix' our body back into balance.
We use them inappropriately to cut weight fast for reasons like:
Detoxifying from a binge
Losing a bunch of weight all at once
Controlling our life (by controlling our body)
An all-veggie-juice deprivation diet is not the answer to any of these. And it never works. Ever.
And it does not lead to fat loss.
Here's why.
Your Body on a Cleanse
This is your body on a juice cleanse:
As you begin to inhale tons of delicious nutrients from your all-veggie-juice diet, you're hit with a short-lived high. Your body responds with a symphony of rejoice, happily shouting, "Oh yes! We love nutrients! This is cause for a celebration!"
Then, as you continue to drink nothing but veggie juice, your body screeches to a halt and says, "Wait a minute… Hold the party. Something's wrong here…"
As you continue your juice cleanse, your body becomes deprived of calories, fats, and protein. And that's when things get messy.
When your body is deprived of calories it enters 'starvation mode.'
While in starvation mode, your body clings to calories and fat because it's not sure when it's going to get sufficient food again.
So while you're 'cleansing,' your body responds with, "Yikes! Let's cling to the fat! We may not get any more anytime soon!"
So the fat stays.
Why Cleanses Don't Lead to Fat Loss
Instead of fat, the first thing to go is water. Excess water isn't as necessary as stored energy (i.e. fat), so your body has no problem letting that go.
Then once the extra water is gone, the next things to go are your muscles. Very little fat, and very much muscle.
Why would that happen? Because when your body doesn't get enough protein from your diet, it will start breaking down your muscles to get the protein it needs.
So now you're hungry, cranky, and less toned. (Can you see where all my gripe comes from?)
Some may argue, "But vegetables have protein!"
Yes, they do. But they're not complete (meaning they don't contain all the essential amino acids) and they're definitely not abundant.
So, tl;dr's if you're still with me, the point is this: a juice cleanse makes you lose water and muscle – not fat.
A Better Way
There's a better way to lose fat that doesn't involve restriction; that doesn't involve constant hunger and crankiness; that doesn't involve shaming ourselves into looking like the image we have in our heads.
There's a better way.
Once we step away from extremist behavior, we might be able to see that.
We might be able to see that there's a healthier way to recover from a binge; that there's an easier, more sustainable way of losing weight; that there's a more loving approach to life.
And I just don't see juice cleanses fitting into that picture.
Why Juice Cleanses Suck – in One Sentence
Juice cleanses are pseudo-healthy quick-fixes that fool you into thinking that you're losing weight when the only thing you're losing is water and muscle mass – and your sanity – not fat.