Most of us are familiar with the term 'emotional eating.'
It's that annoying thing we do – often unintentionally – when we overeat in order to numb negative emotions.
Yeah… most of us are familiar with 'emotional eating.'
But what about positive emotional eating?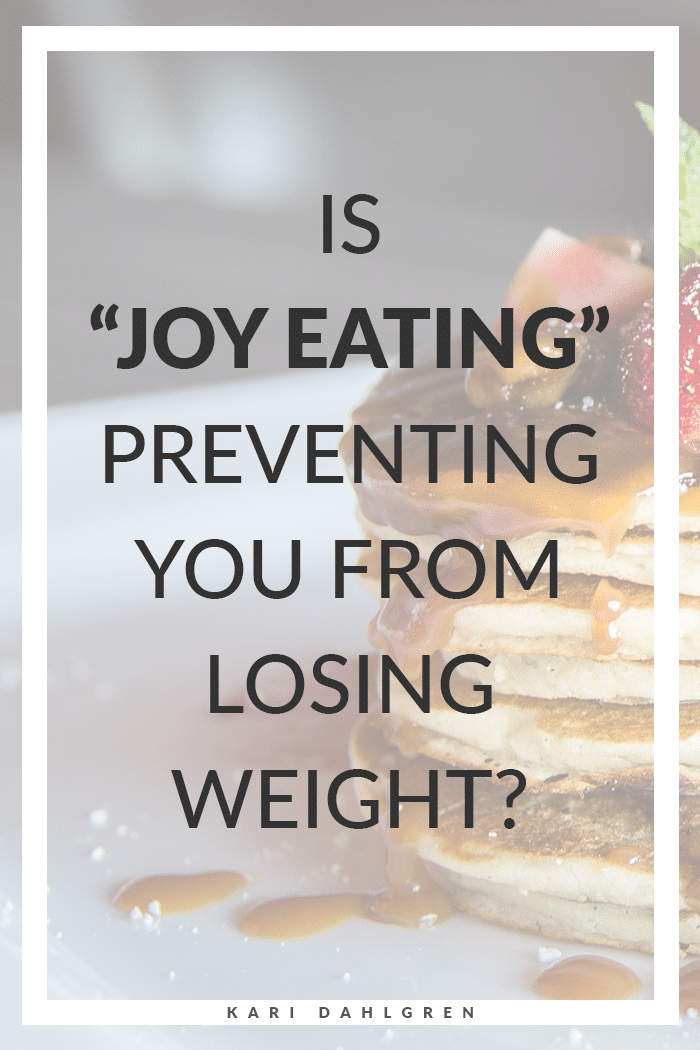 What about those of us who eat because we like it?
Not because we're trying to avoid something bad, but because we're trying to gain something good?
This is called joy eating, and it can prevent you from losing weight just as much as regular emotional eating can.
How to Know If You're a Joy Eater
If you're someone who enjoys all food, you may assume that all your eating is joy eating – but that may not be the case.
Scarfing down a family-size bag of chips isn't joy eating. Although the exhilaration and crunchy satisfaction of binging on a whole bag of chips may feel pleasurable in the moment, it's not joy eating.
Joy eating usually includes big, fancy dinners, top-shelf alcohol, exquisite desserts, and other scrumdiddlyumptiousness that we tend to really look forward to.
(I don't know a single person who really looks forward to a whole bag of chips… Do you?)
How Much Joy Eating Is Okay?
So ask yourself, "How much of your eating is guided by joy instead of hunger?"
Close your eyes right now and come up with your number. (I'll wait…)
It's important to understand that joy eating isn't bad when you do it in moderation. There's nothing wrong with a big, fancy dinner once a month or an exquisite dessert that you only eat half of.
So the key percentage is to allow some joy eating about 5-10% of the time.
If your percentage was higher than that, then you need to work on getting more joy into your life pronto. Because joy is essential for your sense of fulfillment. And when you're not getting that fulfillment from your life, you will subconsciously get it from food.
How to Add More Joy to Your Life
So whatever brings you happiness – whatever puts you into that state of flow and energizes you – start scheduling more of that into your life. Treat it like an appointment, not a luxury. Your joy is just as important as all the other urgencies in your life.
But what if you don't know what your passion is? What if you don't have any ideas for adding more joy to your life?
Luckily, you don't have to know what you're passionate about in order to have fun. You just need to do something that you love – and it will become a passion. Passion is not WHAT you do; passion is HOW you do it.
Have you always wanted to start a YouTube channel? Try your hand at calligraphy? Read that stack of books you've been collecting? Train for a marathon?
Awesome! Start doing those things NOW!
Because the more we wait in order to have fun, the more we will compensate by joy eating and gaining weight as a result.
So, no matter what your excuse is, it's possible to have fun. You just need to do 2 things:
Schedule fun into your day like an appointment
Don't miss that appointment come hell or high water
Sound self-indulgent? In a non-foodie way?
Maybe that's exactly what you need.
Is Joy Keeping You From Losing Weight? – Summarized In Once Really Long Sentence
If you aren't having enough fun, then you may be joy eating to compensate, which means that you can easily lose weight by making the time to add more joy to your life.