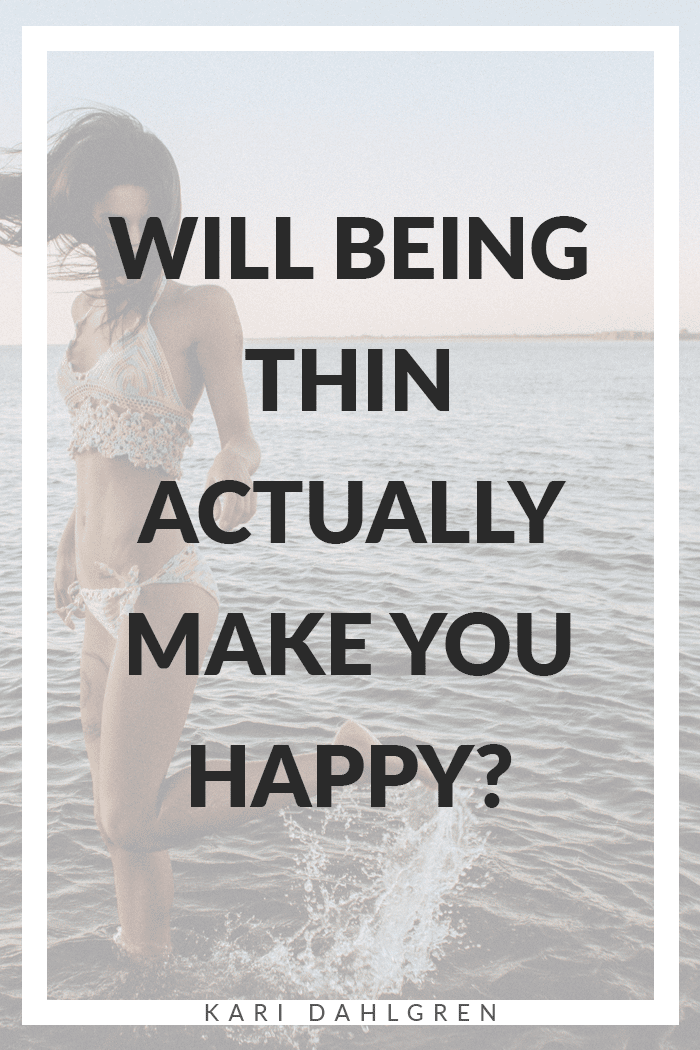 Weight loss seems to revolve around one thing: getting thin.
And yet I write about weight loss and… I'm not thin. I'm healthy and strong, but I'm not thin.
And while I think that it would be nice to be thin, I've finally reached a space where I'm fine if I never lose another pound.
I think this is what true weight loss should be about: Making 100% peace with where you are now, and letting whatever follows, follow.
For the first time in my life, I'm 100% okay being 165 pounds and a size medium. The old me, however, wasn't going to feel happy until I lost 30 pounds and sliced my pant size in half.
But would that have actually made me happy?
Ever since I decided to take a six month break from weight loss, my whole world has changed. My relationship with myself and my body and food has dramatically improved.
And it's such a beautiful, relaxed place to be and I wish everyone knew how to get here – which is the entire point of my blog. So let's start with the basics.
Here are 3 realizations that had to occur before I could finally make peace with my not-thin-but-oh-so-loveable body. If they resonate, I hope that they will inspire you to re-envision your weight loss goals.
Realization #1: Getting thin might not lead to happiness
We live in a society that surrounds us with images of "the ideal woman's body" (i.e. thin enough to see her ribs). And I humbly admit that for a long time, I would have died to be able to see my ribs.
It was only recently that I had the thought: I'm not thin and I don't know if I'll ever be able to see my ribs, but I'm still an amazing human being.
I still have an awesome personality and I'm living a life I absolutely love – which is something that many 'thin people' can't say.
Then I had an even crazier revelation: I realized that I was never chasing a thin body. My real goal was the feeling that I thought a thin body would give me, which is love, acceptance, confidence, and approval.
And I've learned how to give all of those things to myself, instead of searching them from the external world. (About time, right?)
I no longer idolize other womens' thin bodies, and that has made me so much happier within itself.
Instead of waiting for the day that my outside image would make me feel good, I've finally learned how to make myself feel good – starting from within.
The takeaway:
Do you have a number in your head of how much you want to weight? If so, ask yourself, why? What feeling are you chasing? Then, ask yourself two more questions:
Will losing weight actually give me that feeling?
What can I do to create that feeling now instead of waiting until after I lose the weight?
Two books that helped me with these questions are Why Weight and The Desire Map, respectively.
Realization #2: Being thin might not end the war with food
You can be a thin person and still endlessly struggle with food and body-image. I've seen it with my very own eyes. Well, I heard it with my very own ears, actually.
On the Psychology of Eating podcast, a woman came on the show who had lost 100+ pounds and finally achieved her goal weight. Despite being at a lean size 4 pant size, she was still extremely paranoid around food.
Even at her goal weight, she was still scared to death that she would gain the weight back.
She was living in the body she dreamed of, but it still felt like a prison.
As the saying goes, "Wherever you go, there you are." Although she achieved her ideal outside, her insides were still the same, illustrating how a thin body does not necessarily end the war with food.
I thank that woman for the lesson she taught me.
I learned that if I'm insecure and afraid of being fat, then I will remain insecure and afraid – even if I'm not fat. Losing a ton of weight and 'getting thin' will not make me any less insecure or afraid than I am now.
The takeaway:
Are you at war with yourself and with food? Do you deprive yourself of certain foods, only to binge on them later? Despite popular assumption, this problem might not go away once you 'lose the weight.'
It works best to figure out what problem exists withing your psychology and solve that problem first, and let the weight loss naturally follow.
Realization #3: Life might not be easier once you're thin
I came to this realization when I was completing the Why Weight workbook. I realized that I was carrying around the limiting belief that life will be easier without conflicts with food or my body.
Pffftttttt.
The fact that I struggled with food and body-image for so long says nothing about my body and everything about my inability to love and accept myself.
And even if I were to finally 'get thin,' I know that I would suddenly find other problems in other areas of my life. Why am I so certain? Because wherever I go, there I am.
If I have a problem with my body, then my real issue is that I have a problem. Period.
We attract what we believe in. For me, I believed in the need for a problem with my body. So no matter how much different I looked, I always found something that needed fixing.
Once I dropped the belief, I stopped finding problems.
The takeaway:
Should your goal be to get rid of the weight or to just get rid of the need to have a problem? Consider this question carefully.
There are many people who achieve their desired weight and quickly find another problem to fixate on. So, the ultimate question is: Do you want to spend your life chasing problems or relentlessly loving yourself?
Bonus realization #4: Relaxing about your body will relax your entire life
Since I started my 6 month break from weight loss, my life is pretty stress-free.
Yes, there are tons of things in my life that are still worthy of being stressed out about. But I have found this newfound capacity to deal with it all peacefully.
And I believe with every fiber of my being that because I made peace with my body, I simultaneously made peace with my entire life.
Everything is interconnected like this.
Are you just like me?
Have you subconsciously made the assumption that a thin body will make your life easier/better/happier? If so, then we're in the same boat.
And I believe that everyone in this boat can benefit from taking a 6 month break from weight loss. (Don't look at me like that.)
I know it's scary. I know that the idea of no rules and regulations around food is absolutely terrifying, but it's the only way to create the necessary space to work on yourself first.
It's the last thing you want to do, I know. But take the leap of faith.
Make the vow that you will never abandon yourself again, and take the first step into this beautiful, relaxed space. And if you ever freak out and need someone to be there for you, call on me.
I will always be here.