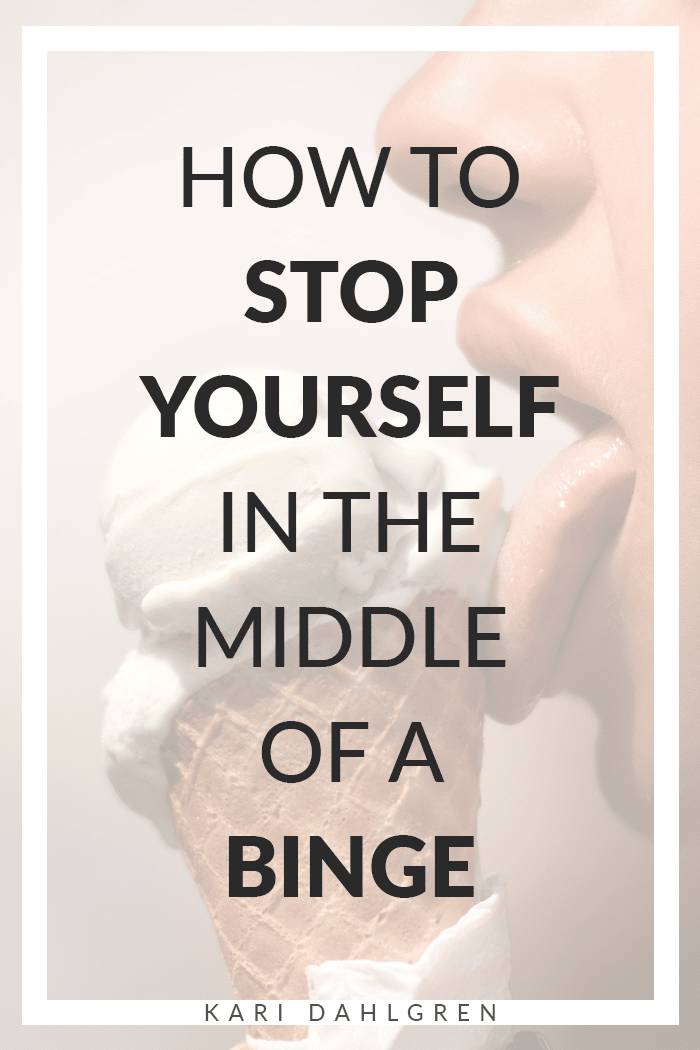 To learn how to stop bingeing, we need to look at the root cause of bingeing.
And, no, it's not gluten. It's not sugar. It's not sleep deprivation. (Although none of those help.)
Nope. Bingeing has very little to do with what you're bingeing on, and it has everything to do with what you're not willing to feel.
Binge Eating Disorder Defined, MY WAY
Being eating disorder is caused by disconnection from your emotions. Specifically, from your pain.
We eat and eat and eat because there's a feeling deep down in there that we refuse to face. So we subconsciously try to numb it with food.
Therefore, in order to prevent a binge, you must identify what you're running from.
Although it may not feel like you're running from anything, binges are nothing but a panicked bolt from your feelings.
Here's how I finally overcame binge eating disorder and found peace with my body and with food.
Overcoming Binge Eating Disorder
Let me kick things off by saying that, although I no longer have binge eating disorder, I'm still not perfect.
No one is. So for the sake of declaring my humanity, I'd like to share that this article was inspired because I almost binged today.
Almost.
And that's why I wanted to share what happened.
Because I learned how to stop myself in the middle of a binge, and I want to help you stop, too. Preferably before it even happens.
Is That Only Food You're Stuffing Down?
So here's the short story:
I was having a particularly bad day at work that was worsened by particularly angry people on the phone. I was not having it.
So, when I got home for lunch, I was eating in a flurry – without realizing that I was eating in a flurry.
I felt as if I couldn't get the food into my body fast enough. A binge by definition.
But luckily, I recognized what was happening, and I stopped.
I stopped and asked myself what I was feeling. What was feeling was I trying to numb with food?
That's when I realized my shitty day was making me want to overeat. And I knew that I wanted to respect my body more than than treating it like a bad day.
So I put my fork down, and headed to my bed, where I laid there for several minutes, doing absolutely nothing but allowing myself to fully feel my feelings.
As I surrendered, I felt as if I was opening my chest and allowing all my emotions to come pouring in. It didn't feel nearly as heavy as I thought it would.
And, just like that, the desire to binge vanished.
Loving Yourself through It
Allowing yourself to fully feel you feelings instead of numbing them with food may seem too easy to get rid of this obsession with food – but don't be fooled.
Getting to a place of emotional awareness and allowance is hard work.
Learning how to face your pain instead of turning to food is really. freaking. hard.
But that hard work becomes easier with love.
And before I lose you due to the abstract meaning of love, here's a definition of love according to my dear father:
"To love something, you make space for it in your life. And in that space, you place peace."
That may not resonate with you because he's not your dad and you did not hear the rest of the conversation; but nevertheless, I hope that you can see what this means for you and the cure for binge eating.
And I can sum it up in one question:
Can you make space for the part of you that wants to binge?
The Toughest Question with the Easiest Answer
Your first reaction – if you're anything like me – to that question might be, hell no.
Hell no, I can't make space for the part of myself that I most want to destroy.
But in order to break free from bingeing, you must learn how to love your entire self. You must learn how to love every inch of yourself, including both the good and the bad.
Are you willing to love yourself unconditionally?
I hope your answer is yes. To which I propose the next logical question:
Are you wiling to make space for yourself? For both your perfection and your flaws?
I hope your answer is also yes. Because this is where it becomes possible to break free from bingeing, for good.
The 3-Step Cure-All for Bingeing
Binges are wildly unconscious, and it takes time to override that impulsive behavior. This is where emotional awareness and self-love come into play.
In order to break free from bingeing, you must practice 3 things:
Identifying your feelings
Feeling those feelings instead of numbing them with food
Making space for yourself while you go through this process
Those 3 steps are worth their weight in gold. It's the clearest path I know towards freedom from binge eating disorder.
Each time you feel like you're about to fall apart, start by asking yourself what you're feeling. Allow yourself to figure out what's really going on, and be willing to feel those feelings. Be willing to make space for them. Be willing to make space for YOU.
And in that space, place peace.
Putting It into Practice
I've been on this journey for 9 months now. And it has taken me about this long to catch myself HALFWAY through a binge.
This stuff is hard work, and hard work takes time. Because we're addressing the root psychological problem. And mastering your psychology is HARD.
But it all gets easier with practice. So start your practice today.
The next time you feel like bingeing – or the next time you have your arm in the bottom of the chip bag – start with step 1: Ask yourself why.
Don't make yourself stop. Don't shame yourself into stopping. Just ask yourself, "What feeling am I avoiding feeling by bingeing?"
Keep up with the self-inquiry and one day the answer will pop up. And once you  make that connection between your conscious mind and your emotions, move onto step 2: Stop what you're doing and allow yourself to fully feel that feeling.
It'll be uncomfortable, but it's not nearly as excruciating as you'd think.
And then, move onto step 3: Make space for yourself and your pain.
Make space for you and your current experience. Enter into a state of allowance and surrender, and watch the feeling fade away.
And if the feeling doesn't fade away, know that it will come with practice.
You've got this. Start your practice toodaayyyy.