When you learn how to stop dieting, a magical thing happens: you become normal around food.
I call it Food Sanity.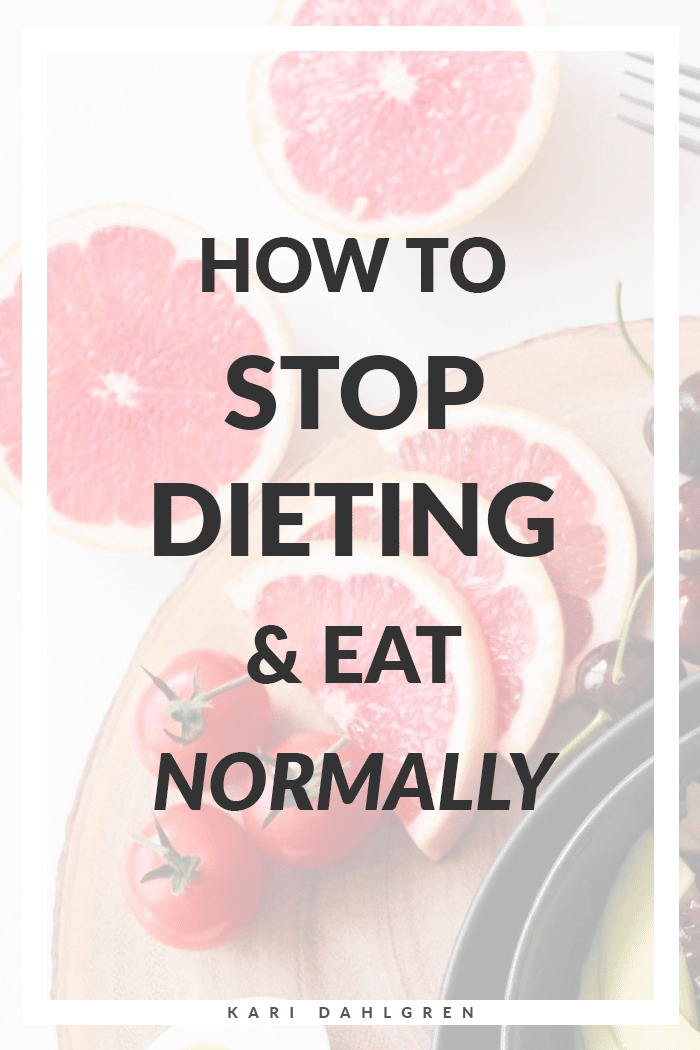 And when you gain Food Sanity, it's finally possible to achieve your natural weight.
Getting Your Psychology on Board
Learning how to stop dieting requires immense courage, though.
Even though dieting is the reason why your weight is stuck, you will be very tempted to revert back to dieting because it's safe and familiar.
Food Rules come with the (fake) security of control, which is why giving up dieting can feel very unsafe and chaotic.
So don't blame yourself if you feel overwhelmed or scared. That's toootally normal.
To help you transition from Diet Mentality to Food Sanity, I'll share 5 steps for giving up dieting successfully.
But first, let me give you a compelling reason to stay committed.
How Not-Dieting Can Lead to Weight Loss
When you give up dieting, you will slowly get your Food Sanity back. (You were born with it, ya know.)
You'll relearn how to behave and FEEL NORMAL AROUND FOOD. And that's a big deal for anyone with disordered eating. (I mean, I was fucking ecstatic when I finally got here.)
Furthermore, giving up dieting will improve your self-esteem since dietary restriction is one of the causes of body dysmorphic disorder. (Yup, restricting food makes your brain judgy about your body.)
As you stay committed to Not Dieting, your self-esteem will increase and your anxiety around food will decrease; and you'll start to gain confidence in eating what your body wants.
And as you learn to listen to your body instead of your mind, you'll slowly get back in touch with your body's inner wisdom.
You'll develop Food Sanity.
And since your body already knows how to maintain its natural weight (officially referred to as your "set point"), this means that you'll naturally start to lose weight if you're currently over your set point.
Indeed, giving up dieting will actually make you MORE sane around food, even if your mind hypothesizes that you'll go insane.
It can be a very scary process, though. If you feel hesitant or afraid, let me help you navigate this new terrain.
Step 1: Allow, Allow, Allow
The first step is obvious: get rid of all the rules and restrictions around food.
ALL FOODS ARE ALLOWED. And furthermore, all foods are equal.
There are no more "bad foods" and "good foods." Instead, there's just food. And you get to eat whatever food you want when you're hungry.
Giving up restrictions is important because it makes food less seductive and tempting, which will help you stop binge eating.
A funny thing happens when you give yourself full permission to have anything you want: it acts like reverse psychology and actually helps you NOT want it.
When you try it for yourself, you'll see what I mean. But it might freak you out because…
Step 2: Forgive All Mistakes, Especially in the Beginning
When you FIRST give up dieting, it's likely that you'll go through a binging phase…. THIS IS TEMPORARY.
PLEASE DON'T LET THIS STOP YOU FROM GIVING UP DIETING. I know you'll feel vulnerable and out of control, but stay committed.
The key to getting through this phase is to forgive yourself whenever you binge and stay committed to allowing all foods.
Do not revert back to Diet Mentality.
If you revert back to dieting, you will stay stuck in the restrict-binge-restrict-binge pattern.
But if you binge and don't restrict after, the pattern will end. And you'll get closer and closer to Food Sanity.
I know it feels like you'll just end up in a constant state of binging, but you won't as long as you follow all of these steps.
Step 3: Learn How to Eat Intuitively
If you feel out of control when you give up dieting, then use the Eating Guidelines to create some structure.
The Eating Guidelines are the best way to learn intuitive eating. And best of all, the Eating Guidelines are simple:
Eat exactly what appeals to you when you're hungry
Stop when you're full
Feel your feelings when you're not hungry
Each step is incredibly important for a successful transition to Food Sanity.
The first two are obvious, but the third one deserves a deeper look.
Step 4: Develop the Most Important Skill of Your Life
The reason why we overeat is because there's an uncomfortable feeling that we don't want to feel, like exhaustion, embarrassment, fear, boredom, etc.
Most of the time, we are so out of touch with our emotions that we don't even know that we're feeling uncomfortable. We just reach for food out of compulsion.
Therefore, by generating awareness around the feelings that drive you to overeat, and then allowing yourself to feel those feelings, the desire to overeat will go away.
If you're new to this concept, here's a tool that will help: The Stop, Drop, and Feel method.
Feeling Your Feelings is a skill that you can get better at through practice. It will serve you so damn well in all areas of your life (because all success requires discomfort).
Step 5: Do Your Homework to Prevent Freakouts
Look, I'll be very real with you: When you decide to give up dieting, you will probably doubt yourself, scare yourself, and freak the fuck out.
If this happens to you, it's a sign that you have lost trust in yourself. You probably believe that, if you were to eat what your body wants, you'll eat everything in sight.
Don't worry — this won't happen as long as you work on rebuilding your self-trust.
One of the best ways I know to develop your self-trust is through affirmations. Here's a video where I walk you through it:
Homework:
Every morning, look yourself in the eye and say, "I trust myself" over and over and over.
In fact, don't just do it in the morning. Do it all day — especially when you feel yourself freaking out about not dieting.
By assuring yourself like this, you will rewire your brain and develop the very important belief that you – and your body – are trustworthy.
Reverse Psychologize Yourself
Look, I know that it's bad form to assume that you're going to freak out when you decide to stop dieting.
But it's what happened to me, so I'm assuming it might happen to you. And here's how I got through it:
I made a deal with myself that I would only do this for 1 month. I actually wanted to try 6 months but even that was too scary for me.
So I committed to 1 month. And during the first 3 weeks, I barely binged. I overate a few times (like I predict in step 2), but it was nothing like before.
Then, once the last week of my experiment rolled around, a funny thing happened:
I started bingeing again.
Stopping Self-Sabotage
Knowing that the rules were coming back made me want to "make the most" of the temporary freedom, and I overate. A lot.
That's when I learned that it's the temporary-ness of giving up dieting that makes you binge and self-sabotage.
So I extended the experiment. I committed to 6 months, and watched myself develop true Food Sanity after a few months.
And once I witnessed it with my very own eyes, I committed to giving up dieting forever.
That was in August 2016.
Make the Commitment
So, make the commitment for as long as you can. If you have to start with just 1 month like me, so be it. However, I encourage you to start with forever.
But if you go shorter, just be veryyy careful and watch how the temporary-ness will cause you to binge and sabotage yourself. And once you witness this, use it as a sign to extend the length of your commitment.
Also, don't be afraid to ask me for help. I love coaching people through stuff like this! It's what I do.
So if you're strugglin' in any way, leave me a comment below and I'll help coach you through it!