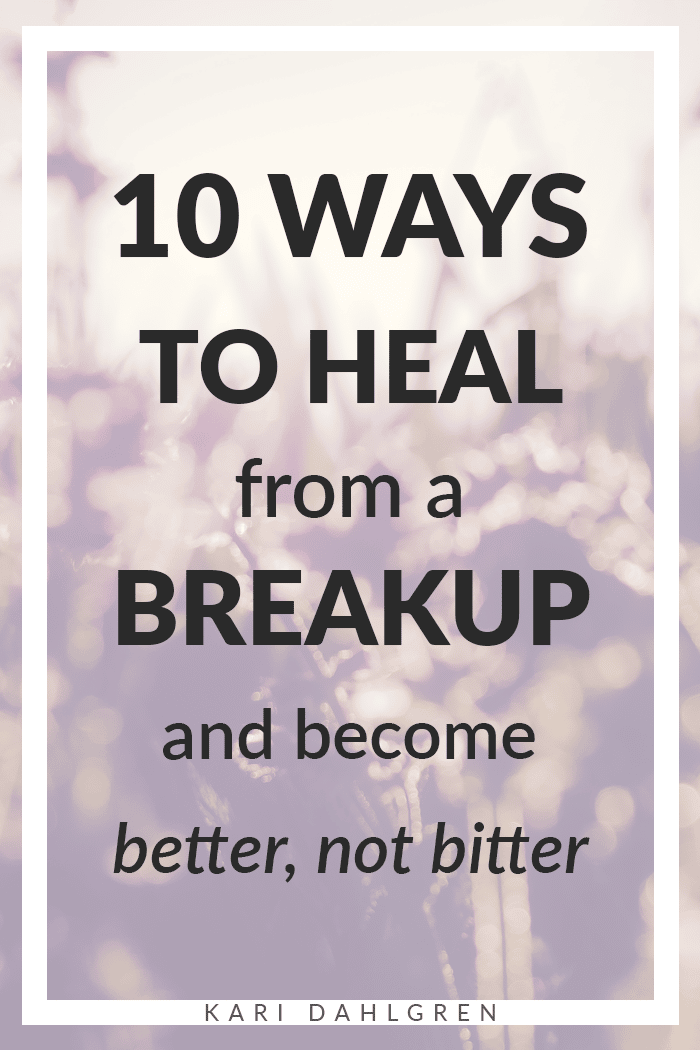 I recently broke up with my boyfriend, and I'm hurting.
I've got that raw, hollow feeling in my body, and it sucks.
As I'm healing, I wanted to share how I'm making things slightly easier on myself.
Here are 10 ways to help yourself heal from a breakup.
1. Acknowledge that This Is Supposed to Suck
Notice that I said I'm making things slightly easier on myself.
There's no way to make a breakup totally easy, and understanding that is crucial. Breakups suck. The sooner you can embrace that, the better.
As Richard Carlson says in his book Don't Sweat the Small Stuff, we only compound our pain by rushing to make it go away. Humans are natural problem-solvers, but sometimes that bites us in the ass. (Ok, maybe he didn't say that last part, I did. But you get my point.)
The pain of a breakup is not a problem to be solved. And it's not something you can rush to fix.
Remind yourself to feel it, not fix it. This always helps me.
I don't always remember right away, but it always helps whenever I do.
2. Recognize that Your Thoughts are Creating Your Emotions, and Turn that Ship Around
Did I say ship? I meant shit. Because here's how this shit works:
According to the Thought Model, all your emotions are caused by thoughts. You cannot feel an emotions without it somehow coming from a preceding thought.
This is illustrated very clearly during a breakup as your mind enters problem-solving mode by wandering into the past and pick things to fixate on.
Your brain starts to drift… "This could have been different. I could have done this better. He could have done that better. Blabitty-blah-blah-blah."
Most likely, these thoughts are creating pain (because the past is always bitter during a breakup).
But the sooner you can identify these thoughts, the sooner you can gently pull yourself back into the present moment.
Pull yourself back to your body and just feel whats happening right here and now where it's much less painful.
3. Pay Attention to Your body, not Your Mind
Mindfulness is a great way to soften the pain of a breakup. (Soften, not eradicate.)
Here's a two-sentence guide for how to be mindful:
Stay with your body and identify what you're feeling and where you're feeling it, while removing all thoughts about it. Simply stay focused on your body, not your mind.
This will help you stay connected with yourself instead of constantly running from the hurt.
For example, I feel a hollowness in my chest and a tingling/lightness in my body. Focusing on this sensation is much better than focusing on my mind that wants to relish in the past. (Not helpful right now.)
When you tune into your body instead of your mind like this, it's harder to get sucked into a downward spiral.
Your body is in the here and now, and paying attention to it will help keep you in the here and now – instead of in the miserable past.
4. Reach Out for Support in All Directions
The biggest trigger for sadness during a breakup (at least for me) is loneliness. Holy crap, loneliness!
There's a big, gaping void, and how are you going to fill it?
First, remember to feel it, not fix it.
But it's also completely normal to feel unable to feel it all the time. So, when times get particularly tough, fill that hole with friends and family who love you.
Everyone knows how hard break ups can be, so if you reach out to someone in the midst of a breakup, they will be there for you.
They might be a little slow at responding to your text because, most likely, they're on the other line cancelling their plans so that they can be there for you!
Friends are always there for you during a breakup. (And if they aren't, you just learned who your true friends are.)
Use the support you have, and be loving and generous to those who have your back.
5. Give It a Couple Weeks for Your Brain to Get on Board
Your brain loves familiarity. So it's not enough that you're feeling sad and lonely.
Your brain is also freaking out because everything is new and different and your routine is broken.
At this point, simply relax and breathe into the newness.
Give yourself two weeks to feel totally weird and thrown off, and trust that your new situation will start to feel good again.
Right now, all the newness is scary. Two weeks from now, it will not be new or scary. You will simply have a good ol' routine again.
(Right now this is way easier said than done, but have faith.)
6. Feel the Void Instead of Trying to Fill the Void
I know I already mentioned this, but it's a biggie.
Because if we allow ourselves to flail around trying to seek comfort and cling to familiarity, it only makes the pain worse.
It's like itching a scab that's just starting to heal. You'll just ruin all the healing that's already happened and probably leave a scar.
Trust me, I was damn tempted to 'accidentally' run into my ex while he was clearing stuff out of our apartment.
But I resisted (namely because I had amazing friends by my side who said, "Girl, don't be dumb. What good will that do?")
And although staying put was the last thing I wanted to do, I was sooo glad that I did.
There's no need to go stirring up murky water with B.S. like "seeking closure" or whatever other excuse your brain comes up with.
In other words, don't scratch the itch. Feel the void and stay with yourself.
Oh, and have a good, solid cry. Those are very necessary and very healing.
7. Keep Yourself Busy and Productive
I know, I know! I just told you to stop trying to fill the void, but again, there will come a time where it feels utterly impossible.
While you should resist filling the relationship void, you are absolutely encouraged to fill the time void – particularly in the very early stages.
Because if left with too much time on your hands, it will be very hard to remain present. Instead, you'll start slipping into the past, mulling over the fights and how they could have been better, which is unproductive and will get you nowhere but feeling sad.
You need to stay out of the past as much as possible. Instead, focus on your personal growth right now and moving forward.
That's what you're doing right now: Moving forward, not going backward.
Extra tip:
If you can fill the time void with self-care, then you're double winning. Some examples of self-care:
Go to the gym
Meal prep some healthy food
Plan your next vacation
Get your hair done/beard shaved
Buy yourself some flowers (gentlemen, I have no idea what this equivalent is for you)
Focus on becoming a better, stronger version of yourself right now – and forever more.
You've got this.
8. Look Up (No, Literally, Put Your Eyes Toward the Sky!)
In a recent issue of Success magazine, I learned that where you fix your gaze will significantly impact where your thoughts go.
In the article, they had you look down for a minute and then write down what you thought about. Then they had you look up for a minute and then write down what you thougth about.
Low and behold, when I did the exercise, the article was right!
When you look down, your mind tends to wander into the past. When you look up, your mind wanders into the future.
Since mulling over the past only perpetuates pain during a breakup, try to keep your head up – literally.
9. Caffeinate
I'm a little torn about my own advice here, because I consider caffeine to be 'numbing,' which is not conducive to our super-important "feel it don't fix it" mentality.
HOWEVER. The Buddhist monks use green tea to keep them alert during prolonged meditation.
I have noticed that when I'm caffeinated, it's much easier to be mindful and keep my mind in the present.
So, if you're struggling with a wandering mind that's hyper focused on your ex, then grab a fat cup of coffee.
It will give you the energy to focus your mind on the present.
And – bonus! – it will give you more energy for those self-care tasks!
10. Don't Blame Anyone – You Are Both Right
As you heal, your mind will inevitably wander into the past, mulling over your relationship. That's normal, and it's fine!
What's not fine is finding things to blame your ex-partner for.
No one did anything wrong. You were both simply trying to get your needs met, and the other person was not the (wo)man for the job.
This is not your time to judge yourself or your ex-partner.
Forgive and let go. This is the best part, I think.
Forgiveness is hardest when you're still in a relationship. But now that you're no longer committed, you can completely let go and forgive.
You were right. (S)he was also right.
Forgive the past and move forward.
You've Got This
Breakups suck, and I'm right there with you.
Try your best to stay busy, but also give yourself time to feel your feelings and properly heal.
Focus on self-care and caffeineate if you must.
I know you've probably heard this a thousand times from your friends, but this will get easier in time.
Each day you'll get a little better; a little stronger.
Keep your head up and keep moving forward.