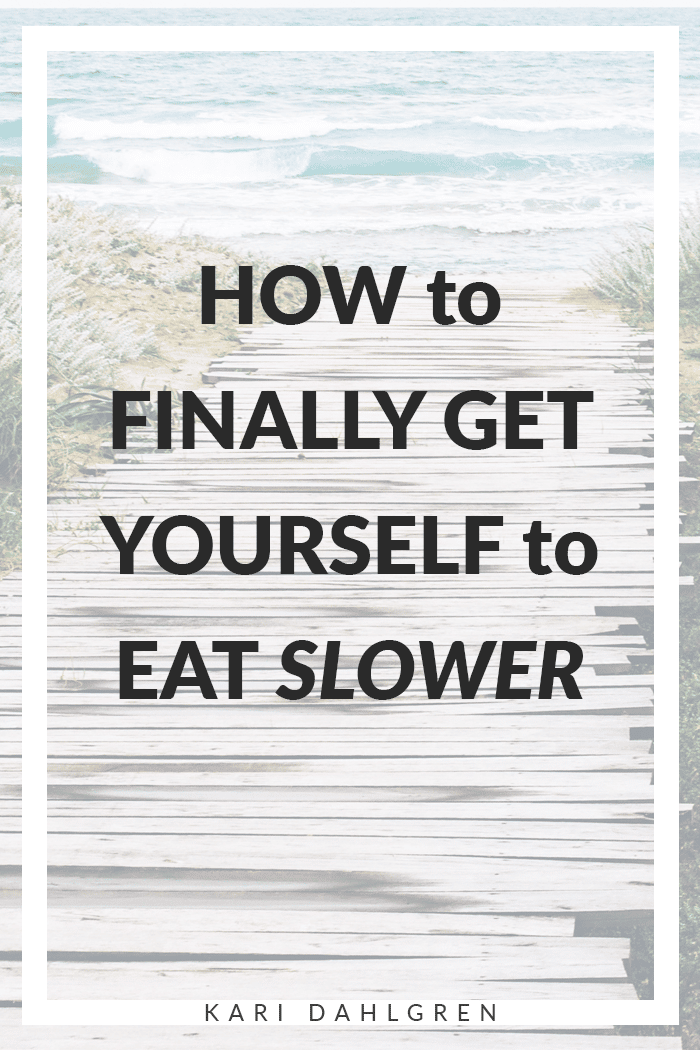 "The way we do anything is the way we do everything. The way we eat is the way we live"
-Geneen Roth
I'm going to assume that you already know why you should eat slower.
Eating slower will help you feel fullness when it comes, stop feeling overstuffed, and finally lose weight. Yeah, yeah. We've all heard it before.
The frustrating part is getting yourself to do it. And dude, I toootally feel your struggle.
It wasn't until I read the work of Geneen Roth that I finally figured it all out.
When It All Clicked
What Geneen taught me is that if you eat fast, then you also live fast. Guaranteed. Because the way we do one thing is the way we do everything.
My inability to slow down my eating is a direct reflection of my inability to slow down my life. And it's true – I'm guilty of feeling like I'm behind in life.
It's no wonder why all the tips and tricks on how to eat slower don't work – they don't address the real problem! Which is the inability to live a slower lifestyle.
Slow, Slow, Slow
There are many ways to get yourself to live slower:
Take more deep breaths, pause between each task at work, take short breaks often, try single-tasking the entire day, drive slower, let people go around you, let your peers 'pass you up.'
This can boil down into an infinite number of neuroses, from comparing yourself to others to not feeling like enough. Take time to reflect and figure out exactly what you're running from with your fast eating.
Slow down, let go, and release.
And, in time, you'll find that you naturally want to eat slower, too. The slower vibration of your life will trickle into your eating. You won't even have to think about it. You'll just do it. Slowly.
Eating Slower and Weight Loss
I can safely assume that those of us who read about eating slower are trying to lose weight. I'm sorry if I've pegged you wrong – but I think it's a fair assumption.
And you're right on the money. You have to learn how to eat slower – and live slower – if you want to lose weight.
You need the extra space that eating slower creates. You need that extra time to sit and assess your hunger and fullness so that you can always eat when you're hungry and stop when you're full.
That's the foolproof recipe for weight loss – and it's so SIMPLE. But actually listening to your body is really freaking hard.
When we slow down, it become easier. The stress and frenzy around food slowly unwinds. WE unwind. Your shoulders finally relax down your back and you can let go.
Mindful Eating vs. This
So you have two options, it seems.
You can address the symptom by ignoring your life and focusing only on your eating behavior. Or you can address the real problem and slow your life down (and ask yourself why you're living so fast in the first place).
Be bold. Face your reflection. Slow down to the speed of life.
And watch the weight take care of itself.