Do you have a good relationship with yourself?
Do you love yourself, care for yourself, and understand your own behavior? It's easy to assume that you do because – hello – you're right there with yourself every day.
So how could you not, right?
Yet, sometimes we're so disconnected that we don't even realize that we're disconnected.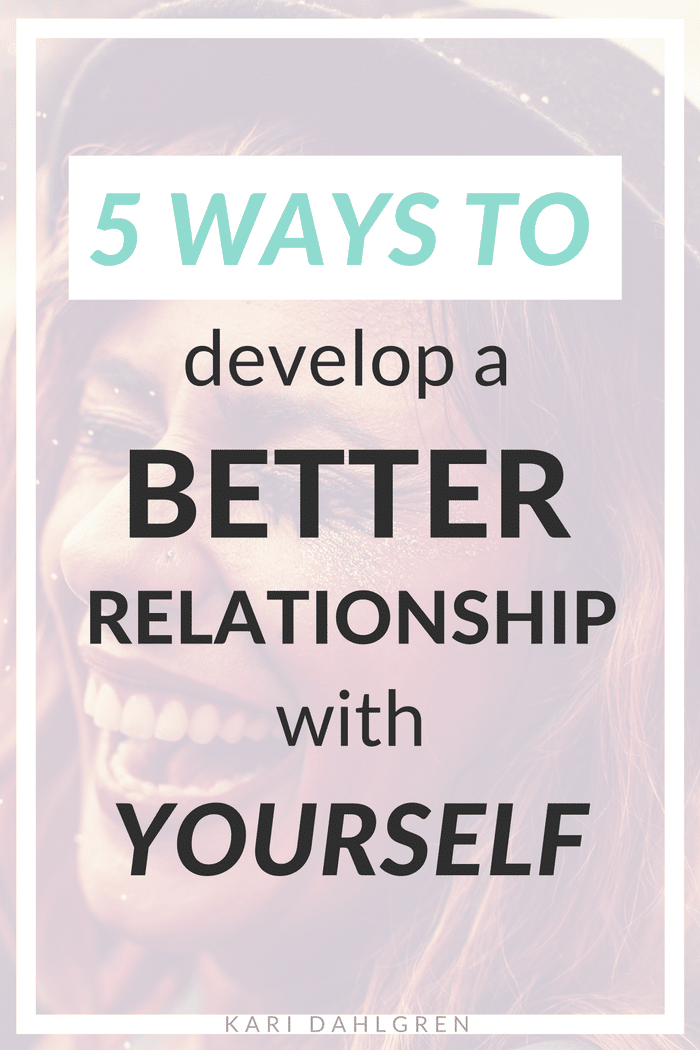 In fact, sometimes we're so far away from ourselves that we might as well be in another body. And that doesn't promote wholehearted living.
Wholehearted living involves a deeply intimate connection with ourselves – a connection so strong that we know exactly why we feel the way we feel and do the things we do.
You Will Become Unstoppable
Without developing a relationship with yourself, you may subconsciously resist yourself by rejecting the way you look or feel.
And when that's the case, it's really hard to be alone. Then the downward spiral ensues.
You'll busy yourself with nonsense like obligations you shouldn't have just to occupy your time because you're subconsciously avoiding the discomfort of just being with yourself.
But that discomfort is what we want.
Learning how to be with yourself even when it's uncomfortable will help you find the self-acceptance necessary to build a beautiful relationship with yourself.
And once you're there, you will be unstoppable.
You will become so accepting of yourself – even when you're uncomfortable – that there's nothing you can't do. Sounds like the best way to live the life of your dreams right?
Here are 5 ways to get there.
5. Treat You-Time Like an Appointment
If you had two uninterrupted hours to spend with yourself today, what would you do? Take some time to think about it right now.
Whatever came to mind sounds really nice, huh?
And I think you should do it right now!
You may have a laundry list of things you have to do (and laundry may be one of them!), but you can always make time for yourself.
It's just a matter of scheduling it into your calendar and not missing that appointment no matter what.
So this week, try to schedule 30 minutes of 'you time' into each day. It might seem like a lot, but it's barely anything. (Two hours would be ideal.)
Because your relationship with yourself is the most important relationship you will ever have.
And you will not miss that appointment come hell or high water.
4. Journal Intimately
My aunt once said to me, "Sometimes I don't know what I know until I write it down." And I've found that to be soooooo true. That's why I write here every week!
Sometimes I don't understand myself until I take the time to put it down on paper (or into the computer).
It forces me to think things through, which is something we can't do in our head because our biases get in the way – and writing is a great way to remove that bias.
And when the bias is removed, you get to see who you really are. You get to see exactly what you're made of underneath all those layers.
It will give you the chance to get intimate with yourself and your thoughts.
And intimacy with yourself = a deeper relationship with yourself.
(Ooh la la.)
3. Filter Through the Bullshit
The best way to figure out who you really are is through self-inquiry.
Self-inquiry is best used when sorting through a personal crisis, but you can also use it for personal discovery.
When I use self-inquiry, I like to sit down and ask myself, "Why am I feeling this way, and which of my thoughts are false assumptions?"
Meaning, which thoughts are utter bullshit? (Usually 99.9% of them.)
Other times I skip the questions and just dump everything out, and I'm always surprised by what I find. (Like, I didn't even know that thought was there until I started writing!)
When we get to look underneath our 'surface thoughts' like this, we get to really know ourselves. We really get to trust ourselves.
And trust is a cornerstone of every good relationship.
2. Get Physical, Baby
Whether you're a gym goer or nature adventurer, getting physical is always a great way to test your boundaries.
And let's be real – every relationship involves testing boundaries.
In fact, that's why relationships are often full of self-discovery.
Because you get to poke and prod to discovery their boundaries; and then they get to poke and prod to discover yours.
And when we poke and prod ourselves, we discover our own boundaries (without the repercussions of getting pissed off at someone else).
And when we find our boundaries, we can choose to either honor them or expand them. 
The choice is your to make. Your first focus, though, is just getting to the point where you have the choice to begin with.
And physical activity is a great way to get there.
1. Meditate (Ugghhhh)
Meditation is uncomfortable, I know, but it will bring you sooooo much closer to yourself.
In fact, the reason why meditation is uncomfortable is because of how intimate you're forced to get with yourself. But the more you do it, the more comfortable it will become.
I've been at my 2-minute meditation habit for almost 3 months now, and these days I actually look forward to my morning meditation. (Trust me, it wasn't always like that.)
During my recent meditations, I feel all warm and fuzzy inside my own skin – and that's totally new for me. And it feels amazing! 
Other times I feel just as uncomfortable as I did 3 months ago – and that's okay, too.
Life isn't always sunshine and bubbles, and neither is a relationship.
The sooner we can embrace our demons through meditation, the sooner we can embrace our true selves.
And the relationship will naturally develop from there.