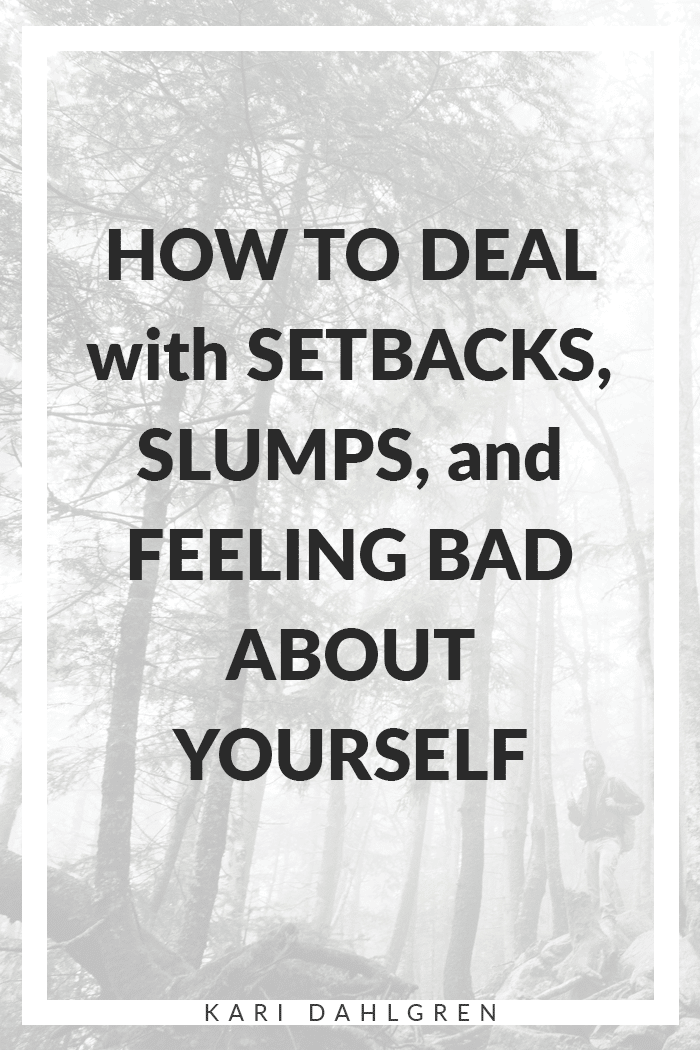 We've all experienced setbacks and slumps before, right?
Some examples of small setbacks include: losing 8 pounds and gaining 5 back; mediating for 90 days straight, then neglecting it for a month; practicing being patient, and then exploding at the littlest thing.
These are setbacks. Slumps. And they suck when you're in them.
And the question I was asking myself today is, how the heck can I pull myself out of this slump?
Apparently I Suck at Dealing with Setbacks
It's January 2017 and last month I published a book, got a raise at work, and hit my goal of squatting 225lb at the gym. It was a damn good month. I felt accomplished, strong, and on Cloud 9.
And while I enjoyed the ride, it came to and end too abruptly for my liking.
I got sick and my gym gains deteriorated rapidly. Then I burned out and my productivity also deteriorated rapidly (that's why I'm only publishing once a week right now instead of twice).
And I find myself resisting this backwards stage like mad. I lay on my bed doing nothing (which is something that I advocate) yet I feel absolutely guilty for doing nothing; and to worsen the situation, I still feel unable to do anything else because I'm recovering from burnout.
So lie on my bed and continue to do nothing. And as I lie here, I ask myself, "Why am I resisting this so hard?" Then the answer came to me:
Because I feel like what I'm doing is not enough.
And therein lies the solution to setbacks.
You Are Enough
Knowing that you are enough exactly as you are – even in the middle of a setback – is the way that we start reversing the setback.
And when we fail to make peace with our setbacks and when we delay our self-love until we start moving forward again – that's how we make sure that we keep going backward.
For example, I was denying my own worthiness and enoughness because I lost the qualities that I became identified with (like strength and success). These qualities made me feel like what I was doing was enough.
And to feel like I lost those qualities made me feel extremely lacking.
You Are Not Broken
During this weird interlude, Brene Brown came to the rescue with her book The Gifts of Imperfection:
When we can let go of what other people think and own our story, we gain access to our worthiness-the feeling that we are enough just as we are that we are worthy of love and belonging.

When we spend a lifetime trying to distance ourselves from the parts of our lives that don't fit with who we think we're supposed to be, we stand outside of our story and hustle for our worthiness by constantly performing, perfecting, pleasing, and proving.
(So beautiful, I know. Brene is a maverick.)
What Brene means is that when we don't feel like enough – which is usually the case when we hit a setback – we will attempt to do anything to get ourselves moving forward again so that we can gain affirmation/validation (from pleasing, performing, perfecting) from the outside world and feel worthy again.
Some classic examples are hitting the gym harder, restricting our calories tighter, and working faster in order to overcompensate and push our not-enoughness into enoughness.
But that only pushes us farther away from ourselves.
In order to make peace with a setback, we have to first realize that everything we're already doing – like, I dunno, just being alive and breathing! – is enough. So totally enough.
Even if we're going backwards, we are still absolutely 100% enough.
4 Steps to Reverse a Setback
The best way to reverse a setback is to:
Realize that your expectations are old and preventing you from feeling like enough (this step alone is huge)
Recognize that what you are already doing right now is completely acceptable and worthy of love (form yourself and others)
Resist taking massive action until you realize how enough you already are
Then take corrective action – without burning yourself out (go slow)
When you stop believing that you are broken and turn your focus to your enoughness – that's when self-love emerges, and that's when progress can be made.
You cannot shame yourself out of a setback. That destroys your relationship with yourself.
Rather, we need to love and accept ourselves unconditionally and realize that everything that we are already doing is enough.
And when you believe in your worthiness, everything in life flows much easier. The setbacks are much easier to correct when we're operating from a space of wholeness rather than brokenness.
An Exercise to Try
To help pull yourself out of this setback, you need to reprogram your beliefs; and affirmations are a great way to program new beliefs into your mind.
So take some time to recite the words "I am enough" over and over and over. Say them gently, and repeat them until you really feel it sinking in. (Then repeat some more.)
I remember the first time I said those words out loud. It felt like the biggest, softest relief in the world.
Try it and see what it does for you.