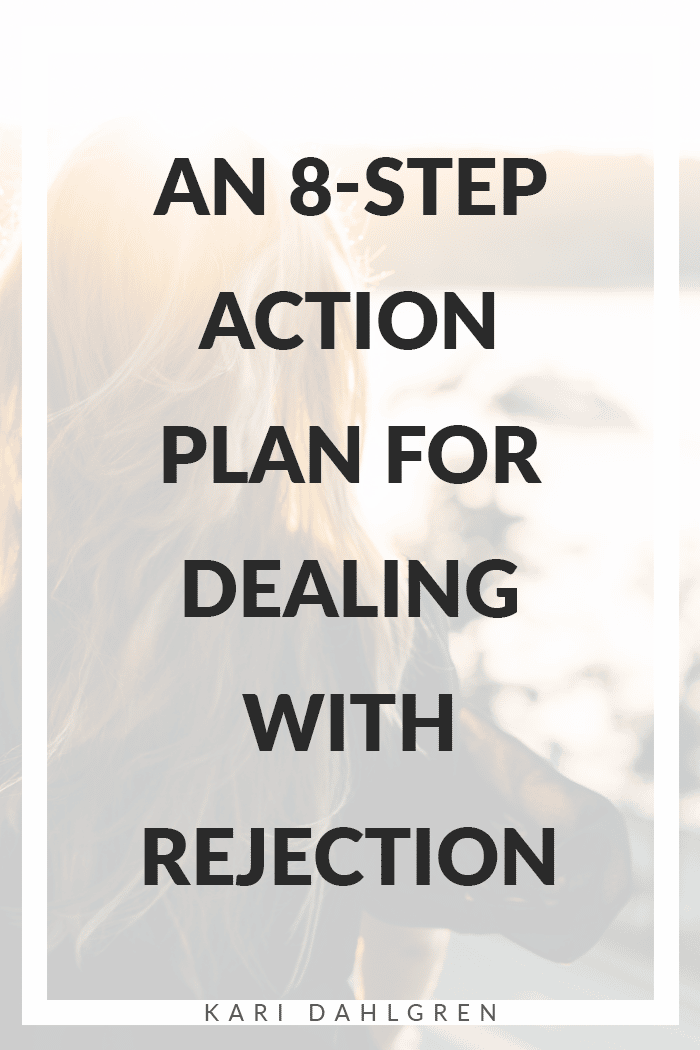 The conventional wisdom on learning how to deal with rejection will tell you something like…
You just have to stop caring what people think.
Yeah, sure. As if it's that easy.
If you're a people pleaser like me, then you know exactly how hard it can be to put that wisdom into action.
I was never an expert on dealing with rejection, until personal experience came knocking on my door this week. Rather, it came smashing down my door.
During my birthday week, of all weeks, here's what made me feel utterly rejected and worthless:
My boss made me cry after making me feel stupid and incompetent (when I am neither)
Words were spoken behind my back that someone very close to me doesn't like me
My boyfriend wasn't by my side when his friends rejected me and I didn't know why
And many, many, many other things happened day after day after day that just made me feel beat down and battered. (And my birthday happened in the middle of all this.)
The Real Problem with Rejection
Now, I'm being dramatic by laying it all out here for you like this, but the most difficult week of my life taught me something very important:
We feel rejected when we aren't trusting and believing in ourselves.
It's not because we care too much about what other people think. That's merely a side effect of a much larger problem:
A lack of self-trust and self-worth.
We learn how to deal with rejection when we learn how to trust ourselves and believe in ourselves no matter what's going on outside.
F*ck the Haters
During this week, I cried almost every day and felt like my world was melting through my hands.
I let everyone make me feel like I was doing something wrong when I wasn't.
And that's when I realized that my main problem wasn't them, it was that I wasn't trusting or believing in myself.
I let a bunch of jerks make me doubt my self-worth, and that's not okay.
I'm a damn awesome person who cares deeply about making a positive difference in the world.
And for me to doubt myself even for a second – because of what someone else says or does – is not okay.
What I've learn from this whole mess is to trust every single action I take. To trust myself, no matter what.
Values Are the Antidote to Rejection
As long as I'm acting within my values – which, during this week, I definitely was – and the world still invalidates me, I must still trust myself.
Even when the world gives you every reason to doubt yourself and look in the mirror to try and figure out what's wrong – don't.
When you feel rejected, stop focusing on what the haters are saying and focus on how awesome you are.
Focus on how pure your values are and what you have to offer the world.
Identify your worth and hold it tight. Don't let go for a second, no matter what the haters say.
Your internal compass will never steer you wrong, when you use your values as your true north.
8 Steps to Deal with Rejection
So, I guess the step-by-step guide is this:
First and foremost, f*ck the haters
Stop trying to figure out what you're doing wrong
Identify everything that you're doing right
Write it all down in a personal manifesto that you can reread whenever you slip into self-doubt
Realize that you are freaking awesome no matter what anyone says
Acknowledge that we can't get 100% approval from everyone – and the more awesome you are, the smaller that percentage gets
Trust yourself and believe in yourself, always
Take care of yourself (go take a bubble bath, meal prep some nutritious food, hit the gym; do what you need to do to feel taken care of)
Learning how to deal with rejection is less about figuring out the external world and more about figuring out your internal world.
It's also about taking good care of yourself during times where others aren't.
Follow these 8 steps, and you'll be alright. It's what I'm doing right now, and I'm starting to heal.
As long as you have your own back, you have everything you need.